Savoia-Marchetti S.66 Video - Picture
Savoia-Marchetti S.66 Aircraft Information
Savoia-Marchetti S.66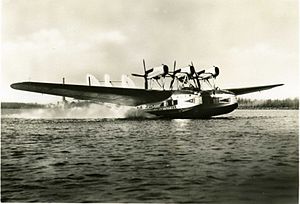 Role: Flying boat airliner then search and rescue
National origin: Italy
Manufacturer: Savoia-Marchetti
First flight: 1931
Introduction: 1932
Retired: 1939 (civil use) 1943 (military)
Primary users: Ala Littoria Regia Aeronautica
Number built: 24
Developed from: Savoia-Marchetti S.55

The Savoia-Marchetti S.66 was a 1930s Italian twin-hull flying boat designed and built by Savoia-Marchetti as an enlarged development of the S.55.
Development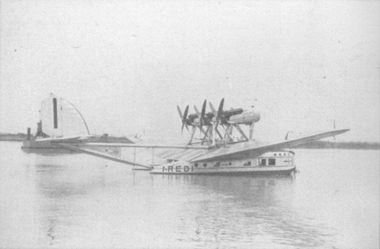 Picture - Rear quarter view of Ala Littoria's Savoia-Marchetti S.66 with registration marking I-REDI.
The S.66 was developed as an enlarged version of the S.55 with the aim of replacing the S.55P. The S.66 was a twin-hull cantilever monoplane flying boat with metal hull and wings and wooden twin-booms and tail unit. The two crew had enclosed cockpit mounted in the wing centre section between the two hulls, each hull contained seven seats, two sleeping couches and a lavatory. The prototype first flew in 1931 powered by three Fiat A.22R engines strut-mounted above the wing. The company built 23 production aircraft with three 559 kW (750 hp) Fiat A.24R engines and the sleeping couches were replaced by two to four more seats in each hull.
Operators
Pre-World War II Italy
Ala Littoria
Societx  Aerea Mediterranea

World War II Italy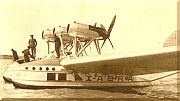 Picture - Savoia-Marchetti S.66
Regia Aeronautica operated S.66s for search and rescue

Specifications (S.66)
Data from The Illustrated Encyclopedia of Aircraft and Ali italiane
General characteristics
Crew: 2
Capacity: 18/22 passengers (nine to eleven in each hull)
Length: 16.63 m (54 ft 7 in)
Wingspan: 33 m (108 ft 3 in)
Height: 4.90 m (16 ft 1 in)
Wing area: 126.70 m (1,363.8 sq ft)
Empty weight: 7,450 kg (16,424 lb)
Gross weight: 10,950 kg (24,141 lb)
Powerplant: 3 x— Fiat A.24R V piston engine, 559 kW (750 hp) each

Performance
Maximum speed: 264 km/h (164 mph; 143 kn)
Cruising speed: 235 km/h (146 mph; 127 kn)
Range: 1,200 km (746 mi; 648 nmi)
Service ceiling: 5,000 m (16,404 ft)

Taylor, Michael J. H., ed. (1989) [1980] Jane's Encyclopedia of Aviation contributors, Bill Gunston ... [et al.] New York: Portland House : Distributed by Crown ISBN 0517691868
The Illustrated Encyclopedia of Aircraft (Part Work 1982-1985) London: Orbis Publishing 1985
Pafi, Benedetto; Apostolo, Giorgio, eds (1978) (in Italian). Ali italiane [Italian wings]. Volume 2:1923-1938. Milano, Italy: Compagnia Generale Editoriale - Rizzoli distribuzione.

Savoia-Marchetti S.66 Pictures
More airplane videos.
Source: WikiPedia