Savoia-Marchetti S.74 Video - Picture
Savoia-Marchetti S.74 Aircraft Information
Savoia-Marchetti S.74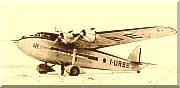 Role: Airliner then military transport aircraft
National origin: Italy
Manufacturer: Savoia-Marchetti
Designed by: Alessandro Marchetti
First flight: 16 Nov 1934
Introduction: 1935
Retired: 1943
Primary users: LATI Regia Aeronautica
Number built: 3
Developed from: Savoia-Marchetti S.72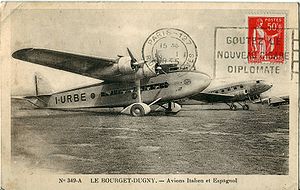 Picture - Paris-Le Bourget Airport in 1935. I-URBE (in the foreground) is an S.74; the other aircraft is a Douglas DC-2 airliner operated by the Spanish airline LAPE (Lineas Aéreas Postales Espax±olas).
The Savoia-Marchetti S.74 was a four-engine airliner developed by Savoia-Marchetti for Ala Littoria.
Design and development
The prototype first flew on 16 November 1934. Only three were ever built.
Operational history
The aircraft were used in passenger service, until Italy entered World War II in 1940, they were put into service as military transport aircraft for the Regia Aeronautica. None of the three survived the war.
Operators
Civil operators
Italy
LATI

Military operators
Italy
Regia Aeronautica

Specifications (S.74)
Data from World Encyclopedia of Civil Aircraft
General characteristics
Crew: 4
Capacity: 24 passengers
Length: 21.36 m (70 ft 1 in)
Wingspan: 29.68 m (97 ft 4.5 in)
Height: 5.5 m (18 ft 1 in)
Loaded weight: 14,000 kg (30,865 lb)
Powerplant: 4x— Piaggio Stella X.RC air cooled radial engines, 522 kW (700 hp) each

Performance
Cruise speed: 300 km/h (190 mph)
Range: 1,000 km (621 mi)
Service ceiling: 7,000 m (22,966 ft)

Comparable aircraft
De Havilland Albatross
Focke-Wulf Fw 200

Savoia-Marchetti S.74 Pictures
More airplane videos.
Source: WikiPedia