Scottish Aviation Bulldog Video - Picture
Scottish Aviation Bulldog Aircraft Information
Scottish Aviation Bulldog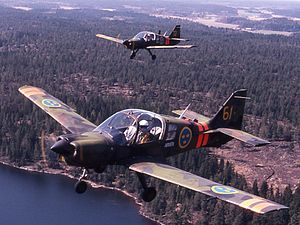 Picture - Scottish Aviation Bulldog, Swedish Army designation FPL 61C
Role: Basic trainer
Manufacturer: Beagle Aircraft/Scottish Aviation
First flight: 19 May 1969
Primary users: Royal Air Force Swedish Air Force
Number built: 320
Developed from: Beagle Pup

The Scottish Aviation Bulldog is a British two-seat side-by-side (with optional third seat) training aircraft designed by Beagle Aircraft as the B.125 Bulldog.
The prototype Bulldog first flew on 19 May 1969 at Shoreham Airport. The first order for the type was for 78 from the Swedish Air Board. Before any production aircraft were built, Beagle Aircraft ceased trading and the production rights for the aircraft, with the Swedish order, were taken over by Scottish Aviation (Bulldog) Limited. All subsequent aircraft were built at Prestwick Airport by Scottish Aviation, or in later years, British Aerospace.
Operational history
Sweden
The first 58 aircraft (known as the SK 61A and SK 61B) were delivered to the Swedish Air Force in 1971. Twenty more aircraft were delivered to the Swedish Army as FPL 61C in 1972, although these were transferred to the Air Force in 1989 as SK 61C. By 2001 all the Swedish aircraft had been withdrawn from military service. 26 were bought in 2004 by the Hungarian company AVIA-Rent.
United Kingdom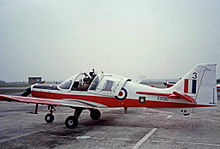 Picture - Manchester University Air Squadron Bulldog at RAF Woodvale in 1983
The largest customer was the Royal Air Force, which placed an order for 130 Bulldogs in 1972, entering service as the Bulldog T.1. It was used extensively by the Royal Air Force as a basic trainer, in particular as the standard aircraft of the University Air Squadrons and, later, Air Experience Flights, providing flying training.
The RAF sold off all its remaining Bulldog trainers in 2001 as general aviation light aircraft for a very low price. They were replaced by the Grob Tutor.
Other operators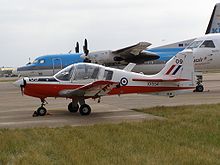 Picture - Privately owned ex-RAF Bulldog G-BZMD at the Royal International Air Tattoo in 2006
Of the Swedish aircraft, 26 were bought in 2004 by the Hungarian company AVIA-Rent. When the RAF aircraft were sold on the civilian market in the early 2000s, the type's excellent visibility, robustness and aerobatic capability meant that they were enthusiastically taken up. Many examples are operated by private pilots in the United Kingdom, United States and elsewhere.
Variants
The following Bulldog models were produced: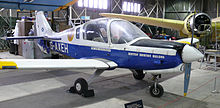 Picture - G-AXEH in the National Museum of Flight
Bulldog Series 1 One prototype built by Beagle Aircraft (G-AXEH), one built by Scottish Aviation; now in the collection of the National Museum of Flight at East Fortune, East Lothian. Bulldog Series 100
Model 101: Export model for Sweden. Swedish military designation SK 61 (AF) or FPL 61 (Army). 78 built.
Model 102: Export model for Malaysia. 15 built.
Model 103: Export model for Kenya. Five built.
Model 104: Refurbished second prototype (G-AXIG)
Model 121: Two-seat primary trainer aircraft for the Royal Air Force. RAF designation Bulldog T.1. 130 built, five later transferred to the Armed Forces of Malta.
Model 122: Export model for Ghana. Six built.
Model 122A: Export model for Ghana. Seven built.
Model 123: Export model for Nigeria. 37 built.
Model 124: Company demonstrator (G-ASAL).
Model 125: Export model for Jordan. 13 built.
Model 125A: Export model for Royal Jordanian Air Force. Nine built.
Model 126: Export model for Lebanon. Six built.
Model 127: Export model for Kenya. Nine built.
Model 128: Export model for Royal Hong Kong Auxiliary Air Force. Two built.
Model 129: One aircraft for a civil customer in Venezuela (YV-375-CP).
Model 130 : Export model for Botswana. Six built.

Bulldog Series 200 Four-seat variant with retractable undercarriage. One prototype built (G-BDOG). Also known as the Bullfinch in civilian guise.
Operators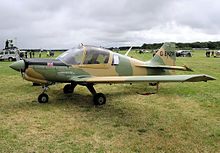 Picture - Privately-owned Scottish Aviation Bulldog Series 120, formerly of the Botswana Air Force and in their colours, at an English air rally in 2005.
Military operators
Botswana
Botswana Air Force

Ghana
Ghana Air Force

Hong Kong
Royal Hong Kong Auxiliary Air Force

Jordan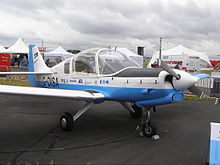 Picture - Former Royal Jordanian Air Force Bulldog now operated by the British Disabled Flying Association on display at Farnborough Airshow 2008
Royal Jordanian Air Force

Kenya
Kenya Air Force

Lebanon
Lebanese Air Force

Malaysia
Royal Malaysian Air Force

Malta
Armed Forces of Malta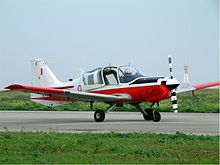 Picture - Bulldog of the Maltese Air Force in 2003.
Nigeria
Nigerian Air Force

Sweden
Swedish Air Force
Swedish Army

United Kingdom
Royal Air Force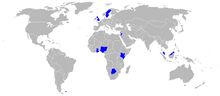 Picture - Operators of the Bulldog.
Specifications (Bulldog Series 120)
Data from
General characteristics
Crew: 2: student, instructor
Length: 23 ft 3 in (7.08 m)
Wingspan: 33 ft 0 in (10.06 m)
Height: 7 ft 5¾ in (2.28 m)
Wing area: 129.4 ft² (12.02 m²)
Airfoil: NACA 632615
Aspect ratio: 8.4:1
Empty weight: 1,475 lb (669 kg)
Useful load: 920 lb (417 kg)
Max takeoff weight: 2,350 lb (1,066 kg)
Powerplant: 1 x— Lycoming IO-360-A1B6 opposed piston engine, 200 hp (149 kW)

Performance
Never exceed speed: 210 knots (241 mph, 389 km/h)
Maximum speed: 130 knots (150 mph, 241 km/h) at sea level
Stall speed: 54 knots (62 mph, 100 km/h)
Range: 540 nmi (621 mi, 1,000 km)
Service ceiling: 16,000 ft (4,875 m)
Rate of climb: 1,034 ft/min (5.25 m/s)

Armament
Note: all armament is optional.
290 kg (640 lb) bomb load

These armaments were never used in RAF service although some weapons training was done on the Bulldog trainers in Sweden. Although hardpoints are available, there is no provision for weapons launch control systems in the Bulldog.
Comparable aircraft
Aermacchi SF.260
Cessna T-41
PAC CT/4 (Pacific Aerospace Limited)
Saab 91 Safir
Utva 75
Valmet L-70 Vinka
Grumman American AA-1

Taylor, John W. R. (1976). Jane's All The World's Aircraft 1976-77. London: Jane's Yearbooks. ISBN 0 354 00538 3.

Scottish Aviation Bulldog Pictures
More airplane videos.
Source: WikiPedia