Seversky P-35 Video and Picture
Seversky P-35 Aircraft Information
Seversky P-35
Seversky P-35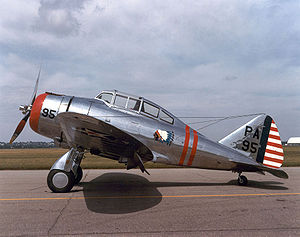 Picture - P-35 (36-0404) marked as P-35A at the National Museum of the USAF
Role: Fighter
Manufacturer: Seversky
Designed by: Alexander Kartveli
First flight: 15 August 1935
Introduced: 1937
Retired: September 1952 (Sweden)
Primaryusers: United States Army Air Corps Swedish Air Force
Number built: 136
Unit cost: US$22,500
Variants: P-43 Lancer

The Seversky P-35 was a fighter aircraft built in the United States by the Seversky Aircraft Company in the late 1930s. A contemporary of the Hawker Hurricane and Messerschmitt Bf 109, the P-35 was the first single-seat fighter in U.S. Army Air Corps to feature all-metal construction, retractable landing gear and an enclosed cockpit.
Design and development
The origins of the P-35 trace back to the Seversky SEV-3 amphibian, which was developed into the Seversky BT-8 basic trainer. This proved grossly underpowered and was quickly replaced by the North American BT-9. Seversky's chief designer, Alexander Kartveli, also proposed a two-seat fighter derivative, the SEV-2XP. This, powered by a 735hp (548kW) Wright R-1670 radial engine, had fixed landing gear in aerodynamic spats and was armed with one .50in (12.7mm) and one .30in (7.62mm) forward-firing machine guns plus an additional .30in (7.62mm) gun for rear defence.
When the USAAC announced a competition for a new single-seat fighter in 1935, Seversky sent the SEV-2XP, confident it would win despite being a two-seater. However, the aircraft was damaged on 18 June 1935 during its transit to the fly-offs at Wright Field. Fortunately for the company, the Air Corps delayed the flyoff until March 1936, which allowed Seversky time to rework the fighter into the single-seat SEV-1XP with retractable landing gear and re-engined with the Wright R-1820 radial.
During flight trials the SEV-1XP failed to achieve the 300mph speed guaranteed by Seversky. Company technicians blamed the troublesome Wright engine, so it was replaced using a twin-row Pratt & Whitney R-1830-9 (Twin Wasp) with 850hp (634kW) available on takeoff, the same rating as the Wright. While the engine change was being effected, a larger vertical stabilizer was also added. The P&W also failed to deliver its rated power (it put out only 738hp), and top speed was again well below 300mph. After several further modifications and a change of company designation (to AP-1), the SEV-1XP won the Air Corps' competition on 16 June 1936, beating the Curtiss Model 75 Hawk in the finals, with the company awarded an order for 77 P-35 fighters. Modifications from SEV-1XP to production P-35 standard included partial instead of complete mainwheel fairings, seven degrees of dihedral to the outer wing panels, and a revised canopy.
Ironically, because of unrest in Europe, the AAC also ordered 210 Curtiss P-36s. The difference in numbers was in part due to the P-35 being considerably more expensive (more than $1,500 apiece) and in part due to the sale of 2PA two-seat aircraft to the Japanese Navy.
The first production P-35s were transferred to the USAAC in 1937. Only 76 were built, with the last production aircraft finished as the prototype XP-41. Delivery was completed in August 1938.
Aiming to increase sales, Alexander P. de Seversky personally took a P-35 on a tour of Europe in early 1939; in the process, he became the first American pilot to fly the Supermarine Spitfire. After he was voted out by the Board of Directors, Republic (as the company became known after reorganization) in February 1940 sold Sweden the EP-106 (Export Pursuit), a refinement of the P-35 to replace the country's aging Gloster Gladiator biplanes. The EP-106 was powered by a 1,050hp (783kW) R-1830-45, which improved performance by over 25mph (40km/h). The Swedes ordered a total of 120 EP-106s, with initial order placed in mid-1939, and 60 aircraft delivered. The aircraft were armed with two 7.9mm (.311in) machine guns in the cowl and two 13.2mm (.52in) machine guns in the wings, as well as a variant outfitted to carry 350lb (159kg) of bombs. The Swedish Air Force designated them J 9.
Seversky also built a two-seater, the 2PA. Evolved in parallel with the P-35, the 2PA was a two-seat fighter and fighter-bomber with a fundamentally similar airframe and offered with either a similar undercarriage to that of the single-seater as the 2PA-L (Land) or with an amphibious float undercarriage as the 2PA-A (Amphibian). Dubbed "Convoy Fighter" by the manufacturer, the 2PA was powered by a Wright R-1820-G2 or G3 Cyclone nine-cylinder radial engine, the former rated at 1,000hp for take-off and the latter at 875hp. Armament comprised two wing-mounted 7.62mm or 12.7mm Browning guns, one 7.62mm Browning on a flexible mount in the rear cockpit, plus two forward-firing fuselage-mounted 7.62mm or 12.7mm Browning guns. Provision was made for a bomb load of up to 227kg (500 lb) on internal wing racks. One 2PA-A and one 2PA-L were procured by the Soviet Union in March 1938, together with a manufacturing licence, which, in the event, was not to be utilised. Two aircraft, one with conventional landing gear and one with floats, along with the manufacturing license were sold to the USSR but it appears that the Soviets never put it into production. In what proved to be an unpopular move for Seversky, 20 2PA-B3s were sold to the Japanese Navy, which briefly employed them in the Second Sino-Japanese War as Navy Type S Two-Seat Fighter or A8V-1 (Allied codename "Dick"). The Japanese were unimpressed with the aircraft and eventually relegated two of them to the Asahi Shimbun newspaper as "hacks." Sweden ordered 52 2PAs (Swedish designation B 6), able to carry 1,350lb (612kg) of bombs, but received only two prior to the U.S. embargo directed to combatants. The remaining 50 were appropriated by the USAAC, re-armed with 0.30in and 0.50in machine guns, and used as advanced trainers named AT-12 Guardsman.
Although it had reached the end of its useful service life, the basic P-35 design was progressively developed into the more advanced P-43 Lancer. Nonetheless despite its obsolescence as a fighter design, the P-35 design served as the inspiration for the promising Italian Reggiane Re.2000 Falco fighter which bears a superficial similarity in layout.
Operational history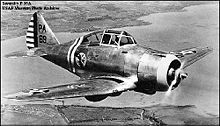 Picture - P-35 of 27h PS, 1st PG, in flight.
The first P-35s were delivered to the 1st Pursuit Group stationed at Selfridge Field in Michigan. The aircraft utilized a wet wing to save weight and ground personnel quickly learned about the persistent fuel leaks. The P-35's performance was poor even by contemporary standards and, although USAAC flyers appreciated the aircraft's ruggedness, it was already obsolete by the time deliveries were finished in 1938.
On 18 June 1940, United States declared an embargo against exporting weapons to any nation other than the United Kingdom. Optimistically, Republic continued to manufacture EP-106s which, by the 24 October 1940 order, 60 were taken over by the USAAC as the P-35A. The aircraft were re-armed to American standards with 0.30in and 0.50in machine guns but apparently retained metric flight instruments and flight manuals written in Swedish. Of these, three aircraft were kept in United States as instructional airframes for mechanics. Six P-35As were delivered to Ecuador to form the first combat unit, the Escuadrilla de Caza. The remainder were sent to the Far East Air Force in the Philippines. About 10 of these were quickly lost in accidents; the rest fought in the futile defense of the islands in December 1941 and January 1942, initially with the 24th Pursuit Group at Clark Field. Later, after P-40Bs and P-40Es became available, the P-35As went to the 17th and 34th Pursuit Squadrons. Unfortunately, they were hopelessly outclassed by the Japanese fighters. Lack of armor and self-sealing fuel tanks made the aircraft extremely vulnerable and by 12 December 1941, only eight P-35As were still in flying condition. In 1942, surviving P-35As were redesignated RP-35A, the letter "R" indicating the aircraft were "restricted" or unfit for combat. Their last sortie was flown over Macajalar Bay on 3 May.
Swedish service
The Swedish Air Force received 60 J 9s in the spring-summer 1940. The aircraft were amongst other units assigned to the F 8 Air Force base protecting Stockholm, replacing its obsolete Gloster Gladiators. Swedish J 9s served with Flygvapnet as a fighter until 1946. Later, 10 aircraft were equipped with cameras but retained their J 9 fighter designation and, in addition, a number of others were used for liaison and general flight training. The last seven J 9 aircraft remained in service until September 1952.
Variants
SEV-1XP Single-seat fighter prototype SEV-2XP Two-seat fighter prototype SEV-7 Single-seat fighter prototype, fitted with a Pratt & Whitney R-1830-9 Twin Wasp radial piston engine. The aircraft was later redesignated AP-1. EP-106 Single-seat fighter version for Sweden. P-35 First production version, Pratt & Whitney R-1830-9 engine with 850hp (634kW).
EP-1 Export version of the P-35.
EP-1 Export version of the P-35.
P-35A Appropriated EP-106 destined for Sweden, Pratt & Whitney R-1830-45 radial piston engine with 1,050 hp (783 kW) and increased armament.
J 9 Swedish designation of the P-35A.
J 9 Swedish designation of the P-35A.
RP-35A Surviving P-35A designated as unfit for combat duties. 2PA Two-seat version with rear gunner.
A8V-1 "Dick" Two-seat 2PA used by the Japanese Navy. B 6 Swedish designation of the 2PA. AT-12 Guardsman Two-seat advanced trainer, appropriated 2PA destined for Sweden.
A8V-1 "Dick" Two-seat 2PA used by the Japanese Navy. B 6 Swedish designation of the 2PA. AT-12 Guardsman Two-seat advanced trainer, appropriated 2PA destined for Sweden.
FN-1 Version of the P-35 for United States Navy evaluation, designation not used.
Operators
Colombia
Colombian Air Force operated 3 Seversky P-35-2-PA-L.(SEV-3M-WW)

Ecuador
Ecuadorian Air Force

Japan
Imperial Japanese Navy Air Service

Soviet Union
Soviet Air Force

Sweden
Swedish Air Force

United States
United States Army Air Corps

Survivors
No Ecuadorian aircraft survived as part the lend lease agreement with the U.S. which exchanged the Ecuadorian P-35s for P-47s. The P-35s were to be sold as scrap and the Ecuadorian government took the agreement literally. Within a few days of the delivery of the P-47s, ground crews with blow torches cut the P-35s apart and they were sold as scrap.
AT-12 One of those who didn't make it to Sweden, recently restored back to flying condition at the Planes of Fame in Chino Airport, Los Angeles. J 9/P-35A Exhibited in the Swedish Air Force Museum J 9/P-35A Exhibited in the Kermit Weeks' Fantasy of Flight in Florida, presently undergoing restoration to flying condition. P-35 (USAAC Serial no. 36-0404) displayed as a P-35A On display at the National Museum of the United States Air Force. This aircraft served with the 94th Pursuit Squadron at Selfridge Field in Michigan. It was obtained by the Museum from Charles P. Doyle of Rosemount, Minnesota and was restored by maintenance personnel of the 133rd Tactical Airlift Wing of the Minnesota Air National Guard under the supervision of its commander, Brig. General John R. Dolny, with assistance from students of the Minneapolis Vocational Institute. It is marked as the P-35A flown by the 17th Pursuit Squadron commander, 1 Lt. Buzz Wagner, in the Philippines in early 1941.
Recently plans were announced for the manufacture of a new production, full scale replica J 9/P-35A from Vintage Component Specialties.[1]
Specifications (P-35A)
General characteristics
Crew: One
Length: 26 ft 11 in (8.2 m)
Wingspan: 36 ft 0 in (11.0 m)
Height: 9 ft 10 in (3.0 m)
Wing area: 219.5 ft² (20.4 m²)
Empty weight: 4,565 lb (2,070 kg)
Loaded weight: 6,105 lb (2,770 kg)
Max takeoff weight: 8,688 lb (3,940 kg)
Powerplant: 1x— Pratt & Whitney R-1830-45 Twin Wasp radial engine, 1,050 hp (783 kW)

Performance
Maximum speed: 310 mph (496 km/h)
Cruise speed: 260 mph (418 km/h)
Range: 950 mi (1,530 km)
Service ceiling: 31,400 ft (9,570 m)
Rate of climb: 1,918 ft/min (9.74 m/s)
Wing loading: 27.8 lb/ft² (136.0 kg/m²)
Power/mass: 0.17 hp/lb (0.28 kW/kg)

Armament
2x 0.30 in machine guns; 2x 0.50 in machine guns; up to 350 lb (160 kg) of bombs
Related development
Seversky XP-41
P-43 Lancer
P-47 Thunderbolt

Comparable aircraft
Fokker D.XXI
Reggiane Re.2000 series
PZL.50 JastrzÄ…b
Vultee P-66 Vanguard

Bibliography
Davis Larry. P-35: Mini in Action (Mini Number 1). Carrollton, Texas: Squadron/Signal Publications, 1994. ISBN 0-89747-321-3.
Fitzsimmons, Bernard. The Illustrated International Aircraft Guide Fighters of WWII, Part IX. London: MacDonald Phoebus Ltd., 1981.
Green, William. War Planes of the Second World War, Volume Four: Fighters. London: Macdonald & Co. (Publishers) Ltd., 1961 (Sixth impression 1969). ISBN 0-356-01448-7.
Hucker, Robert. "Seversky: Innovator and Prophet." Air Classics, 20th Anniversary Special Edition 1964-1984, 1984.
United States Air Force Museum Guidebook. Wright-Patterson AFB, Ohio: Air Force Museum Foundation, 1975.

Living Warbirds: The best warbirds DVD series.
Source: WikiPedia