Seversky SEV-3 Video - Picture
Seversky SEV-3 Aircraft Information
Seversky SEV-3
SEV-3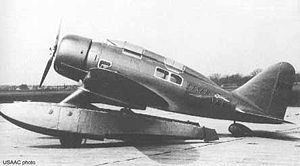 Role: Three-seat amphibian
National origin: United States
Manufacturer: Seversky Aircraft
First flight: 1933

The Seversky SEV-3 was an American three-seat amphibian monoplane, the first aircraft designed and built by the Seversky Aircraft Corporation.
Design and development
The SEV-3 was an all-metal cantilever low-wing monoplane powered by a nose-mounted 420 hp (313 kW) Wright J-6 Whirlwind radial engine. It had two cockpits in tandem, forward for the pilot and the rear cockpit for two passengers, both with a sliding canopies. The aircraft was fitted with twin Seversky-designed floats which had main wheels fitted in the floats to allow it to operate from land. The SEV-3 first flew in June 1933 and was built in small numbers mainly for export.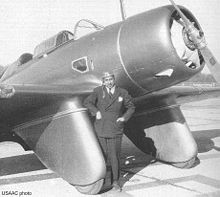 Picture - Alexander de Seversky standing before the SEV-3XAR, autumn 1934
Operational history
An SEV-3 established a world speed record for a piston-engined amphibians in 1933 and on 15 September 1935 a Wright Cyclone powered SEV-3 set a record of 230 mph (370.8 km/h) which stood for 49 years. A landplane version was also developed with a conventional landing gear.
The design influenced a long-line of Seversky then Republic aircraft leading to the P-47 Thunderbolt. A landplane version was used by the United States Army Air Corps as a basic trainer with the designation BT-8.
Operators
Spain
Spanish Republican Air Force

Colombia
Colombian Air Force

Variants
SEV-3XAR Amphibian SEV-3XLR Landplane SEV-3MWW Amphibian for the Colombian Air Force, six built. BT-8 Landplane basic-trainer for the United States Army Air Corps, 30 built.
Specifications
General characteristics
Crew: 1 (pilot)
Capacity: 2 passengers
Powerplant: 1 x— Wright J-6 Whirlwind radial engine, 420 hp (313 kW)

Related development
Seversky P-35

Taylor, Michael J.H. Jane's Encyclopedia of Aviation. London: Studio Editions, 1989.
The Illustrated Encyclopedia of Aircraft (Part Work 1982-1985) London: Orbis Publishing, 1985.

SEV-3 • P-35 • XP-41
Piston fighters: P-43 · P-47
Jet fighters: F-84 · F-84F · F-105
Sports aircraft: RC-3
Guided missiles: JB-2
Experimental and design proposals: XF-12 · P-44 · XP-69 · XP-72 · XF-84H · XF-91 · XF-103
Lancer · Rainbow · Seabee · Thunderbolt · Thunderceptor · Thunderchief · Thunderflash · Thunderjet · Thunderscreech · Thunderstreak · Thunderwarrior
Seversky SEV-3 Pictures
More aircraft.
Source: WikiPedia