Chengdu J-20 Video - Pictures and Video
Chengdu J-20 Aircraft Information
Chengdu J-20
J-20 "Black Eagle"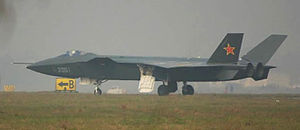 Picture - Chengdu J-20
Role: Stealth air superiority, multirole fighter Strike fighter
National origin: China
Manufacturer: Chengdu Aircraft Industry Group
First flight: 2011 (planned)
Introduced: 2017-2019 (planned)
Status: In development/taxi trials
Primary user: People's Liberation Army Air Force
Number built: 2

The Chengdu J-20 "Black Eagle" is a fifth generation stealth, twin-engine fighter aircraft prototype developed by Chengdu Aircraft Industry Group for the Chinese People's Liberation Army Air Force.
Development
The J-20 was one of the stealth fighter programs under the codename J-XX that was launched in the late 1990s. Two prototypes (#2001 & 2002) have been built as of the end of 2010.
On December 22, 2010, the J-20 was under-going high speed taxiing tests at its Chengdu facility with no confirmed flight tests. It was reported on 30 December 2010 that top level officials were coming to the Chengdu facility to witness the first flight test.
Production and possible export
One Russian news analyst speculates that China may be able to produce the J-20 at a cost 50% to 80% lower than Russian and United States fifth-generation jet fighters, and that potential customers may include Pakistan, the Middle East, Latin America, Southeast Asia and the richest countries in Africa. He further conjectures that China may not be able to manufacture all the advanced composite materials, avionics, and sensors packages, and could instead turn to foreign suppliers. Bill Sweetman speculates that China will have problems meeting its production requirements, as it has several other jet fighter projects in production.
Design
The J-20, which appears to be somewhat larger and heavier than the comparable Sukhoi T-50 and Lockheed Martin F-22 Raptor, is a single-seat, twin-engine aircraft. Bill Sweetman estimates that it is approximately 75 feet (23 m) in length, has a wingspan of 45 feet (14 m) or more, and is expected to have a takeoff weight of 75,000 to 80,000 pounds (34,000 to 36,000 kg) with internal stores only. The prototype could be powered by twin 32,000-pound thrust Saturn 117S engines provided by Russia. Chinese sources have claimed that production aircraft will be powered by two 13,200 kg/WS-10 class high thrust turbofan engines fitted with Thrust Vector Controlled (TVC) nozzles, both made in China. Pentagon spokesman Col. David Lapan has said that one of the signs of problems in the development is that China is still seeking engines from Russia for the aircraft.
The J-20 may have lower supercruise performance and agility than a Lockheed Martin F-22 Raptor, but might have larger weapon bays and might carry more fuel. The J-20 has a long and wide fuselage and low jet engine intakes with a forward chine, a main delta wing, forward canards, a bubble canopy, conventional round engine exhausts, and canted all-moving fins. The front section of the J-20 is similarly chiseled as the F-22 Raptor and the body and tail resemble those of the Sukhoi T-50 prototype. Douglas Barrie has noted that the canard-delta configuration with canted vertical fins appears to be similar to the MiG 1.42. It is suspected that cyberespionage may have assisted the development of the J-20, with information used by subcontractors of Lockheed Martin for the F-35 project in particular having been significantly compromised during development of the J-20. However, the Pentagon denied that any sensitive material had been compromised in the process.
The J-20 has been described as having a pair of all-moving tailfins and ventral stabilizing fins. It also has an F-22 style nose section, including Caret intakes but with diverterless supersonic inlet (DSI) bumps installed at the upper corners, and a one-piece canopy. The J-20 also likely incorporates an advanced fly-by-wire (FBW) system fully integrated with the fire-control and the engine systems. Its fire-control radar is expected to be Active Electronically Scanned Array (AESA) (Type 1475/KLJ5?). The aircraft may feature a "pure" glass cockpit (a single F-35 style color liquid crystal display (LCD) and a wide-angle holographic head-up display (HUD)). Many of these subsystems have been tested onboard J-10B to speed up the development. It was reported in November 2006 that a T/W=10 17,000 kg class turbofan (WS-15/"large thrust") was being developed for the J-20.
Carlo Kopp has suggested that the J-20's overall aerodynamic design is superior to that of the F-35 or PAK FA, and may be eventually comparable to the F-22. Others, such as Shih Hiao-wei of Defense International monthly and Bill Sweetman of Aviation Week, have said that the excessive number of airfoils on the J-20 will challenge its ability to remain stealthy from all directions. As of January 2011 the engine nozzles were clearly non-stealthy, this may be due to the fact that the final "fifth generation" engines had not been completed yet.
Fifth generation jet fighter

Related development
J-XX

Comparable aircraft
Lockheed Martin F-22 Raptor
Sukhoi PAK FA
Lockheed Martin F-35 Lightning II
Northrop YF-23
Mikoyan LMFS

Related lists
List of fighter aircraft
List of Chinese aircraft

Chengdu J-20 Pictures and Chengdu J-20 for Sale.
Living Warbirds: The best warbirds DVD series.
Source: WikiPedia