Short 360 Video - Picture
Short 360 Aircraft Information
Short 360
Short 360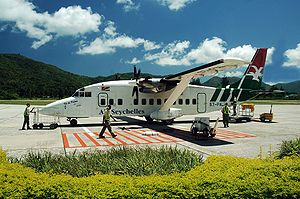 Picture - An Air Seychelles Short 360
Role: Transport aircraft
Manufacturer: Short Brothers
First flight: 1 June 1981
Introduced: 1981
Primary users: Air Cargo Carriers Emerald Airways Aeroperlas Skyway Enterprises
Developed from: Short 330
Variants: C-23B/C Sherpa

The Short 360 (also SD3-60) is a commuter aircraft built by Short Brothers. The Short 360 seats up to 36-39 passengers and was introduced into service in 1981. It is a larger version of the Short 330.
Development
The Short 360 is a 36-seat derivative of the 30-33 seat Short 330. In high density configuration, 39 passengers could be seated. The two Short airliners share a high degree of commonality and are very close in overall dimensions and size. The later 360 is easily identified by a larger, swept tail unit mounted on a revised rear fuselage. The 360 has a 3 ft (91 cm) fuselage "plug" allowing two more seat rows and six extra passengers to be carried, while the extra length smoothed out the aerodynamic profile and reduced drag. The 360's wingspan is slightly greater and its power is supplied by two Pratt & Whitney PT6A-65Rs. The development was announced in 1980, with the prototype's first flight on 1 June 1981 and type certification awarded on 3 September 1981.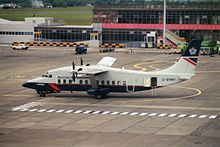 Picture - A British Airways Express Short 360 at Dublin Airport in 1995.
Once in production, Short marketed a number of 360 developments, the first of which was the 360 Advanced with 1,424 shp (1,062 kW) PT6A-65-ARs. The 360 Advanced was introduced in late 1985, soon followed by the further improved 360/300, which entered service in March 1987. The 360/300 introduced advanced six-blade propellers, more powerful PT6A-67R engines, and other aerodynamic improvements, giving a higher cruise speed and improved "hot and high" performance. The 360/300 was also built in 360/300F freighter configuration. Total production was 164 aircraft.
Operational history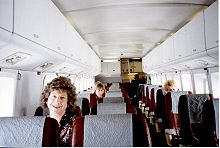 Picture - Cabin interior of Manx Airlines Short 360 showing 'box' structure and two-and-one seating layout
The Short 360 entered service with Suburban Airlines (later merged with Allegheny Airlines/US Airways) in November 1981. Building on the strengths and reputation of its earlier 330 antecedent, the 360s found a niche in regional airline use worldwide, being able to operate comfortably from 4,500 ft (1,400 m) long runways - opening up hundreds of airfields inaccessible by scheduled flights. With a cruise speed about 215 mph (370 km/h), at an altitude of 10,000 ft (3,048 m), the 360 was not the fastest turboprop in its market but it offered more than acceptable performance for a reasonably affordable pricetag combined with ease of service and maintainability. The PT6A turboprops are fully ICAO Stage 3 noise-compliant, making the 360 (and its 330 cousin) one of the quietest turboprop aircraft operating today. Production on the 360 ceased in 1991 after 165 deliveries. As of 1998, approximately 110 360s were in service.
Accidents and incidents
A total of 11 hull loss accidents have been recorded for the Short 360, with one more probable in the wake of the recent Air Cargo Carriers incident.
13 December 1987: Philippine Air Lines Flight 443 crashed in the Philippines and all 15 on board were killed.
13 January 2000: A Sirte Oil Company :HB-AAM crashed on approach near Mersa Brega Seaport; 22 of the 41 passengers and crew on board were killed.
27 February 2001: Loganair Flight 670 crashed into the Firth of Forth after takeoff; both pilots killed.

Variants
360-100 was the first production model with Pratt & Whitney Canada PT6A-65R turboprop engines.
360 Advanced featured an upgraded PT6A-65AR engines providing 1,424 shaft horsepower (1,062 kilowatts) each. The aircraft was later redesignated 360-200. Variant was introduced in late 1985.
360-300 added even more powerful PT6A-67R engines with six blade propellers providing a higher cruise speed and improved performance.
360-300F was a freighter version of -300. with capacity for five LD3 cargo containers.
C-23 Sherpa B+ and C variants are military configured Short 360s operated by the United States military.

Operators
In August 2006, a total of 86 Short 360 aircraft (all variants) were in airline service, with Air Seychelles (2), Deraya Air Taxi (2), Freedom Air (1), South Pacific Express (2), Air Contractors (3), Aerocondor (4), Aurigny Air Services (1), Benair (1), Emerald Airways (10), Nightexpress (2), Aeroperlas (8), Air Cargo Carriers (19), Air Santo Domingo (1), AirNow (3), Pacific Coastal Airlines (2), Roblex Aviation (7), Servicios Aéreos Profesionales (1), Skyway Enterprises (8), Trans Air (1) and Trans Executive Airlines (4).
Argentina
LAPA

Aruba
Tiara Air

Australia
Sunstate Airlines

Canada
Pacific Coastal Airlines

China
CAAC

Costa Rica
TACA (SANSA)

Guatemala
TACA (INTER)

Guernsey
Aurigny Air Services

Honduras
TACA (ISLEx'A)

Ireland
Aer Arann
Aer Lingus

Nicaragua
TACA (LA COSTENA)

Panama
TACA Aeroperlas

Philippines
Philippine Airlines

Portugal
Aero Vip

Seychelles
Air Seychelles

Thailand
Thai Airways

United Kingdom
HD Air (formerly BAC Express)
British Regional Airways/Loganair
Manx Airlines
Jersey European (now Flybe)
Gill Airways

United States
US Airways
American Eagle
Air Cargo Carriers
Federal Express
Freedom Air (Guam)
Gulfstream International Airlines
Roblex Aviation

Venezuela
Venezuelan Air Force (Fuerza Aérea Venezolana)

Specifications (360-300)
Data from Jane's All The World's Aircraft 1988-89
General characteristics
Crew: Three (Two pilots plus one cabin crew)
Capacity: 36 passengers
Length: 70 ft 9⅝ in (21.58 m)
Wingspan: 74 ft 9½ in (22.80 m)
Height: 23 ft 10¼ in (7.27 m)
Wing area: 454 ft² (42.18 m²)
Airfoil: NACA 63A series (modified)
Empty weight: 17,350 lb (7,870 kg)
Max takeoff weight: 27,100 lb (12,292 kg)
Powerplant: 2x— Pratt & Whitney Canada PT6A-67R turboprop, 1,424 shp (1,062 kW) each

Performance
Maximum speed: 280 mph (242 kn, 470 km/h) (at 10,000 ft/3,048 m)
Cruise speed: 249 mph (216 kn, 400 km/h) at 10,000 ft (3,050 m)
Stall speed: 85 mph (73 kn, 136 km/h) (flaps and landing gear down)
Range: 732 mi (636 nmi, 1,178km)
Service ceiling: 25,000 ft (7,600 m)
Rate of climb: 952 ft/min (4.7 m/s)

Related development
Short Skyvan
Short 330
C-23 Sherpa

Bibliography
Barnes C.H. and Derek N. James.Shorts Aircraft since 1900. London: Putnam, 1989. ISBN 0-85177-819-4.
Donald, David, ed. The Encyclopedia of Civil Aircraft. London: Aurum, 1999. ISBN 1-85410-642-2.
Frawley, Gerard. The International Directory of Civil Aircraft, 2003/2004. London: Aerospace Publications Pty Ltd., 2003. ISBN 1-875671-58-7.
Simpson, Rod. Airlife's World Aircraft, 2001. London: Airlife Publishing Ltd. ISBN 1-84037-115-3.
Taylor, John W. R. Jane's All The World's Aircraft 1988-89. Coulsdon, UK:Jane's Defence Data, 1988. ISBN 0 7106-0867-5.
Smith, P.R. Shorts 330 and 360 (Air Portfolios 2) London: Jane's Publishing Company Limited, 1986. ISBN 0-7106-0425-4.

Short 360 Pictures
Living Warbirds: The best warbirds DVD series.
Source: WikiPedia