Short Belfast Video - Picture
Short Belfast Aircraft Information
Short Belfast
Belfast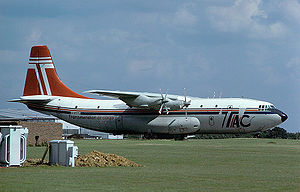 Picture - Short Belfast of Transmeridian Air Cargo at Stansted in 1979
Role: Heavy airfreighter
Manufacturer: Short Brothers
First flight: 5 January 1964
Retired: from RAF service 1976
Primary users: RAF HeavyLift Cargo Airlines
Number built: 10

The Short Belfast is a heavy lift turboprop freighter built by Short Brothers at Belfast. Only 10 were built for the British Royal Air Force with the designation Short Belfast C.1. When they were retired by the RAF, five went into civilian service with the cargo airline HeavyLift Cargo Airlines. Two aircraft still exist, one is on display at the RAF Museum Cosford.
Design and development
The Belfast was developed to meet a Royal Air Force operational requirement (ASR.371) for a freighter capable of carrying a wide range of military loads over long ranges. The military loads envisaged included artillery, more than 200 troops, helicopters, and guided missiles. Shorts' design was based on studies they had worked on in the late 1950s and the project started as the SC.5/10 in February 1959. From that design, the prototype Belfast first flew on 5 January 1964. The aircraft was flown by Shorts' chief test pilot Denis Taylor; the crew consisted of Peter Lowe (2nd pilot), Malcolm Wild (engineer), Ricky Steel (flight engineer), Bill Mortimer (radio operator & navigator), Alex Mackenzie and Gil Thomas (flight observers)/
The Belfast was notable for being only the second aircraft type to be built equipped with autoland blind landing equipment.
To meet the demands of the specification the Belfast used a high wing carrying four Rolls-Royce Tyne turboprops. The cargo deck, 64 ft long (20 m) in a fuselage over 18 ft in diameter (5.5 m) (roomy enough for two single-deck buses), was reached through a "beaver tail" with rear loading doors and integral ramp. The main undercarriage was two 8-wheel bogies and a 2-wheel nose. The Belfast was capable of a maximum takeoff weight (MTOW) of over 220,500 lb (100 tonnes) - less than the contemporaneous 250-tonne Antonov An-22 and the 128-tonne Douglas C-133 Cargomaster, but more than the C-130 Hercules. It could carry 150 troops with full equipment, or a Chieftain tank or two Westland Wessex helicopters or six Westland Scout helicopters.
Operational history
The original RAF requirement had foreseen a fleet of 30 aircraft, but this number was to be significantly curtailed as a result of the Sterling Crisis of 1965. The United Kingdom government needed to gain support for its loan application to the IMF, which the United States provided. However, one of the alleged clauses for this support was that the RAF purchase Lockheed C-130 Hercules aircraft. With a surplus of airlifting capacity the original order was reduced to 10. The Belfast entered service with No. 53 Squadron RAF in January 1966 based at RAF Fairford. By May the following year they had been moved to RAF Brize Norton.
Following entry to RAF service it became apparent that a major drag problem was preventing the initial five aircraft attaining Short's desired performance. Suction drag on the tail and rear fuselage was so severe that the RAF personnel gave the aircraft the nicknames "'The Dragmaster", "Slug" and "Belslow". Modifications and testing were carried out, particularly on aircraft SH1818 (which was at the time perfecting the RAF's requirement for CAT 3 automated landings at RAE Bedford) and a new rear fairing was built improving the fleet's cruising speed by 40 mph.
Picture - The Belfast is quite a large aircraft, as can be seen in this photo when it is compared to the vehicles and personnel near it.
The reorganisation of the new RAF Strike Command was to have repercussions of the RAF's Belfast fleet and ushered in the retirement of a number of aircraft types including the Bristol Britannia and De Havilland Comet in 1975. By the end of 1976 the Belfast fleet had been retired and flown to RAF Kemble for storage.
TAC HeavyLift then purchased five of them for commercial use in 1977 and operated three of them from 1980 after they had received work so they could be certificated to civil standards. Ironically, some of them were later chartered during the Falklands war, with some sources suggesting that this cost more than keeping all the aircraft in RAF service until the 1990s. After being retired from TAC HeavyLift service several were parked at Southend Airport for a number of years until one aircraft was refurbished and flown to Australia in 2003. This aircraft is still flying (as of January 2010) in Australia for HeavyLift Cargo Airlines; it is often visible parked on the General Aviation side of Cairns International Airport in Queensland, in company with one or two of the company's Boeing 727s. Now registered RP-C8020 it is currently (November 2010) sitting on the Cairns International apron to where it was moved prior to the scrapping of the remaining company Boeing 727 (RP-C8016), in Cairns, at the end of September 2010. It is understood that RP-C8020 cannot be started and could possibly be a candidate for the second scrapping of a HeavyLift aircraft in Cairns. A second, G-BEPS (SH1822), was to have joined her in Australia following refurbishment at Southend Airport but was scrapped in October 2008. The last production Belfast (Enceladus, XR371) is preserved at the RAF Museum Cosford. Recently this aircraft has had a repaint before being preserved undercover at the National Cold War Exhibition.
Aircraft names
All 10 Belfasts were named:
Samson - RAF Serial XR362 (used registration G-ASKE for overseas test flight), sold as G-BEPE then scrapped
Goliath - RAF Serial XR363, sold as G-OHCA then scrapped
Pallas - RAF Serial XR364, sold as scrap to Rolls-Royce who recovered the Tyne engines
Hector - RAF Serial XR365, sold as G-HLFT then as 9L-LDQ operating with HeavyLift Cargo Airlines, now RP-C8020 (see image above)
Atlas - RAF Serial XR366, sold to RR for engines
Heracles - RAF Serial XR367 - sold as G-BFYU then scrapped
Theseus - RAF Serial XR368, sold as G-BEPS then in storage at Southend Airport - Began being broken up 22/Oct/2008
Spartacus - RAF Serial XR369, sold as G-BEPL then scrapped
Ajax - RAF Serial XR370, sold to RR for engines
Enceladus - RAF Serial XR371, preserved as an exhibit at RAF Museum Cosford

Operators
Military operators
United Kingdom
Royal Air Force
No. 53 Squadron RAF

Civil operators
Australia
HeavyLift Cargo Airlines

France
Darta

Mexico
Air One (Mexico)

United Kingdom
TAC HeavyLift
Transmeridian Air Cargo

Specifications (Belfast C Mk.1)
General characteristics
Crew: Basic aircrew 5 (two pilots, engineer, navigator and loadmaster); in RAF use, a bunk-room on the lower deck provided sleeping facilities for a second crew, permitting double-crew operation
Capacity: 11,750 cu. ft.
Payload: 80,000 lb (36,288 kg)
Length: 136 ft 5 in (41.70 m)
Wingspan: 158 ft 10 in (48.1 m)
Height: 47 ft (14.33 m)
Wing area: 2,466 ft² (229.1 m²)
Empty weight: 130,000 lb (59,020 kg)
Max takeoff weight: 230,000 lb (104,300 kg)
Powerplant: 4x— Rolls-Royce Tyne R.Ty.12, Mk. 101 turboprops, 5,730 ehp (4,270 kW) each
Propellers: Hawker Siddeley Dynamics 4/7000/fully-feathering
Propeller diameter: 16 ft ()

Performance
Cruise speed: 358 mph (576 km/h)
Range: 5,200 miles (8,368 km) with capacity fuel load of 80,720 lb
Service ceiling: 30,000 ft (9,100 m)
Rate of climb: 1,060 ft/min (323 m/min)
Range with maximum payload: 970 miles (1,560 km)

Comparable aircraft
Antonov An-22
C-133 Cargomaster

Related lists
List of aircraft of the RAF

Bibliography
Hewson, Robert, ed. Commercial Aircraft and Airliners. London: Aerospace Publishing Ltd. and Airlife Publishing Ltd., 2nd ed, 2001. ISBN 1-84037-064-5.
White, Molly O'Loughlin. Belfast : The Story of Short's Big Lifter. Hinckley, UK: Midland Counties Publications, 1984. ISBN 0-904597-52-0.

Short Belfast Pictures
Living Warbirds: The best warbirds DVD series.
Source: WikiPedia