Short Sealand Video - Picture
Short Sealand Aircraft Information
Short Sealand
Sealand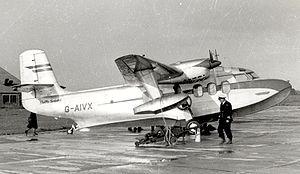 Picture - Short Sealand demonstrator G-AIVX at RNAS Stretton on 25 July 1953
Role: Amphibious Seaplane
Manufacturer: Short Brothers
Designed by: C T P Lipscomb
First flight: 22 January 1948
Introduced: 31 December 1950
Primary users: Indian Navy East Bengal Transport Commission Christian & Missionary Alliance Shell Oil Yugoslav Air Force
Number built: 25

The Short SA.6 Sealand was a light, commercial amphibian aircraft for 5-7 passengers, designed for the general overseas market in territories with suitable water access and/or runways. It could take off from and land on rivers, lakes and sheltered bays or prepared runways. It was flown by either a single pilot or a pilot and navigator and saw service with the Indian Navy and in many other parts of the world, including Borneo, East Bengal, Norway and Venezuela.
Two variants were produced, the SA.6 Sealand I and the SB.7 Sealand III, an extended version with longer wings, a deeper rudder and a strengthened hull.
The SB.2 Sealand II was planned as a second prototype but was never completed as such, becoming the first of the batch of 4 pre-production aircraft G-AKLM to G-AKLP.
Design
The Sealand was a high wing cantilever monoplane of all-metal construction with a flying boat hull and both underwing floats and a standard tail-wheel undercarriage; the two main wheels retracted into recesses in the hull below the wings, while the tailwheel retracted behind the hull's planing bottom.
Orthographic drawings (of not very high quality) of the Sealand can be seen online here.
Operational history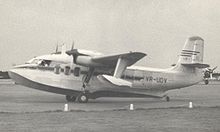 Picture - Short SA.6 Sealand VR-UDV of Shell Oil at Blackbushe in September 1954
The prototype Sealand was launched on 19 January 1948 and flew 3 days later from the waters of Belfast Lough, piloted by Shorts' Chief Test Pilot, Harold Piper. Four pre-production aircraft were built, the first of which was retained by Shorts for demonstration purposes (eventually crashing in fog while on a sales tour of Norway, killing both the pilot and the sales representative). The other three were eventually sold to overseas operators in Norway and Borneo. A further ten Sealands were built and sold to a variety of small operators, including one (G-AKLW, later SU-AHY) equipped as an "air yacht" with luxurious fittings for a private client in Egypt and given the name Nadia.
The Indian Navy ordered 10 Sealands in 1952 to an enhanced specification, which included dual controls, increased fuel capacity and uprated engines. All ten aircraft were delivered between January and October, 1953. The last Indian Navy Sealand was taken out of service 12 years later; one aircraft is on display at the Indian National Aviation Museum.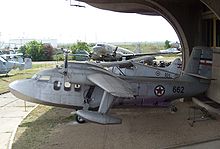 Picture - Short SA6 Sealand in the Air Museum in Belgrade (2009)
A second Sealand exists at the Air Museum in Belgrade, which is claimed to have been registered originally as G-AKLF. This registration was not, however, assigned to a Sealand; this aircraft is also said to have borne the local registration YU-CFK, which indicates that it was in fact the aircraft with the Shorts manufacturing number SH.1567, i.e. G-AKLS.
A third, G-AKLW (originally bought by the wealthy Egyptian client mentioned above) is under rebuild (2008) at the Ulster Folk and Transport Museum at Cultra, Holywood, Northern Ireland.
Shorts retained the first prototype (G-AIVX) for company use, often using it without the wing-floats and struts to increase its payload. It was finally scrapped it when its Certificate of Airworthiness expired in April 1955.
Operators
Civilian Operators
East Bengal
East Bengal Transport Commission

United Kingdom
Shell Oil
Short Brothers

United States
Christian & Missionary Alliance

Military Operators
India
Indian Navy

Jordan
Royal Jordanian Air Force

Yugoslavia
Yugoslav Air Force

Specifications (Sealand I)
Data from Barnes and James 1989, Jackson
General characteristics
Crew: 1 or 2
Capacity: 5-7
Length: 42 ft 2 in (12.86 m)
Wingspan: 59 ft 0 in (17.99 m)
Height: 15 ft 0 in (4.57 m)
Wing area: 353 ft² (32.8 m)
Empty weight: 7,007 lb (3,190 kg)
Max takeoff weight: 9,100 lb (4,130 kg)
Powerplant: 2x— de Havilland Gipsy Queen 70-3 inverted inline air cooled piston, 340 hp (254 kW) each

Performance
Maximum speed: 187 mph (162 knots, 300 km/h)
Cruise speed: 175 mph (152 knots, 282 km/h)
Range: 660 mi (574 NM, 1063 km)
Service ceiling: 20,600 ft (6,280 m)
Rate of climb: 880 ft/min (4.5 m/s)

Bibliography
Barnes, C.H.; James, Derek N. (1989). Shorts Aircraft since 1900. London: Putnam.
Jackson, A.J. (1988). British Civil Aircraft 1919-1972:Volume III. London: Putnam. ISBN 0 85177 818 6.
Marinkovic, V.. "Short S.A.6 Sealand". V.Marinkovic. http://www.pbase.com/vmarinkovic/image/24084364. Retrieved 2007-01-29.

Short Sealand Pictures
Living Warbirds: The best warbirds DVD series.
Source: WikiPedia