Short Silver Streak Video - Picture
Short Silver Streak Aircraft Information
Short Silver Streak
Silver Streak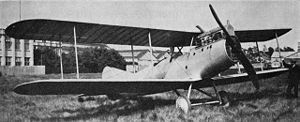 Role: Experimental all-metal biplane
National origin: United Kingdom
Manufacturer: Short Brothers
First flight: 1920
Number built: 1

The Short Silver Streak was the first British all-metal aircraft. Designed and built by Short Brothers at Rochester, Kent, England. It was the first instance of stressed skin construction.
Development
The Silver Streak was a single-seat biplane with a semi-monocoque duralumin fuselage and duralumin covered wings. It was a conventional landing gear and was powered by a 240hp (179kW) Siddeley Puma engine. The Silver Streak was exhibited in July 1920 at Olympia in London. Registered G-EARQ, it was first flown at Grain on the 20 August 1920 by test pilot J.L. Parker. It was later modified as a two-seater and delivered to the Air Ministry in February 1921 for both flight and static testing. The Air Ministry issued a specification for a two-seat reconnaissance biplane and Shorts produced the Springbok based on the Silver Streak.
Specifications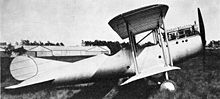 Picture - The Silver Streak at Farnborough in February 1921
Data from
General characteristics
Crew: 1 (later 2)
Length: 26 ft 6 in (8.08 m)
Wingspan: 37 ft 6 in (11.43 m)
Wing area: 370 ft² (34.4 m²)
Empty weight: 1865 lb (846 kg)
Gross weight: 2870 lb (1302 kg)
Powerplant: 1 x— Siddeley Puma 6-cylinder water-cooled inline piston engine, 240 hp (179 kW)

Performance
Maximum speed: 120 mph (193 km/h)
Cruise speed: 90 mph (145 km/h)
Range: 450 miles (723 km)

Related development
Short Springbok

"Shorts Silver Streak, all metal aeroplane" FLIGHT, November 10, 1921, complete 3 view photos of Silver Streak, bottom half of page 736

Bibliography
Barnes, C.H. (1967). Shorts Aircraft since 1900. London: Putnam.
Jackson, A.J. (1973). British Civil Aircraft since 1919 Volume 1. London: Putnam. ISBN 0 370 10006 9.

Short Silver Streak Pictures
Living Warbirds: The best warbirds DVD series.
Source: WikiPedia