Short Singapore Video - Picture
Short Singapore Aircraft Information
Short Singapore
S.19 Singapore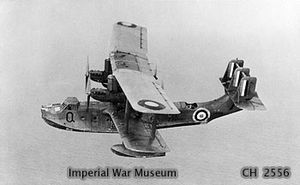 Picture - Singapore Mark III, K8565 'Q'.
Role: military flying boat
Manufacturer: Short Brothers
Designed by: Short Brothers
First flight: 15 June 1934 (III)
Introduced: 1935
Primary users: RAF RNZAF
Produced: 1934 - 1937
Number built: 37

The Short S. 19 Singapore was a British multi-engined biplane flying boat built after World War I. The Singapore name first appeared in the mid-1920s, on a one-off, twin-engined, record-breaking aircraft. The design was developed into two four-engined versions; the prototype Singapore II and production Singapore III. The latter became the Royal Air Force's main long-range maritime patrol flying boat of the 1930s and saw service against the Japanese with the Royal New Zealand Air Force during World War II.
Design and development
The first large all-metal flying boat called a Singapore was the Short S.5 Singapore I. This was a biplane design with single fin and rudder, originally powered by two Rolls-Royce Condor IIIA 650 horsepower (480 kW) engines. One aircraft was built and first flew at Rochester on 17 August 1926, piloted by Shorts' Chief Test Pilot, John Lankester Parker. The type did not enter production, but was used by Sir Alan Cobham for a survey flight around Africa. Registered G-EBUP, it left Rochester on 17 November 1927 and arrived at the Cape on 30 March 1928, returning to Rochester on the 4 June 1928. It was displayed at Olympia in July 1929.
The Short S.12 Singapore II which followed was a development of the Singapore I with 4 engines, mounted in tractor/pusher pairs (better known as the push-pull configuration). The single example of this aircraft to be built was first flown on 27 March 1930, also by John Lankester Parker.
From the Singapore II came a design with 4 engines and triple fins. In 1933 the British Air Ministry ordered 4 flying boats based upon the Singapore II for trials with squadrons under specification R.3/33. These would be followed by a further production order to specification R.14/34. These aircraft, the Short S.19 Singapore III, had all-metal hulls and fabric-covered metal flying surfaces. They were powered by four 675 hp (503 kW) Rolls-Royce Kestrel IX mounted between the wings in two tandem push-pull pairs, similar to the Singapore IIs. The crew of 6 was located in a central cabin and fore, aft and midships open gun positions (Vickers machine gun or Lewis gun). A long range fuel tank could be carried externally on the dorsal hull. The first Singapore III flew on 15 June 1934. Although obsolescent by the time the first aircraft entered service with 210 Squadron in January 1935, the type arrived just in time to benefit from the arms race of the late 1930s and 37 were built. Production terminated in June 1937.
Singapores proved surprisingly tough; after the type was retired by the RNZAF the "Kiwis" attempted to crush one with a bulldozer, only to see the dozer drive the length of the lower wing without making an impression.
Operational history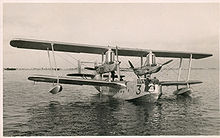 Picture - Short Singapore III flying boat of 230 Squadron at Alexandria, mid 1930s.
230 Squadron was the first squadron equipped with Singapore IIIs. It deployed to Alexandria in 1935. During 1937 the Singapores of 209 Squadron and 210 Squadron moved from Malta to Algeria as part of an international effort to prevent gun running during the Spanish Civil War.
Replacement of the Singapore with the Short Sunderland was well underway by the outbreak of World War II, however 19 survivors saw limited service in secondary theatres, mainly in a training role. The last RAF unit operating the type was No. 205 Squadron RAF in, appropriately enough, Singapore which relinquished its aircraft in October 1941. Four 205 squadron aircraft found their way to No. 5 Squadron RNZAF in Fiji, for use against German raiders. When Japan attacked in December, the New Zealand aircraft found themselves in the front line. They accounted for a Japanese submarine and conducted several air sea rescues before being replaced by Consolidated Catalinas.
Survivors
None are known to have survived.
Variants
Short S.5 Singapore I
First design aircraft powered by two Rolls-Royce Condor IIIA engines, one aircraft built.
Short S.12 Singapore II
A development of the Singapore I powered by 4 engines, single example built.
Short S.19 Singapore III
A development of the Singapore II powered by 4 Rolls-Royce Kestrel IX engines and equipped with triple fins. 37 were built.
Operators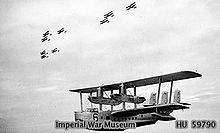 Picture - Short Singapore III flying boat of 205 Squadron, in flight below three 'vic' formations of Vickers Vildebeest torpedo bombers of 100 Squadron, both units were based at RAF Seletar.
New Zealand
Royal New Zealand Air Force
No. 5 Squadron RNZAF (four aircraft transferred from 205 Squadron Royal Air Force from October 1941)

United Kingdom
Royal Air Force
No. 203 Squadron RAF
No. 205 Squadron RAF
No. 209 Squadron RAF
No. 210 Squadron RAF
No. 228 Squadron RAF
No. 230 Squadron RAF
No. 240 Squadron RAF

Specifications (Singapore III to R.14/34)
Data from Singapore:Shorts Last Biplane Boat
General characteristics
Crew: 6
Length: 64 ft 2 in (19.56 m)
Wingspan: 90 ft (27.43 m)
Height: 23 ft 7 in (7.19 m)
Wing area: 1,465 sq ft (170.4 mē)
Empty weight: 20,364 lb (9,237)
Loaded weight: 28,160 lb (12,773 kg)
Max takeoff weight: 32,390 lb (14,692 kg)
Powerplant: 4x— Rolls-Royce Kestrel VIII/IX piston (pusher/tractor configuration), 675 hp (503 kW) each

Performance
Maximum speed: 136 mph (219 km/h) (at 5,000 ft and normal weight)
Cruise speed: 123 mph (198 km/h)
Range: 1,000 mi (1,610 km)
Service ceiling: 15,000 ft (4,570 m)
Rate of climb: 700 ft/min (3.6 m/s)
Endurance: 6 hours 15 minutes

Armament
Guns: Up to three 0.303 in (7.7 mm) Lewis guns
Bombs: Up to 1,100 pounds (500 kg) of bombs under wings.

Related development
Short Calcutta

Bibliography
Green, William. Warplanes of the Second World War, Volume five: Flying Boats. London: Macdonald & Co. (Publishers) Ltd., 1962. Fifth impression 1972. ISBN 0-356-01449-5.

Short Singapore Pictures
Living Warbirds: The best warbirds DVD series.
Source: WikiPedia