Short Solent Video - Museum
Short Solent Aircraft Information
Short Solent
S.45A Solent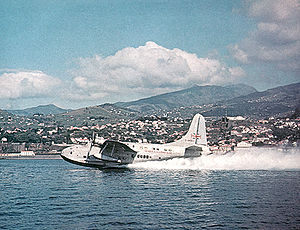 Picture - The Aquila Airways Solent 3, G-AKNU, Sydney taking-off from Funchal
Role: passenger flying boat
Manufacturer: Short Brothers and Harland
First flight: 11 November 1946
Primary users: BOAC TEAL
Number built: 16 (and 7 converted S.45 Seafords)
Developed from: Short Seaford

The Short Solent was a passenger flying boat produced by Short Brothers in the late 1940s. It was developed from the Short Seaford itself a development of the Short Sunderland military flying boat design, which was too late to serve in World War II.
The first Solent flew in 1946. New Solents were used by BOAC and TEAL, production ending in 1949. Second-hand aircraft were operated until 1958 by a number of small airlines such as Aquila Airways.
Development and use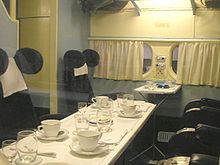 Picture - interior of TEAL Solent preserved at Museum of Transport and Technology in Auckland.
The Short S.45 Solent was a high wing monoplane flying boat of aluminium construction. Power was provided by four Bristol Hercules engines but later a few were re-engined with larger four Bristol Centaurus sleeve-valve radial piston engines.
The Solent 2 introduced by BOAC could carry 34 passengers and 7 crew. Between 1948 and 1950, BOAC operated their Solents on the three-times weekly scheduled service from Southampton to Johannesburg taking a route down the Nile and across East Africa. The journey took four days, including overnight stops. The last Solent-operated service on the route departed from Berth 50 at Southampton on 10 November 1950, bringing BOAC's flying-boat operations to an end.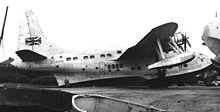 Picture - Short Solent 2 G-AHIN "Southampton" served BOAC on its Johannesburg route between 1948 and 1950
Tasman Empire Airways Limited (TEAL) operated a total of five Solent 4s between 1949 and 1960 on their scheduled routes between Sydney, Fiji and Auckland. The last TEAL Solent service was flown between Fiji and Tahiti on 14 September 1960 by ZK-AMO "Aranui", which is now preserved. The TEAL Solents could carry 45 passengers and all versions of the type provided a great deal of space and luxury compared with contemporary or modern land-based aircraft.
Several Solents served Aquila Airways on their routes from Southampton to Madeira and the Canary Islands using ex BOAC and TEAL aircraft. On 15 November 1957, Aquila Airways G-AKNU, a Solent 3, crashed near Chessell, Isle of Wight, after it experienced loss of power to two engines. The crash killed 45 out of the 58 on board. British commercial flying-boat operations ceased on 30 September 1958 when Aquila Airways withdrew its Madeira service.
Survivors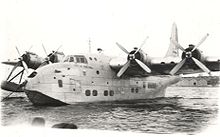 Picture - Aquila Airways Solent 4 G-ANAJ "City of Funchal" at Berth 50 Southampton Docks in August 1955
One Solent, a Mk IV formerly used by TEAL on the Coral Route, connecting South Pacific Islands to New Zealand has been fully restored and preserved at the Museum of Transport and Technology in Auckland.
An ex-BOAC Solent 3, later owned by Howard Hughes, has been rescued and is in the United States at the Oakland Aviation Museum in Oakland, California.; it is this Solent which appears briefly (and anachronistically) in the film Raiders of the Lost Ark substituting for a Boeing China Clipper.

Variants
Solent 2

civilian version for BOAC of the Short Seaford, 12 aircraft built at Rochester
Solent 3

converted S.45 Seaford. 7 aircraft - 6 at Queen's Island, Belfast, 1 at Hamble
Solent 4

powered by Bristol Hercules 733, four aircraft built at Belfast
Operators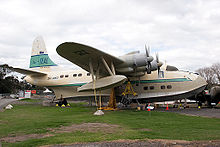 Picture - Exterior of the MOTAT aircraft.
Australia
Trans-Oceanic Airways

New Zealand
Tasman Empire Airways Limited (TEAL)

United Kingdom
Aquila Airways
British Overseas Airways Corporation

United States
South Pacific Airlines

The only military use of the Solent was evaluation at the United Kingdom Marine Aircraft Experimental Establishment in 1950.
Specifications (Solent 2)
Data from Barnes and James
General characteristics
Crew: 7
Capacity: 34 passengers
Length: 87 ft 8 in (26.7 m)
Wingspan: 112 ft 9 in (34.3 m)
Height: 34 ft 3¼ in (10.45 m)
Wing area: 1,487 ft² (138.1 m²)
Empty weight: 47,760 lb (21,670 kg)
Loaded weight: 78,000 lb (35,400 kg)
Powerplant: 4x— Bristol Hercules 637 radial piston engine, 1,690 hp (1,261 kW) each

Performance
Maximum speed: 273 mph (237 knots, 440 km/h)
Cruise speed: 244 mph (212 knots, 393 km/h)
Range: 1,800 miles (1,565 naut mi, 2,900 km)
Service ceiling: 17,000 ft (5,200 m)
Rate of climb: 925 ft/min (4.7 m/s)

Barnes, C.H.; James D.N. (1989). Shorts Aircraft since 1900. London: Putnam. ISBN 0-85177-819-4.
Jackson, A.J (1988). British Civil Aircraft since 1919 Volume 3. London: Putnam. ISBN 0 85177 818 6.

Short Solent Pictures
Living Warbirds: The best warbirds DVD series.
Source: WikiPedia