Short Sperrin Video - Drawings, pictures, video
Short Sperrin Aircraft Information
Short Sperrin
SA.4 Sperrin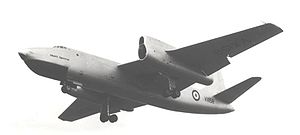 Picture - Short Sperrin Gyron test bed (lower port engine) at Farnborough September 1955
Role: Experimental aircraft
Manufacturer: Short Brothers and Harland, Belfast
First flight: First prototype: 10 August 1951 Second prototype: 12 August 1952
Retired: First prototype: 1958 Second prototype: 1957
Primary user: Royal Air Force (intended)
Number built: 2

The Short SA.4 Sperrin (named after the Sperrin Mountains, a range of hills in Northern Ireland) was a British jet bomber design of the early 1950s built by Short Brothers and Harland of Belfast, popularly abbreviated "Shorts". It first flew in 1951. The design had always been a fall-back option in case the more advanced jet designs of the V-bombers were delayed, and it was not put into production because these swept-wing designs (such as the Vickers Valiant) were by then available. The Sperrin prototypes were however valuable for research data on large jet aircraft.
Design and development
In the post-Second World War war period, the British authorities felt there was a need for an independent strategic bombing capability-in other words that they should not be reliant upon the American Strategic Air Command. In late 1948, the Air Ministry issued their specification B.14/35 for an advanced jet bomber that should be the equal of anything that either the Soviet Union or the Americans would have. The exact requirements included a weight of 140,000 lb (64,000 kg), the ability to fly to a target 1,500 nautical miles (2,800 km) distant at 500 knots (930 km/h) from altitudes of 45,000-50,000 ft and be simple enough to maintain at overseas bases. A further stipulation that a "special" in RAF jargon, a nuclear bomb, weighing 10,000 lb (4,500 kg) and measuring 30 ft (length) and 10 ft (diameter), could be accommodated.
There had already been specification B.35/46 for a "medium-range bomber landplane" that could carry a "10,000 pound [4,500 kilogram] bomb to a target 1,500 nautical miles [2,780 kilometers] from a base which may be anywhere in the world." The B.14/35 specification required that the fully laden weight would be under 100,000 lb (45 tonnes), the bomber have a cruising speed of 500 knots (930 km/h) and that the service ceiling would be 50,000 feet (15,200 m). This request would be the foundation of the V-bombers.
However the Air Ministry accepted that the requirement might prove to be difficult to achieve in the time-scale required and prepared for a fall-back position. As early as 17 December 1946 the Air Ministry initiated drafting of an "insurance" specification (B.14/46), first issued 11 August 1947, for a less ambitious conventional type of aircraft, with unswept wings and some sacrifice in performance, as an "insurance" against failure to speedily develop the more advanced types that evolved into the Valiant, Vulcan and Victor. There had already been specification B.35/46 the previous year for a "medium-range bomber landplane" that could carry a "10,000 pound [4,500 kilogram] bomb to a target 1,500 nautical miles [2,780 kilometers] from a base which may be anywhere in the world." The only significant performance changes specified by B.14/46 were a lower speed of 435 knots (806 km/h) and a lower height over the target of 35,000 ft (11,000 m) to 45,000 ft (14,000 m).
Under this requirement they placed a contract for two flying prototypes and a static airframe with Shorts. As a possible production aircraft, the Sperrins were built on production jigs, which slowed their construction.
The design, known initially as SA.4 and later as the "Sperrin", had more in common with the Second World War designs than the new jet age. It was straight winged, although the leading edge was slightly swept. The engines were mounted in nacelles mid-wing, two engines per wing, with one engine stacked above the other. The airframe was built largely of aluminium alloys with a tricycle undercarriage (nosewheel and two 4 wheel bogies), the nose gear retracting backward and the main gear in the wings towards the fuselage.
The SA.4 was designed for a crew of five: pilot, copilot, bombardier ("air bomber"), navigator and radio operator. The prone bombardiers position was a tube extending forward of the cockpit above the radome; the crew compartment being pressurized. These were fitted with opaque nosecones, as the Sperrins were never used for live bombing. An ejection seat and accompanying hatch was fitted for the pilot alone. The three crew positions behind the pilots faced backward. The crew entrance was below.
Operational history
Testing
The first prototype (serial VX158), powered by four Rolls-Royce Avon RA.2 engines of 6,000 lbf (27 kN) of thrust and piloted by Tom Brooke-Smith, had its maiden flight on 10 August 1951. By this time, in the light of the latest knowledge, and the fact that the Valiant project was now proceeding well and only six months behind the Sperrin the judgement of the Air Ministry was that an insurance project was now no longer needed, and a decision was taken to order the Vickers Valiant instead of the Sperrin and the Sperrin project was cancelled, although the Ministry of Supply determined that the Sperrin would serve as a research aircraft. Work on the two prototypes was continued, with the second prototype (VX161) flying on 12 August 1952 with Sqn Ldr "Wally" Runciman at the controls, accompanied by Flight Test Development Engineer Malcolm Wild. It was fitted with more powerful Avon RA.3s of 6,500 lbf (28.1 kN) thrust.
The two Sperrins were used in a variety of research trials through the 1950s, including engine tests using VX158 as a testbed for the de Havilland Gyron turbojet - a large engine delivering 15,000 lbf (66.7 kN) thrust. The Gyron Gy1 replaced the lower Avon in the port nacelle (see image). For the first flight with this engine configuration on 7 July 1955. VX158 was piloted by Jock Eassie and Chris Beaumont. Testing with this asymmetric engine configuration continued until March 1956, when the single Gyron Gy1 was removed and two Gyron Gy2 engines, each providing 20,000 lbf (89 kN) thrust, were fitted, one in each engine nacelle below the original Avon RA.2s.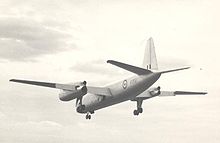 Picture - Short Sperrin VX158 landing at Farnborough SBAC Show September 1955, Gyron engine in lower port nacelle
The first flight of VX158 with the new engine configuration took place on 26 June 1956, again with "Jock" Eassie and Chris Beaumont at the controls. During this flight the port outer undercarriage cover fell off; VX161 was flown over from Farnborough and its corresponding cover was used to repair VX158. VX161 never flew again and was scrapped at Sydenham in 1957. VX158 was flown at the Farnborough Airshow in 1956 with two Avons and two Gyrons fitted but "six months later the Gyron programme was discontinued and VX158 was scrapped at Hatfield in 1958.
A photograph of VX158 with both Gyrons fitted can be seen in C.H. Barnes' and D.N. James' definitive work, "Shorts Aircraft since 1900" .
Among other test work, VX161 (which had a fully operational weapons bay) was involved in trials relating to bomb shapes with mock-ups of the Blue Danube nuclear bomb and the Blue Boar missile.
Specifications first prototype (VX158)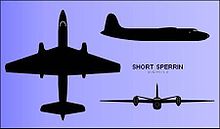 Picture - Airplane drawing - Orthogonal views (silhouette)
Data from
General characteristics
Crew: Five (pilot, co-pilot, bombardier, navigator and radio operator)
Length: 102 ft 3 in (31.14 m)
Wingspan: 109 ft (33.2 m)
Height: 28 ft 6 in (8.69 m)
Wing area: 1,897 ft² (176.2 m²)
Airfoil: A.D.7
Empty weight: 72,000 lb (33,000 kg)
Max takeoff weight: 115,000 lb (52,200 kg)
Powerplant: 4x— Rolls-Royce Avon turbojet, 6,000 lbf (27 kN) each
*Fuel capacity: 6,200 gallons

Performance
Maximum speed: 564 mph (490 knots, 912 km/h) at 15,000 ft
Cruise speed: 435 knots (_) at 40,000 ft
Range: 3,200 mi (2,800 nm, 5,150 km)
Service ceiling: 45,000 ft (13,700 m)
Wing loading: 60.6 lb/sq ft ()

Armament
Bombs: 20,000 lb maximum

Across the two aircraft, the Sperrin had four different engine configurations:
Comparable aircraft
Convair XB-46
English Electric Canberra
Ilyushin Il-28
Martin XB-48
North American B-45
Tupolev Tu-14

Bibliography
Barnes, C.H. with revisions by Derek N. James. Shorts Aircraft since 1900. London: Putnam, 1989 (revised). ISBN 0-85177-819-4.
Gunston, Bill. "Short's Stop-Gap Bomber." Aeroplane Monthly, Vol. 8, no. 7, July 1980, pp. 340-346.
"Short Sperrin." Flight, 1954.
Wood, Derek. Project Cancelled. Indianapolis: The Bobbs-Merrill Company Inc., 1975. ISBN 0-672-52166-0.
Wynn, Humphrey. RAF Strategic Nuclear Dererrent Forces, Their Origins, Role and Deployment 1946-69: A Documentary History. London: HMSO Publications Center, 1994. ISBN 0-11-772778-4.

Short Sperrin Pictures
Living Warbirds: The best warbirds DVD series.
Source: WikiPedia