Short Tucano Video - RAF Formation
Short Tucano Video - At Cosford
Short Tucano Aircraft Information
Short Tucano
Tucano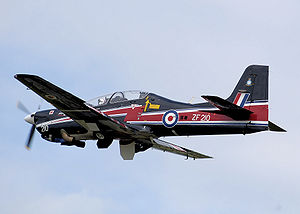 Picture - RAF Short Tucano T1, in display colours for 2008
Role: Trainer aircraft
Manufacturer: Short Brothers
Status: Active
Primary users: Royal Air Force Kenya Air Force Kuwait Air Force
Developed from: Embraer EMB-312 Tucano

The Short Tucano T1 (S.312) is a two seat turboprop basic trainer used by the Royal Air Force. It is a licence-built version of the Brazilian Embraer EMB-312 Tucano, and is also used by the air forces of Kenya and Kuwait.
Design and development
The Short Tucano was developed by the British Short Brothers company in order to meet a requirement to replace the Jet Provost as the basic trainer for the RAF, as laid down in Air Staff Target 412. It is an adaptation of the Embraer EMB-312 Tucano fitted with the more powerful 1,100 shp (820 kW) Garrett turboprop engine in place of the EMB-312's 750 shp (560 kW) Pratt & Whitney Canada PT6 engine, to give higher climb performance.
Aside from a different powerplant, the other differences between the Short Tucano and the EMBRAER Tucano are:
A strengthened airframe.
A new cockpit layout similar to the Hawk advanced trainer.
A four, as opposed to three, bladed propeller.
Ventral airbrake and restyled wingtips.
The fitting of Martin-Baker MB 8LC ejection seats for both crew.
A new oxygen system
A new flight data recorder
A modified canopy

The Tucano was selected in 1985 in preference to the Swiss Pilatus PC-9 and the British Hunting Firecracker. The first Garrett-engined Tucano flew in Brazil on 14 February 1986, with the first Shorts built production aircraft flying on 30 December 1986. The decision to replace the 750 PT-6 engine used in the standard EMBRAER model with the 1,100 shp (820 kW) Garrett TPE331-12B engine and "bird-strike" proofing of the cockpit canopy to UK standards (combined with the fitting of Martin Baker ejection seats) caused a number of problems which delayed the introduction of the aircraft into service until 1989.
Operational history
Since first deliveries to the RAF in 1989, the Tucano has been operated primarily from No 1 Flying Training School at RAF Linton-on-Ouse to provide basic fast-jet lead-in flying training to RAF and RN student pilots. The deployment is officially to 72 (Reserve) Squadron, 207 (Reserve) Squadron and 76 Squadron (Tucano Air Navigation Squadron). Student pilots fly around 130 hours during their training course on the Tucano before progressing to the Hawk T1 aircraft at RAF Valley.
In service the Tucano has proven to be 70% cheaper to operate than its predecessor. With a greater range and endurance than the Jet Provost, it can fly two consecutive sorties before being refuelled. One of the key performance requirements was that it can climb to 15,000 ft (4,600 m) in six minutes, in comparison to the Jet Provost's 15 minutes; this gave considerably more training value for each one-hour sortie.
Variants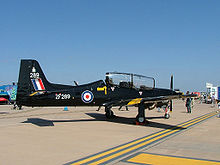 Picture - Short Tucano T1 at RIAT 2005.
Tucano T1
Two-seat basic trainer for the RAF.
Tucano Mk.51
Export version for Kenya.
Tucano Mk.52
Export version for Kuwait.
Operators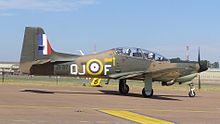 Picture - Royal Air Force Tucano in 2010 painted for the 70th Anniversary of the Battle of Britain to represent a Spitfire of No. 92 Squadron RAF as flown by Brian Kingcome in 1940
Kenya
Kenya Air Force

Kuwait
Kuwait Air Force 19th Training Sqd

United Kingdom
Royal Air Force
Empire Test Pilots' School

Specifications (Tucano)
Data from Jane's All the World's Aircraft, 1988-1989
General characteristics
Crew: 1-2
Length: 32 ft 4 in (9.86 m)
Wingspan: 37 ft 0 in (11.28 m)
Height: 11 ft 1¾ in (3.40 m)
Wing area: 208 ft² (19.3 m²)
Empty weight: 4,447 lb (2,017 kg)
Max takeoff weight: 7,220 lb (3,275 kg)
Powerplant: 1x— Garrett TPE331-12B turboprop, 1,100 shp (820 kW)

Performance
Never exceed speed: 300 kts (322 mph, 518 km/h)
Maximum speed: 274 kn (315 mph, 507 km/h) (at 10,000-15,000 ft)
Cruise speed: 180/240(low level) knots (253 mph, 407 km/h) (economy cruise)
Stall speed: 69 kn (80 mph, 128 km/h) (flaps and gear down)
Range: 900 nmi (1,035 miles, 1,665 km)
Service ceiling: 34,000 ft (10,365 m)
Rate of climb: 3,510 ft/min (17.8 m/s)
Wing loading: 28.6 lb/ft² (140 kg/m²)
Power/mass: 0.152 hp/lb (0.250 kW/kg)

Armament
Provision for 1,000 lb (454 kg) of stores on four underwing hardpoints, but not on UK Tucanos

Related development
Embraer EMB 312 Tucano
Embraer EMB 314 Super Tucano

Comparable aircraft
Pilatus PC-7
Pilatus PC-9
PZL-130 Orlik
T-6 Texan II

Short Tucano Pictures
Living Warbirds: The best warbirds DVD series.
Source: WikiPedia