Short Type 827 Video - Picture
Short Type 827 Aircraft Information
Short Type 827
Short 827 and 830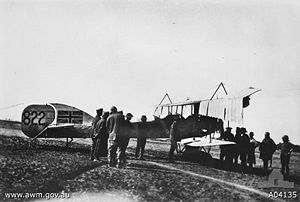 Picture - The first production Short Type 827 with members of the Australian Flying Corps
Role:
National origin: United Kingdom
Manufacturer: Short Brothers
First flight: 1914
Primary user: Royal Naval Air Service
Number built: 108 (Type 827) 28 (Type 830)

The Short Type 827 was a British two-seat reconnaissance floatplane built for the Admiralty by Short Brothers. It was also known as the Short Admiralty Type 827
Design and development
The Type 827 was a slightly smaller development of the earlier Short Type 166 a two-bay biplane with unswept equal span wings. It had a box section fuselage mounted on the lower wing. The 827 had twin floats under the forward fuselage and small floats fitted at the wingtips and tail. Powered by a nose-mounted Sunbeam Nubian engine with a two-bladed tractor propeller. The crew of two sat in open cockpits in tandem.
The aircraft was not only built by Shorts (36 aircraft) but also produced by different contractors around the United Kingdom, i.e. Brush Electrical (20), Parnall (20), Fairey (12) and Sunbeam (20).
A variant powered by 135 hp (101 kW) Salmson water-cooled radial engine was produced and designated the Short Type 830.
Variants
Type 827 Production aircraft with a Sunbeam Nubian engine, 108 built. Type 830 Variant powered by a 200 hp (150 kW) Salmson or 140 hp (104 kW) Canton-Unné radial engine, 28 built.
Operators
United Kingdom
Royal Naval Air Service

Specifications (Type 827)
Data from
General characteristics
Crew: 2 (pilot, observer)
Length: 35 ft 3 in (10.74 m)
Wingspan: 53 ft 11 in (16.43 m)
Height: 13 ft 6 in (4.11 m)
Wing area: 506 ft² (47.01 m²)
Empty weight: 2,700 lb (1,225 kg)
Gross weight: 3,400 lb (1,542 kg)
Powerplant: 1 x— Sunbeam Nubian V-engine, 150 hp (112 kW)

Performance
Maximum speed: 62 mph (100 km/h)
Endurance: 3 hours 30 min

Armament
1 x .303 Lewis Gun on flexible mount in rear cockpit
Provision for light bombs on underwing racks

Short Folder

Related development
Short Type 166

Bibliography
Barnes C.H. & James D.N (1989). Shorts Aircraft since 1900. London: Putnam. pp. 560. ISBN 0-85177-819-4.
Bruce, J.M (1956). "The Short Seaplanes: Historic Military Aircraft No 14: Part II". Flight (21 December 1956): pp.965-968. http://www.flightglobal.com/pdfarchive/view/1956/1956%20-%201804.html.
Bruce, J.M (1957). "The Short Seaplanes: Historic Military Aircraft No 14: Part IV". Flight (4 January 1957): pp.23-24. http://www.flightglobal.com/pdfarchive/view/1957/1957%20-%200023.html.
Taylor, Michael J. H. (1989). Jane's Encyclopedia of Aviation. London: Studio Editions. pp. 801.
The Illustrated Encyclopedia of Aircraft (Part Work 1982-1985). Orbis Publishing.

Short Type 827 Pictures
Living Warbirds: The best warbirds DVD series.
Source: WikiPedia