SIAI S.13 Video - Picture
SIAI S.13 Aircraft Information
SIAI S.13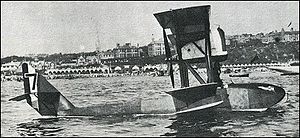 Role: reconnaissance-fighter flying-boat
National origin: Italy
Manufacturer: SIAI
Primary user: Regia Marina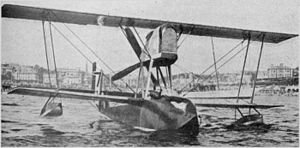 Picture - SIAI S.13
The SIAI S.13 was an Italian 1910s reconnaissance flying-boat.
Design and development
Designed by the Societx  Idrovolanti Alta Italia (SIAI) as a smaller version of the earlier S.12, the S.13 was a single-engined biplane reconnaissance-fighter flying boat. It had a crew of two in side-by-side seats behind a single windscreen; the observer has a single trainably-mounted machine-gun. The flying boat was powered by a single 250 hp (187 kW) Isotta Fraschini V6 engine.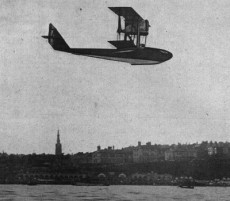 Picture - SIAI S.13
The Royal Italian Navy took delivery of 12 aircraft in 1919 and the flying boat was exported to Japan, Norway, Spain, Sweden, and Yugoslavia. In France the S.13 was built under license as the CAMS C-13 and the Spanish naval workshops in Barcelona also built seven under licence.
A single-seat version, the S.13 Tipo, was ordered by the Royal Italian Navy, but was later cancelled when the Royal Navy decided to develop the Macchi M.7 instead and a civilian version, the S.13bis, failed to attract any orders.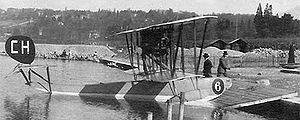 Picture - Cilvil S.13 (CH6) at Cologny (GE) on Lake Geneva, probably piloted by Swiss aviation pioneer Emile Taddéoli (Ad Astra Aero)
Variants
S.13
Production flying boat
S.13 Tipo
Single-seat version, not built.
S.13bis
Civil variant, not built.
CAMS C-13
French licence built S.13
Operators
France (as CAMS C-13) Italy
Japan
Norway
Spain
Sweden
Swedish Navy

Yugoslavia
Specifications (S13)
General characteristics
Crew: 2 (pilot, observer)
Powerplant: 1 x— Isotta Fraschini V6 engine, 187 kW (250 hp)

Performance
Maximum speed: 197 km/h (122 mph)

Armament
1 x— 7.7mm (0.303in) machine-gun

Taylor, Michael J. H. (1989). Jane's Encyclopedia of Aviation. London: Studio Editions.
The Illustrated Encyclopedia of Aircraft (Part Work 1982-1985). Orbis Publishing.

SIAI S.13 Pictures
More airplane videos.
Source: WikiPedia