Sikorsky S-70 Video - Picture
Sikorsky S-70 Aircraft Information
Sikorsky S-70
S-70 series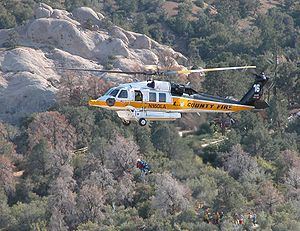 Picture - Los Angeles County Fire Department S-70A Firehawk rescuing an injured hiker at Devil's Punchbowl near Palmdale, California
Role: Medium-lift transport/utility helicopter
Manufacturer: Sikorsky Aircraft
First flight: 1974
Introduced: 1979
Status: Active service
Primary users: U.S. Customs and Border Protection U.S. Drug Enforcement Administration Government Flying Service (Hong Kong) See Operators below for others
Produced: 1970s-present
Variants: Sikorsky UH-60 Black Hawk Sikorsky SH-60 Seahawk Sikorsky HH-60 Pave Hawk Sikorsky HH-60 Jayhawk Mitsubishi H-60

The Sikorsky S-70 is a medium transport/utility helicopter family manufactured by Sikorsky Aircraft. It was developed for the U.S. Army in the 1970s, winning a competition to be designated the UH-60 Blackhawk and spawning a large family in U.S. military service. Civilian versions, and some military versions are produced under various S-70 model designations.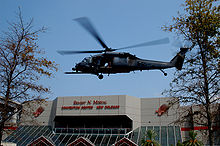 Picture - HH-60G Pave Hawk
Development
The S-70 family was developed to meet a US Army requirement to replace the venerable UH-1 Iroquois family of utility medium-lift helicopters in 1972. Three YUH-60A prototypes were constructed, with the first flying in October 1974. They were evaluated against the Boeing-Vertol YUH-61A. The YUH-60A was selected for production, and entered service as the UH-60A Black Hawk with the US Army in 1979.
After entering service, the helicopter was modified for new missions and roles, including mine laying and medical evacuation. An EH-60 variant was developed to conduct electronic warfare and special operations aviation developed the MH-60 variant to support its missions. In the late 1980s the model was upgraded to the UH-60L, which featured more power and lift with the upgrade to the -701C model of the GE T700 engine. The improved UH-60M model was developed in the early 2000s.
The S-70 can perform a wide array of missions, including air cavalry, electronic warfare, and aeromedical evacuation: several versions are even used to transport the President of the United States, which while carrying the President is known as Marine One. In air assault operations it can move a squad of 11 combat troops and equipment or carry the 105 mm M102 howitzer, thirty rounds of ammunition, and a six-man crew. Alternatively, it can carry 2,600 lb (1,200 kg) of cargo or sling load 9,000 lb (4,100 kg) of cargo. The S-70 is equipped with advanced avionics and electronics, such as the Global Positioning System.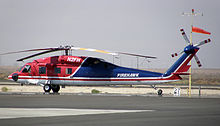 Picture - S-70C Firehawk operated by Brainerd Helicopters, at Fox Field, Lancaster, California
The United States Navy received the first navalized SH-60B Seahawk in 1983, and the SH-60F Ocean Hawk in 1988.
The HH-60G Pave Hawk is a highly modified version of the S-70 primarily designed to recover downed aircrew or other isolated personnel during war and equipped with a rescue hoist with a 250 ft (76 m) cable that has a 600 lb (270 kg) lift capability, and a retractable in-flight refueling probe. The United States Air Force received the MH-60G Pave Hawk in 1982.
The United States Coast Guard received the HH-60J Jayhawk in 1992. It utilizes the equipment of the HH-60G Pave Hawk on the navalized SH-60 platform.
The S-70A Firehawk is a version of the S-70 designed for firefighting, rescue, medical evacuation, and external lift of bulky cargo and equipment. The Oregon National Guard was the first military organization in the world to add the Firehawk to its inventory; the Los Angeles County Fire Department was the first municipal organization. Brainerd Helicopters of Leesburg, Florida operates the S-70C Firehawk on wildfires under the "FirehawK" brand.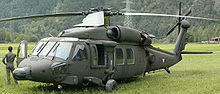 Picture - Austrian Bundesheer S-70 Blackhawk
The Army also flies medical evacuation models which are configured as rotary winged medical suites. They also used the S-70 for special operations by the 160th Special Operations Aviation Regiment ("Night Stalkers") known as the MH-60K at Fort Campbell, Kentucky.
The Maple Hawk was a variant offered by Sikorsky to the Canadian Forces during the tender to replace the military's search and rescue helicopters.
The unit cost varies with the version. For example, the unit cost of the Army's UH-60L Black Hawk is $5.9 million while the unit cost of the Air Force MH-60G Pave Hawk is $10.2 million.
Variants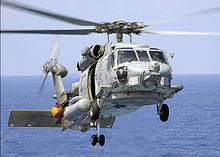 Picture - US Navy SH-60B Seahawk
H-60
UH-60 Black Hawk: The basic military utility helicopter used by the US Army.

SH-60 Seahawk: US Navy variant for anti-submarine warfare, search and rescue, maritime patrol, all-weather and day/night.

HH-60 Pave Hawk: USAF heli-rescue variant for search and rescue, MEDEVAC, and combat search and rescue use on day and night operations.

MH-60 "Knighthawk": US Navy medium-heavy lift helicopter.

HH-60 Jayhawk: United States Coast Guard variant for maritime patrol, interdiction, and search and rescue

VH-60 White Hawk: The US Presidential transport helicopter, Marine One.

S-70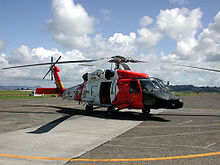 Picture - HH-60J JayHawk
The company name for the H-60/S-70 family is the S-70 Black Hawk
S-70A Black Hawk: Military model for the export market.
S-70A Firehawk: Firefighting variant of the UH-60L. Tank system designed and built by Aero Union in Chico, California.
S-70A (N) Naval Hawk: Maritime variant that blends the S-70A Black Hawk and S-70B Seahawk designs.
S-70B/C Seahawk: Maritime military model for the export market.
S-70C Firehawk: Commercial variant
S-70i Black Hawk: International military version assembled by Sikorsky subsidiary, PZL Mielec in Poland.
T-70: A Turkish variant of the S-70i, built under license Turkish Aerospace Industries with indigenous Turkish mission-computer, avionics, landing gear and transmission.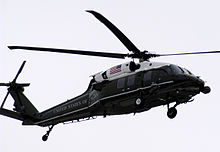 Picture - VH-60N White Hawk
Derivatives
Sikorsky S-71 - a proposed attack helicopter using dynamic components from the S-70.
Sikorsky S-92 - Civilian medium-lift derivative of the Black Hawk.
H-92 Superhawk - Military version of the S-92.
Sikorsky CH-148 Cyclone - Version of the H-92 for the Canadian Forces.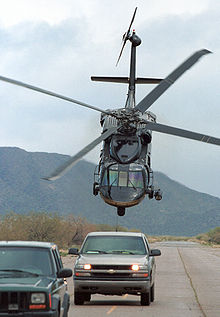 Picture - US Customs and Border Protection Blackhawk
Operators
Non-military operators
Argentina
Presidential Air Group (Presidencia de la Nacion Argentina) received 1 S-70A-30.

Hong Kong
Government Flying Service (3 S-70A retired from service in 2002)

Turkey
Gendarmerie
Police
Ministry of Environment and Forest - for firefighting

United States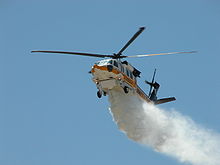 Picture - Los Angeles County Fire Department's S-70A Firehawk during a water drop demonstration at Station 129 in Lancaster, California
Los Angeles County Fire Department
U.S. Customs and Border Protection
Drug Enforcement Administration

Specifications (Sikorsky S-70i)
Source:
Crew: 2
Capacity, internal: 14-17 seats/11 troops/4 stretchers
Capacity, external using a cargo hook: 4,072 kg (9,000 lb)
Length: 19.76 m (64 ft 10 in)
Width: 2.96 m (9 ft 8.6 in)
Wheelbase: 8.82 m (25 ft 11 in)
Rotor diameter: 16.36 m (53 ft 8 in)
Height: 5.33 m (17 ft 6 in)
Empty weight: 5347 kg (11,790 lb)
Max takeoff weight, gross weight: 9,997 kg (22,000 lb)
Max takeoff weight, gross weight external load: 10,600 kg (23,370 lb)
Internal Fuel: 1,360 L
Auxiliary Fuel: 2x 700L tanks internally in the cabin; and 1,705 L (450 US gal) tank on each inboard pylon and an 872 L (230 US gal) tank on each outboard pylon of the External Stores Support System (ESSS) stub wings, or 1,705 L (450 US gal) tank on each pylon of the External Tank System (ETS)
Powerplant: 2x— General Electric T700-GE-701C turboshaft, 1,409 kW (1,890 shp) each at 0.462 Specific fuel consumption

Performance
Maximum speed: 361 km/h (195 knots, 224 mph)
Maximum speed: 276 km/h (149 knots, 171 mph)
Range: 463 km, 288 mi, 250 NM (20 min reserve)
Service ceiling: 4,021 m (13,200 ft)
Hover ceiling, Out of Ground Effect (OGE): 1,311 m (4,300 ft)
Hover ceiling, In of Ground Effect (IGE): 2,743 m (9,000 ft)
Maximum rate of climb: 11.43 m/s (2,250 ft/m)

Armament:
Missiles: anti-submarine and/or Air to surface missiles (depends on version), 2x doorgun (can mount 7.62mm or .50-calibre machine guns in the windows)

US Helicopter Armament Subsystems

Related development
Sikorsky UH-60 Black Hawk
Sikorsky HH-60 Pave Hawk
Sikorsky HH-60 Jayhawk
MH-60 "Knight Hawk"
Sikorsky SH-60 Seahawk
VH-60 Presidential Hawk
Mitsubishi SH-60
Sikorsky S-92
Sikorsky CH-148 Cyclone

Comparable aircraft
NH90

Bibliography
Leoni, Ray D. (2007). Black Hawk, The Story of a World Class Helicopter. American Institute of Aeronautics and Astronautics (AIAA). ISBN 978-1-56347-918-2.
Tomajczyk, Stephen F. (2003). Black Hawk. MBI. ISBN 0-7603-1591-4.

Sikorsky S-70 Pictures
More aircraft.
Source: WikiPedia