Soko 522 Aircraft Information
Soko 522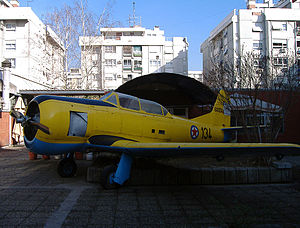 Role: Training and light attack aircraft
Manufacturer: SOKO
Designer: Sostaric, Marjanovic and Curcic
First flight: February 1955
Introduction: 1955
Retired: 1978
Primary user: Yugoslavian Air Force
Number built: approx. 110

The Soko 522 was a two-seater Yugoslav military training and light attack aircraft produced in the 1950s by SOKO, in the former Yugoslavia.
History
The Soko 522 was designed by Yugoslav engineers Sostaric, Marjanovic and Curcic at the Ikarus Aircraft Factory in Zemun. The first prototype flew in February 1955. After the initial success of the new aircraft, production was transferred to the Soko aircraft factory in Mostar. Production lasted until 1961 and totalled 110 units. It was used as the primary trainer aircraft for the Yugoslavian air force until it was retired in 1978.
It gained some fame for its role in war movies filmed in Yugoslavia during the 1960s and 1970s, where it was used to portray the Fw 190 German fighter. Some of its prominent movie roles were in the Yugoslav Oscar candidate Battle of Neretva and Kelly's Heroes, starring Clint Eastwood.
Existing aircraft
After retiring from military use, it was used by many air clubs around Yugoslavia and abroad. Today, there are no airworthy examples in any of the ex-Yugoslav republics. Some specimens were sold to civilian foreign customers and are still flying. The current price of these aircraft is estimated at US$100,000.
There is one airworthy Soko 522 in France[1], and another in the United States[2]. There is also one other Soko 522 with the Dixie Wing Commemorative Air force[3] but it is currently grounded for repairs after making an emergency belly landing.
Operators
Yugoslavia

John Magoffin of Tucson, Arizona, owns and flies his Soko 522 from Avra Valley airport as of May, 2011.
Specifications (Soko 522)
Data from Jane's All The World's Aircraft 1961-62
General characteristics
Crew: two
Length: 9.2 m (30 ft 2 in)
Wingspan: 11.0 m (36 ft)
Height: 3.58 m (11 ft 9 in)
Max takeoff weight: 2,400 kg (5,280 lb)
Powerplant: 1 x— Pratt & Whitney R-1340-AN-1 Wasp air-cooled, 441 kW (600 hp)

Performance
Maximum speed: 351 km/h (190 knots, 218 mph)
Range: 978 km (524 nmi, 603 mi)
Service ceiling: 7,000 m (22,960 ft)

Armament
2 x 7.9 mm machine guns
4 x 50 kg bombs

Taylor, John W. R. Jane's All The World's Aircraft 1961-62. London: Sampson Low, Marston & Company, 1961.
Illustrated history of aviation ''Modern Ikars", IRO Vuk Karadzic&Sluzbeni list SFRJ, Belgrade, 1989. ISBN 86-307-0088-2
Yugoslavian Air Force and Air Defence, group of authors, VINC, Belgrade, 1989.

Soko 522 Pictures
More airplane videos.
Source: WikiPedia