Sopwith Salamander Video - Picture
Sopwith Salamander Aircraft Information
Sopwith Salamander
Sopwith TF.2 Salamander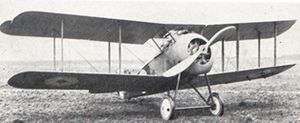 Role: Ground attack
Manufacturer: Sopwith
First flight: 27 April 1918
Primary user: Royal Air Force
Produced: 1918-1919
Number built: 419
Developed from: Sopwith Snipe

The Sopwith TF.2 Salamander was a British World War I ground attack aircraft which first flew in April 1918. The war ended before the type could enter squadron service, although two were in France in October 1918.
Design and development
By 1917, the use of close support aircraft had become an essential part of an infantry attack. On the German side, specialist aircraft were designed specifically for the task, such as the Halberstadt CL.II and the armoured Junkers J.I - the British however relied for this work on ordinary fighters such as the DH 5, and the Camel, and general purpose two seaters such as the F.K.8. Ground fire took a heavy toll of aircrew involved, and an equivalent to the armoured German machines was sought. The first British aircraft to be built specifically for "ground strafing", as close support was known, was an armoured version of the Camel, known by the company as the "TF.1" (for "trench fighter"). This did not go into production, but information gained in testing it was used for the Salamander design.
Design of the Salamander, conceived as an armoured version of the Sopwith Snipe, began in January 1918. The forward portion of the fuselage was a 650 lb (295 kg) box of armour plate. The rear portion was a generally similar structure to the Snipe's, but flat sided, to match the forepart. The wings and tail unit were identical with the Snipe, and the same Bentley BR2 rotary engine was fitted. This was protected by a standard (unarmoured) cowling - the foremost armour plate forming the firewall.
Originally an armament of three Lewis guns was planned, as for the TF.I. Two would have fired forward and downwards through the cockpit floor, while a third would have fired upwards. In the event a conventional battery of two synchronised Vickers guns was mounted in front of the cockpit, as on the Snipe, although they were staggered, the starboard gun being mounted a few inches forward of the port one.
The prototype underwent its initial trials in April 1918, and was sent to France for evaluation on 9 May, but subsequently crashed on 19 May during test program while with No. 65 Squadron when the pilot had to avoid a tender crossing the aerodrome responding to another crash.. By this time four prototypes were flying, undergoing many of the same modifications to the tail and ailerons as the Snipe in order to correct the initially rather heavy and unresponsive controls.
Service history
Production was intended to be on a very large scale - The Air Navigation Co., Glendower Aircraft, and Palladium Motors all signed contracts to supply Salamanders, as well as the Sopwith company itself. By the end of the war, however, only 37 Salamanders were on RAF charge, and only two of these were in France. None had as yet been issued to an operational squadron.
With the Armistice, the immediate need for a specialist close support aircraft evaporated, and no squadron was ever fully equipped with the type, which had disappeared from RAF service altogether by the mid 1920s. The type was not developed, but was used in trials of various patterns of disruptive camouflage in the early post war years. One example went to America, and was apparently still in existence at McCook Field in 1926.
Operators
United Kingdom
Royal Air Force
No. 86 Squadron RAF
No. 95 Squadron RAF
No. 157 Squadron RAF

Specifications (Sopwith TF.2 Salamander)
General characteristics
Crew: 1
Length: 19 ft 6 in (5.94 m)
Wingspan: 31 ft 3 in (9.53 m)
Height: 9 ft 4 in (2.84 m)
Wing area: 272 sq ft (25.27 sq m)
Airfoil: *Chord: 5 ft (1.5 m)
Empty weight: 1,844 lb (836 kg)
Loaded weight: 2,512 lb (1.140 kg)
Powerplant: 1x— Bentley BR2 rotary, 230 hp (172 kw)
*Fuel: 29 gallons (110 litres)

Performance
Maximum speed: 117 mph at 10,000 ft, 125 mph at low altitude (188 km/h at 3,048 m, 201 km/h at low altitude)
Service ceiling: 13,000 (4,000 m)
Rate of climb: 17 minutes to 10,000 ft (3,048 m)
Endurance: 1.5 hours

Armament
2 x 0.303 Vickers machine guns
4 light bombs

Related development
Sopwith Snipe
Sopwith Dragon

Jane's Fighting Aircraft of World War I. New York, New York: Military Press. 1990. pp. 87. ISBN 0-517-03376-3.
Bruce, J.M. (1969). War Planes of the First World War (Vol.2). London: Macdonald. ISBN 0-356-01490-8.
Sopwith Salamander Pictures and Sopwith Salamander for Sale.
Living Warbirds: The best warbirds DVD series.
Source: WikiPedia