Spencer Air Car Video and Picture
Spencer Air Car Aircraft Information
Spencer Air Car
S-12-D Air Car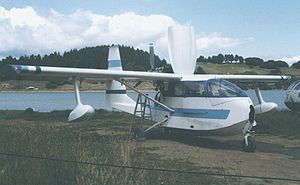 Picture - Spencer Air Car at Mill Valley Seaplane base near San Francisco in April 1989 with engine cowling open
Role: single-engine amphibian
National origin: United States
Manufacturer: Spencer-Larsen Aircraft Corporation, Spencer (homebuilt)
Designed by: Percival H. "Spence" Spencer
First flight: 1941, 1970 (homebuilt)
Introduced: 1941, 1968(homebuilt)
Status: in operation
Primaryuser: private owner pilots
Number built: 1 prototype, over 50 homebuilt completions
Developed from: SL-12C amphibian, Republic Seabee

The Spencer Amphibian Air Car is an American light amphibian aircraft. The name was first used in 1940 for a prototype air vehicle that developed into the Republic Seabee. The name was later used by its designer Percival Spencer for a series of homebuilt amphibious aircraft roughly based on the Seabee design.
Design and development
Percival H. Spencer formed the Spencer-Larsen Aircraft Corporation and designed the SL-12C amphibian. Disenfranchised with corporate policies in the development of the SL-12C amphibian, Spencer started the Spencer Amphibian Air Car in 1940. The original Spencer Amphibian Air Car was test flown in 1941. The aircraft was put into storage due to restrictions in place in America during WWII. The aircraft and rights to its design were sold to Republic as the "Seebee" in 1943. After leaving Republic, he designed the on-off two-seat Air Car. In 1968 Spencer and retired USAF Col. Dale L. "Andy" Anderson formed a new company to market a four place amphibous homebuilt design once again called the Spencer Amphibian Air Car. With S-12C, S-12D, and S-12E, and S-14 variants. The first example was test flown in 1970 in Chino, California. The unit had a build cost of $8700.00 The S-12-D Aircar is an improved and larger four-seat aircraft, which retains the basic layout of the Seabee. The two seat S-14 used advanced composites and was test flown by Spencer in 1983 at the age of 86. Its design did not meet expectations and the sole example was donated to the Experimental Aircraft Association Museum in Oshkosh, Wisconsin.
The Air Car is built from wood, steel and glass-fibre. It has a strut-braced high wing and the cabin and fuel-carrying floats are similar to the Seabee, but the tail unit is more angular and a retractable tricycle undercarriage is fitted.
In addition to examples constructed by Spencer, plans of the design have been sold for home construction and the first amateur-built Air Car flew in September 1974. Over 50 had flown by 2001.. Examples are currently (2009) flying in the USA and Canada.
Variants
Spencer Amphibian Air Car initial two-seat version S-12-C early production with 110hp (82kW) Lycoming S-12-D main production version with 180hp (134kW) Lycoming O-360 or 260hp (194kW) Lycoming O-540 S-12-E prototype re-engined with 285hp (213kW) Continental Tiara 6-285 S-14 Air Car Junior two-seater, twin booms, Lycoming O-320, one example
Specifications S-12-D
Data from Simpson, 2001, p. 519.
General characteristics
Crew: 1
Capacity: 3 passengers
Payload: 1,050 lbs (476 kg)
Length: 26 ft 0 in (7.92 m)
Wingspan: 37 ft 4 in (11.38 m)
Height: 9 ft 6 in (2.9 m)
Empty weight: 2,050 lbs (930 kg)
Useful load: 1,050 lbs (476 kg)
Max takeoff weight: 3,100 lbs (1,406 kg)
Powerplant: 1x— Lycoming O-540-E4B5, 260 h.p. (191 kW)

Performance
Maximum speed: 147 mph (237 km/h)
Cruise speed: 135 mph (217 km/h)
Range: 700 miles (1,127 km)
Rate of climb: 800 ft/min (244 m/min)

PERCIVAL HOPKINS SPENCER
SPENCER AMPHIBIAN AIRPLANE Percival H. Spencer

Bibliography
Simpson, Rod (2001). Airlife's World Aircraft. Airlife Publishing Ltd. ISBN1-84037-115-3.

Living Warbirds: The best warbirds DVD series.
Source: WikiPedia