Stinson 108 Video - Picture
Stinson 108 Aircraft Information
Stinson 108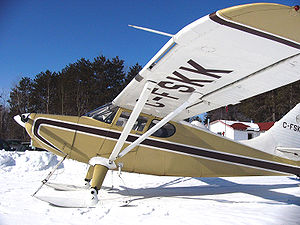 Picture - A Canadian 1949 model Stinson 108-3 on skis. The partial span leading edge slot is visible
Role: Private owner aircraft
National origin: United States
Manufacturer: Stinson Aircraft Company
Produced: 1946-1950
Developed from: Stinson Voyager

The Stinson 108 was a popular general aviation aircraft produced by the Stinson division of the American airplane company Consolidated Vultee, from immediately after World War II to 1950. It was developed from the prewar Model 10A Voyager. Stinson was bought by Piper Aircraft in 1949. All Stinson model 108, 108-1, 108-2, 108-3 and 108-4 aircraft were built by Stinson at Wayne, Michigan. When Stinson sold the type certificate to Piper in 1949, approximately 325 airplanes of the 5,260 model 108's built by Stinson were complete but unsold. These 325 model 108's went to Piper as part of the sale. Piper then sold that inventory as the Piper-Stinson over the next few years.
Design and development
The fuselage was of fabric-covered steel tube. Aftermarket modifiers have obtained supplemental type certificates (STC) allowing conversion to an aluminum covering. Many different engines have been installed in the 108 by STC such as the Lycoming O-360, Franklin 220|220, Continental O-470.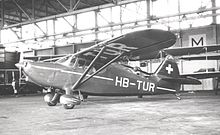 Picture - Swiss Stinson 108-2 at Manchester Airport, England in 1950. This earlier model has the shorter vertical fin with curved trailing edge.
One distinctive feature was the partial leading edge slot installed on the wings and aligned with the ailerons on the trailing edge, ensuring that the portion of the wing containing the aileron remains unstalled at higher angles of attack, thus contributing to docile stall behavior.
Total new production of the Stinson Model 108, by Stinson, was 5,260, total does not include the 2 converted prototypes. Stinson delivered approximately 4,935 aircraft and Piper delivered approximately 325 aircraft. Piper later sold the type certificate to Univair Aircraft Corporation. Univair built and certified the model 108-5, 1 built. Total new model production by Stinson and Univair is 5,261 aircraft.
Variants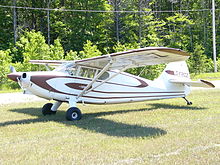 Picture - 1946 model Stinson 108 (not a 108-1, 2 or 3)
The 108 variants closely resemble each other but can be visually distinguished by their design changes:
Prototype 108
Two prototype model 108s were converted from Stinson model 10A airframes. FAA records show NX31519 was model 108 serial number 1, and NX31532 is model 108 serial number 2. Both registrations later changed to NC. The production model straight 108 would also use serial number 1 and 2, so there was for a short period 2 duplicate serial numbers;
108
The 108 does not have a right-side cargo door on the fuselage, 741 built;
108-1
The 108-1 does have a right-side cargo door on the fuselage, 1507 built;
108-2
The 108-2 was essentially the same as 108-1, with exception of 165 hp (123 kW) replacing the 150 hp (112 kW) engine & inflight adjustable rudder trim, 1252 built;
108-3
The 108-3 introduced a taller vertical fin with a rudder featuring a straight trailing edge. Larger fuel tanks (50 U.S. gallons (190 l; 42 imp gal) versus 40 U.S. gallons (150 l; 33 imp gal)) were also incorporated into the wings. The -3 has a higher gross weight than its predecessors of 2,400 lb (1,089 kg), allowing full fuel, four 170 lb (77 kg) occupants, and 50 lb (23 kg) baggage allowance, 1759 built.
108-4
The 108-4 was a higher powered model 108, sn 108-4693, NX149C, not certified, flown experimentally by Stinson, later by Piper, 1 built.
Flying Station Wagon
The "Flying Station Wagon" version was an option available with the -1, -2 and -3 models, had a utility interior incorporated wood paneling and a reinforced floor, allowing 600 lb (272 kg) of baggage in the passenger compartment. The aircraft could be fitted with wheel, float or ski landing gear. The single 108-4 built was a Flying Station Wagon.
108-5
The 108-5 was built by Univair, similar to the 108-3 with a 180 hp (134 kW) Franklin engine. Univair purchased the Stinson 108 type certificate from Piper, 1 built in about 1975. This airplane brings total model 108 production to 5,261, of which 5,260 were built by Stinson, 1 by Univair.
Voyager 125
Powered by a 125 hp (93 kW) Lycoming O-235 piston engine.
Voyager 150
Powered by a 150 hp (112 kW) Franklin 6A4-150 piston engine.
Voyager 165
Powered by a 165 hp (123 kW) Franklin 6A4-165-B3 piston engine.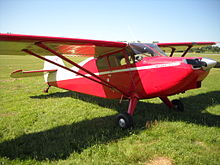 Picture - 1946 model Stinson 108-1
Operators
United States
No United States military use of the Stinson model 108 is known. The Stinson Voyager Production Record shows two aircraft, sn 108-2381 and 108-2382 with the notation "Army Demonstrator." Unable to locate U.S. military serial numbers for these airplanes.

Spain
The Spanish Air Force, Ejército del Aire, operated 21 model 108-3 aircraft procured from civil sources, as the Spanish L.2 and carried Spanish Air Force serial numbers L.2-01 to L.2-21.

France
The French Air Force operated Stinson 108-3, serial number 108-4419, assigned to Escadrille de liaison aérienne 52. It was flown in Indochina (Vietnam) in the region near Hué in 1951. Today that airplanes flies in France registered F-BEXD.

Specifications (108-3)
General characteristics (-3 model only)
Crew: one, pilot
Capacity: 2-3 passengers (4 total)
Length: 25 ft 3 in (7.70 m)
Wingspan: 34 ft 0 in (10.36 m)
Height: 7 ft 6 in (2.29 m)
Wing area: 155.00 ft² (14.40 m²)
Empty: 1350-1500 lb (613 - 681 kg)
Loaded: 2,400 lb (1,090 kg)
Maximum takeoff: 2,400 lb (1,090 kg)
Powerplant: 1x Franklin 6A4, 165 hp (123 kW) horizontally-opposed piston engine

Performance
Maximum speed: 133 mph (213 km/h)
Range: 500 miles ( 800 km)
Service ceiling: 13,000 ft (4,000 m)
Rate of climb: 650 ft/min ( 200 m/min)
Wing loading: 15.48 lb/ft² ( 75.75 kg/m²)
Power/Mass: 14.54 hp/lb (8.86 kW/kg)
Takeoff roll: 620 feet (190 m)
Landing roll: 290 feet (85 m)

reference http://www.stinsonflyer.com/avphoto/stnad-1c.jpg
Related development
Stinson Voyager

Comparable aircraft
Aeronca Sedan

Andrade, John (1979). U.S.Military Aircraft Designations and Serials since 1909. Midland Counties Publications. ISBN 0 904597 22 9.

Stinson 108 Pictures
More airplane videos.
Source: WikiPedia