Stinson Airliner Video - Picture
Stinson Airliner Aircraft Information
Stinson SM-6000 Airliner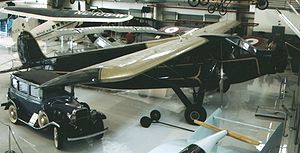 Picture - Stinson SM-6000B Airliner trimotor of 1931 airworthy at Fantasy of Flight in Polk City, Florida in April 2007
Role: Three-engined airliner
National origin: United States
Manufacturer: Stinson Aircraft Corporation
Number built: 53 (SM-6000) 24 (Model U)

The Stinson SM-6000 Airliner was a 1930s three-engined (trimotor) 10-passenger airliner designed and built by the Stinson Aircraft Corporation. The SM-6000 was a high-wing braced monoplane with room for a pilot and a cabin for ten passengers. It was powered by three 215hp (160kW) Lycoming R-680 engines strut-mounted one each side above the main landing gear units and one in the nose. A number of variants were built mainly with improved interiors. In 1932 the Model U Airliner was produced which had low-set stub wings with an engine mounted at each wingtip.
Variants
Corman 6000
The initial prototypes produced by the Corman aircraft Co. as part of the Erret L Cord empire.
SM-6000 Airliner
1930 initial production variant with three 215hp (160kW) Lycoming R-680 engines.
SM-6000-A Airliner
1930 variant available with different interior configurations.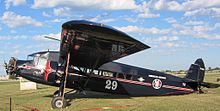 Picture - SM-6000-B
SM-6000-B1 Airliner
1931 all passenger variant with better interior equipment.
SM-6000-B2 Airliner
As the B1 but with a mixed mail/passenger interior.
Model U Airliner
1932 improved model with three 240hp (179kW) Lycoming R-680-BA engines on stub wings.
C-91
United States military designation for one SM-6000-A impressed into service in 1942.
Survivors
Only two of the high-wing models are known to exist. One by Greg Herrick in Minneapolis, Minnesota, the other is owned by Kermit Weeks and is maintained in airworthy condition at Fantasy of Flight in Polk City, Florida.
Operators
United States
American Airways
Century Airlines
Chesapeake Airways
Chicago and Southern Airlines
Delta Air Lines
Rapid Air Lines

Specifications (SM-6000-B)
Data from
General characteristics
Crew: 2
Capacity: 10 (B1), 8 (B2)
Length: 42 ft 0 in (18.29 m)
Wingspan: 60 ft 0 in (12.8 m)
Height: 12 ft 0 in (3.66 m)
Wing area: 490 ft (45.6 m)
Empty weight: 5,670 lb (2,620 kg)
Gross weight: 8,600 lb (3,910 kg)
Powerplant: 3 x— Lycoming R-680, 215 hp (160 kW) each

Performance
Maximum speed: 146 mph (234 km/h)
Cruise speed: 125 mph (200 km/h)
Range: 390 miles (628 km)
Service ceiling: 14,200 ft (4,330 m)
Rate of climb: 1,000 ft/min (5.1 m/s)

Taylor, Michael J. H. (1989). Jane's Encyclopedia of Aviation. London: Studio Editions.
Wagg, John (1990). General Dynamics Aircraft and their Predecessors. London: Putnam Aeronautical Books. ISBN 0-85177-833-X..
The Illustrated Encyclopedia of Aircraft (Part Work 1982-1985). Orbis Publishing.

Stinson Airliner Pictures
More airplane videos.
Source: WikiPedia