Stinson L-1 Vigilant Video - Picture
Stinson L-1 Vigilant Aircraft Information
Stinson L-1 Vigilant (L-1 (O-49) Vigilant)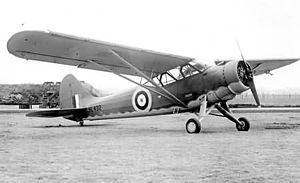 Picture - RAF Stinson Vigilant photographed at Air Fighting Development Unit, Duxford, UK, 1941-42
Role: Light Observation, Liaison
Manufacturer: Stinson Aircraft Corporation
Designer: A.P. Fontaine
First flight: July 15, 1940
Introduction: 1941
Primary users: United States Army Air Corps Royal Air Force
Number built: 324

The Stinson L-1 Vigilant (company designation Model 74) was a 1940s American light observation aircraft built by the Stinson Aircraft Company at Wayne, Michigan (by November 1940 a division of Vultee Aircraft Corporation). The aircraft was operated by the United States Army Air Corps as the O-49 until 1942.
Design and development
The Vigilant was designed in response to a 1938 United States Army Air Corps design competition for a two-seat light observation aircraft. When the German-manufactured Fieseler Storch was demonstrated at the Cleveland Air Races, the Air Corps revised its specifications in an attempt to match the performance of the Storch. Stinson (later a division of Vultee), won the $1.5 million contract over 11 competitors, including the Bellanca YO-50 and Ryan YO-51.
The Model 74 was a single radial engined high-wing monoplane with trailing-edge high-lift devices for low speed and high lift performance. The prototype aircraft was built full-span leading-edge automatic slots manufactured by Handley Page, and slotted flaps. The Model V-74 was given the Army designation YO-49 for evaluation, with the first flight by test pilot Al Schramm on July 15, 1940.
The aircraft was built of steel tubing and fabric, with the fuselage forward of the wing enclosed in sheet metal. Control surfaces and the empennage were fabric-covered stainless steel. The Lycoming power plant was hand-cranked inertia starting, and was fitted with a Hamilton Standard constant speed propeller. At least twelve ambulance conversions were fitted with Edo 49-4000 pontoons (4000-pound displacement) for amphibious landings and takeoffs.
The Vigilant was capable of stopping in less than its own length, and could maintain stable flight at 31 miles per hour. Anecdotally, the Vigilant was said to be capable of backwards flight in a strong headwind.
Operational history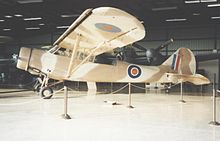 Picture - Ex-USAAC O-49 Vigilant in the Weeks Museum at Tamiami, Florida, in 1989 wearing RAF-style markings
The Stinson Vigilant was used in diverse roles such as towing training gliders, artillery spotting, liaison, emergency rescue, transporting supplies, and special espionage flights. Another contract was later awarded for the O-49A which had a slightly longer fuselage and other equipment changes. In April 1942 the aircraft were redesignated the L-1 and L-1A (liaison). Up to 17 L-1 and 96 L-1A aircraft were allocated to the British Royal Air Force under the Lend-Lease Act, with varying numbers given for aircraft actually delivered (see Variants, below). The RAF designated the aircraft the Vigilant Mk I and Vigilant Mk II respectively. General Harry Crerar, Commander of the First Canadian Army in Europe during World War Two, maintained a Vigilant for his personal use.
Aircraft were modified for a variety of roles including as an ambulance aircraft. No further production orders were placed as the aircraft was superseded by procurement of vast numbers of the L-5 Sentinel and L-4 Grasshopper "puddle-jumper" aircraft.
A Vigilant was modified in 1943-44 for experiment in boundary layer control
Five examples of the Stinson O-49 Vigilant currently survive in museums in the United States.
Variants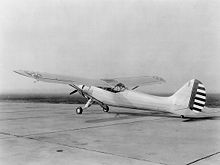 Picture - 0-49 Vigilant at Patterson Field during World War II.
Stinson Model 74
company designation
O-49 Vigilant
US Army designation for first production batch, 142 built.
L-1 Vigilant
1942 redesignation of O-49.
O-49A Vigilant
Fuselage lengthened 13 in (33 cm) 182 built.
O-49B Vigilant
Conversion to ambulance variant, three or four converted.
L-1A Vigilant
1942 redesignation of O-49A.
L-1B Vigilant
1942 redesignation of O-49B.
L-1C Vigilant
L-1A ambulance variant, 113 converted.
L-1D Vigilant
L-1A training glider tug, 14 to 21 converted.
L-1E Vigilant
L-1 amphibious ambulance variant, seven converted.
L-1F Vigilant
L-1A amphibious ambulance variant, five conversions.
Vigilant Mk I
RAF designation of L-1, 14 to 17 allocated by Lend Lease
Vigilant Mk II
RAF designation of L-1A, 96 allocated, circa 13 to 54 delivered
CQ-2 Vigilant
US Navy conversion of L-1A to target control aircraft, one or more converted
Operators
United Kingdom
Royal Air Force

United States
United States Army Air Corps

Specifications (L-1A)
Data from American Warplanes of World War II
General characteristics
Crew: 3
Length: 34 ft 3 in (10.44 m)
Wingspan: 50 ft 11 in (15.52 m)
Height: 10 ft 2in (3.10 m)
Wing area: 329 ft² (30.6 m²)
Empty weight: 2670 lb (1211 kg)
Max takeoff weight: 3400 lb (1542 kg)
Powerplant: 1 x— Lycoming R-680-9 radial piston engine, 295 hp (220 kW)

Performance
Maximum speed: 106 knots (122 mph, 196 km/h)
Range: 243 nm (280 mi, 451 km)
Service ceiling: 12,800 ft (3900 m)
Rate of climb: 408 ft/min (124.36 m/min)
Wing loading: 10.3 lb/ft² (50.4 kg/m²)
Power/mass: 0.0867 hp/lb (0.143 kW/kg)

Comparable aircraft
Bellanca YO-50
Ryan YO-51 Dragonfly

Bibliography
Donald, David (ed.). American Warplanes of World War II. London: Aerospace Publishing, 1995. ISBN 1-874023-72-7.
Eden, Paul and Soph Moeng (eds.). The Complete Encyclopedia of World Aircraft. Amber Books Ltd., 2002. ISBN 0-7607-3432-1
Merriam, Ray (ed.). World War II Journal #15: U.S. Military Aircraft of World War II. Bennington, Vermont, USA: Merriam Press, 2002. ISBN 1-57638-167-6.
Ogden, Bob. Aviation Museums and Collections of North America. (2007) Air-Britain (Historians ) Ltd. ISBN 0-85130-385-4.
The Illustrated Encyclopedia of Aircraft (Part Work 1982-1985). London: Orbis Publishing.

Stinson L-1 Vigilant Pictures
More airplane videos.
Source: WikiPedia