Stinson L-13 Video - Picture
Stinson L-13 Aircraft Information
Stinson L-13 Grasshopper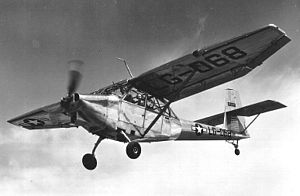 Picture - Note the windows in the roof giving excellent field of vision
Role: Observation and Utility Aircraft
Manufacturer: Stinson Aircraft Company
First flight: 1945
Introduction: 1947
Primary users: United States Air Force United States Army
Number built: 302

The Stinson L-13 (sometimes known as the Grasshopper, like other aircraft of its type) was a US military utility aircraft first flown in 1945. Developed when Stinson was a subsidiary of Consolidated Vultee, rights to it were not included in the 1948 sale of Stinson to Piper. Mass production was therefore undertaken by Convair, which built some 300 of them.
It was a conventional high-wing tailwheel monoplane used for observation, liaison, and air ambulance duties. Following their military service, some were converted for civil bush flying use, fitting a radial engine by Acme Aircraft Company as the Centaur, while others underwent similar conversions by Caribbean Traders Inc, as the Husky.
Variants
XL-13
Prototype aircraft, powered by 245 hp (183 kW) Franklin O-425-6 engine. Two built.
L-13A
Production aircraft, powered by 250 hp (187 kW) O-452-9 engine. 300 built.
L-13B
Conversion of L-13A for cold weather operation, capable of operating from wheels, skis or floats. 28 converted.
Acme Centaur 101
Conversion of L-13 as six-seat bush aircraft. Powered by 300 hp (224 kW) Lycoming R-680-E3.
Acme Centaur 102
Similar to Acme Centaur 101, with Jacobs R-755-A2 radial.
Caribbean Traders Husky I
Civil conversion of L-13A. Retained O-425 engine.
Caribbean Traders Husky II
Civil conversion of L-13A. Powered by 300 hp R-680-13 engine on modified engine mount capable of swinging out for easy maintenance.
Caribbean Traders Husky III
Similar to Husky II, but powered by 450 hp (338 kW) Pratt & Whitney R-975-7 radial engine.
Operators
United States
United States Air Force
United States Army received 43 ex-Air Force L-13As following the outbreak of the Korean War, serving in the Continental United States to free up aircraft for active service overseas.

Specifications (L-13A)
Data from General Dynamics Aircraft and their Predecessors
General characteristics
Crew: one
Capacity: two passengers
Length: 31 ft 9 in (9.68 m)
Wingspan: 40 ft 5½ in (12.33 m)
Height: 8 ft 5 in (2.57 m)
Wing area: 270 sq ft (25.1 m²)
Empty weight: 2,070 lb (941 kg)
Loaded weight: 3,185lb (1,448 kg)
Powerplant: 1x— Franklin O-425-9 air-cooled flat-six piston engine, 250 hp (187 kW)

Performance
Maximum speed: 115 mph (100 knots, 185 km/h)
Cruise speed: 92 mph (80 knots, 148 km/h)
Range: 368 miles (320 nmi, 592 km)
Service ceiling: 15,000 ft (4,570 m)
Rate of climb: 830 ft/min (4.2 m/s)

Comparable aircraft
L-19 Bird Dog

"Convair Conversion." Flight, 9 September 1955, p. 466.
"Plane With Folding Wings Can Be Towed Like A Glider" , March 1947, Popular Mechanics rare photos of L-13 folded for towing by jeep
Harding, Stephen. U.S. Army Aircraft Since 1947. Shrewsbury, UK:Airlife, 1990. ISBN 1-85310-102-8.
Swanborough, F.G. and Bowers, Peter M. United States Military Aircraft since 1909. London:Putnam, 1963.
Wegg, John. General Dynamics Aircraft and their Predecessors. London:Putnam, 1990. ISBN 0-85177-833-X.

Stinson L-13 Pictures
More airplane videos.
Source: WikiPedia