Stinson Voyager Video - Picture
Stinson Voyager Aircraft Information
Stinson Voyager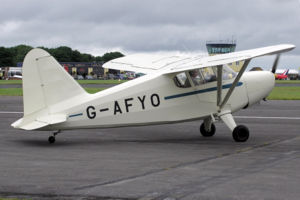 Picture - Model 105 in 2005
Role: Light utility monoplane
National origin: United States
Manufacturer: Stinson Aircraft Company
First flight: 1939
Primary user: United States Army
Number built: 277 (Model 105) 775 (Model 10)
Variants: L-5 Sentinel Stinson Model 108

The Stinson Voyager was a 1940s American light utility monoplane built by the Stinson Aircraft Company.
Development
First developed as the Stinson Model 105 in 1939 it was a high-wing three-seat braced monoplane powered by either a 75 hp Continental A-75 or a 80 hp Continental A-80-6. This was developed into the Model 10 powered by a Continental A-80 piston engine. The Model 10 introduced a wider cabin as well as improved standards of interior and finish. The Model 10 was followed by the Model 10A powered by a Franklin 4AC-99 engine and the Model 10B with a Lycoming GO-145.
Six Model 10As were evaluated by the United States Army as the YO-54, the successful testing led to an order for a slightly larger and heavier O-62, later designated the L-5 Sentinel.
A number of Model 105s and Model 10As were impressed into Army service as the AT-19 (later L-9).
After the Second World War the type was developed as the Model 108, the prototypes being converted Model 10As.
Variants
Model 105
Production variant also known as the HW-75 with a Continental A-75 engine), or HW-80 with a Continental A-80 engine, 277 built.
Model 10
Improved production variant with a 80hp Continental A-80 engine, 260 built.
Model 10A
Variant with a 90hp Franklin 4AC-99 engine, 515 built (10A and 10B).
Model 10B
Variant with a 75hp Lycoming GO-145 engine, 515 built (10A and 10B).
YO-54
United States Army designation for six Model 10s for evaluation.
AT-19A
Original military designation for eight Model 105s impressed in 1942, later changed to L-9A.
AT-19B
Original designation for 12 impressed Model 10A Yoyagers, later changed to L-9B.
L-9A
Final designation fo eight impressed Model 105 Voyagers, originally AT-19A.
L-9B
Final designation for 12 impressed Model 10A Yoyagers, originally AT-19B.
Operators
United States
United States Army Air Force

Specifications (105)
Data from General Dynamics Aircraft and their Predecessors
General characteristics
Crew: 1
Capacity: 2 passengers
Length: 22 ft 2 in (6.76 m)
Wingspan: 34 ft 0 in (10.36 m)
Height: 6 ft 6 in (1.98 m)
Wing area: 155 sq ft (14.4 m)
Airfoil: NACA 4412
Empty weight: 923 lb (419 kg)
Gross weight: 1,580 lb (717 kg)
Powerplant: 1 x— Continental A-75-3 air-cooled flat-four, 75 hp (56 kW)

Performance
Maximum speed: 105 mph (169 km/h; 91 kn)
Cruise speed: 100 mph (87 kn; 160 km/h)
Range: 350 mi (304 nmi; 563 km)
Service ceiling: 10,500 ft (3,200 m)
Rate of climb: 430 ft/min (2.2 m/s)

Related development
L-5 Sentinel
Stinson 108

Bibliography
Andrade, John (1979). U.S.Military Aircraft Designations and Serials since 1909. Midland Counties Publications. ISBN 0 904597 22 9.
The Illustrated Encyclopedia of Aircraft (Part Work 1982-1985). Orbis Publishing.
Simpson, R.W. (1991). Airlife's General Aviation. England: Airlife Publishing. ISBN 1 85310 104 X.
Wegg, John (1990). General Dynamic Aircraft and their Predecessors. London: Putnam. ISBN 0-85177-833-X.

Stinson Voyager Pictures
More airplane videos.
Source: WikiPedia