Sukhoi PAK FA Video - First flight
Sukhoi PAK FA Aircraft Information
Sukhoi PAK FA
PAK FA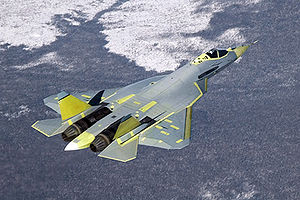 Picture - PAK FA T-50 prototype on the day of its first flight
Role: Stealth multirole fighter
National origin: Russia
Manufacturer: Sukhoi
First flight: January 29, 2010
Introduction: 2015 (planned)
Status: Test flight / Pre-production
Primary user: Russian Air Force
Number built: 3 total, only 1 made for flight
Program cost: US$8-10 billion (est.)
Unit cost: US$100 million (est.)
Variants: Sukhoi/HAL FGFA

The Sukhoi PAK FA is a fifth-generation jet fighter being developed by Sukhoi OKB for the Russian Air Force.
The current prototype is Sukhoi's T-50. The PAK FA, when fully developed, is intended to replace the MiG-29 Fulcrum and Su-27 Flanker in the Russian inventory and serve as the basis of the Sukhoi/HAL FGFA project being developed with India. A fifth generation jet fighter, it is designed to directly compete with Lockheed Martin's F-22 Raptor and F-35 Lightning II. The T-50 performed its first flight January 29, 2010. Its second flight was on February 6 and its third on February 12. As of August 31, 2010, it made 17 flights and by mid November 40 in total. A second prototyp is to start its flight test be the end of 2010
Sukhoi director Mikhail Pogosyan has projected a market for 1,000 aircraft over the next four decades, which will be produced in a joint venture with India, two hundred each for Russia and India and six hundred for other countries.. He has also said that the Indian contribution would be in the form of joint work under the current agreement rather than as a joint venture.
The Indian Air Force will "acquire 50 single-seater fighters of the Russian version" before the two seat FGFA is developed.
The Russian Defense Ministry will purchase the first ten aircraft after 2012 and then 60 after 2016. The first batch of fighters will be delivered without the "Fifth generation" engines.
Ruslan Pukhov, director of the Centre for Analysis of Strategies and Technologies, has projected that Vietnam will be the second export customer for the fighter.
The PAK-FA is expected to have a service life of about 30-35 years.
Development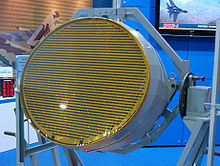 Picture - Radar with APAA for the PAK FA is provided by NIIP. MAKS-2009
In the late 1980s, the Soviet Union outlined a need for a next-generation aircraft to replace its MiG-29 and Su-27 in frontline service. Two projects were proposed to meet this need, the Sukhoi Su-47 and the Mikoyan Project 1.44. In 2002, Sukhoi was chosen to lead the design for the new combat aircraft, and in the summer of 2009 the design was approved. The PAK FA will incorporate technology from both the Su-47 and the MiG 1.44.
The Tekhnokompleks Scientific and Production Center, Ramenskoye Instrument Building Design Bureau, the Tikhomirov Scientific Research Institute of Instrument Design, the Ural Optical and Mechanical Plant (Yekaterinburg), the Polet firm (Nizhniy Novgorod) and the Central Scientific Research Radio Engineering Institute (Moscow) were pronounced winners in the competition held in the beginning of 2003 for the development of the avionics suite for the fifth-generation airplane. NPO Saturn has been determined the lead executor for work on the engines for this airplane.

Picture - APAA in slat. MAKS-2009
The Novosibirsk Chkalov Aviation Production Association (NAPO Chkalov) has begun construction of the fifth-generation multirole fighter. This work is being performed at Komsomol'sk-on-Amur together with Komsomolsk-on-Amur Aircraft Production Association; the enterprise's general director, Fedor Zhdanov reported during a visit to NAPO by Novosibirsk Oblast's governor Viktor Tolokonskiy on 6 March 2007. "Final assembly will take place at Komsomol'sk-on-Amur, and we will be carrying out assembly of the fore body of this airplane," Zhdanov specified.
On 8 August 2007, Russian Air Force Commander Alexander Zelin was quoted by Russian news agencies that the development stage of the PAK FA program is now complete and construction of the first aircraft for flight testing will now begin. Alexander Zelin also said that by 2009 there will be three fifth-generation aircraft ready. "All of them are currently undergoing tests and are more or less ready", he said.
On 11 September 2010, the Business Standard of India reported that Indian and Russian negotiators had agreed on a preliminary design contract that would then be subject to Cabinet approval. The joint development deal would have each country invest $6 billion and take 8 to 10 years to develop the fighter. The agreement on the pre-design of the fighter is scheduled to be signed in December 2010.
Maiden flight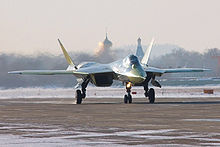 Picture - The T-50 taxiing on the day of its maiden flight.
On 28 of February 2009 Mikhail Pogosyan announced that the airframe for the aircraft was almost finished and that the first prototype should be ready by August 2009. On 20 August 2009, Sukhoi General Director Mikhail Pogosyan said that the first flight would be by year end. Konstantin Makiyenko, deputy head of the Moscow-based Centre for Analysis of Strategies and Technologies said that "even with delays", the plane would likely make its first flight by January or February, adding that there it would take 5 to 10 years for commercial production.
The maiden flight had been repeatedly postponed since early 2007 as the T-50 encountered unspecified technical problems. Air Force chief Alexander Zelin admitted as recently as August 2009 that problems with the engine and in technical research remained unsolved.
The Weekly Standard reported that Russian sources had indicated that the T-50 prototype would fly in 2010 or early 2011 with current technology radar and avionics as the advanced systems for the completed PAK FA will require help from a foreign partner.
On December 8, 2009, Deputy Prime Minister Sergei Ivanov announced that the first trials with the fifth-generation aircraft would begin in 2010. The testing, however, has commenced earlier than stated, with the first successful taxiing test taking place on December 24, 2009.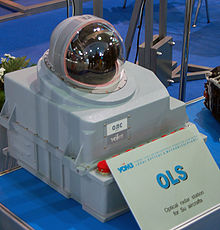 Picture - Optical detection pod for the Su PAK FA. MAKS-2009
The aircraft's maiden flight took place on 29 January 2010 at KnAAPO's Komsomolsk-on-Amur Dzemgi Airport; the aircraft was piloted by Sergey Bogdan (Сергей Богдан) and the flight lasted for 47 minutes.
A second airframe is planned to join the flight testing later in fourth quarter of 2010. These first two aircraft will lack radar and weapon control systems, while the third and fourth aircraft, to be added in 2011, will be fully functional test aircraft.
The T-50 is expected to be on display at the 2011 MAKS Airshow.
Naval Version
Navalized Sukhoi T-50 PAK FAs will be deployed on the Russian aircraft carrier Admiral Kuznetsov and future Russian aircraft carriers. There will be a competition between the Sukhoi, Mikoyan and Yakovlev design bureaus to choose the new naval aircraft.
Design
Although most of information about the PAK FA is classified, it is believed from interviews with people in the Russian Air Force and Defense Ministry that it will be stealthy, have the ability to supercruise, be outfitted with the next generation of air-to-air, air-to-surface, and air-to-ship missiles, incorporate a fix-mounted AESA radar with a 1,500-element array and have an "artificial intellect".
According to Sukhoi, the new radar will reduce pilot load and the aircraft will have a new data link to share information between aircraft.
Composites are used extensively on the T-50 and comprise 25% of its weight and almost 70% of the outer surface. It is estimated that titanium alloy content of the fuselage is 75%. Further reductions in structural weight, drag and radar signature are achieved by the use of three-dimensional thrust vectoring engines. Sukhoi's concern for minimizing RCS (and drag) is also shown by the provision of two tandem main weapons bays in the centre fuselage, between the engine nacelles. Each is estimated to be between 4.9-5.1m long. The main bays are augmented by bulged, triangular-section bays at the wing root.
The Moskovsky Komsomolets reported that the T-50 has been designed to be more maneuverable than the F-22 Raptor at the cost of making it less stealthy than the F-22.
Avionics
The PAK-FA SH121 radar complex includes three X-Band AESA radars located on the front and sides of the aircraft. These will be accompanied by L-Band radars on the wing leading edges. L-Band radars are proven to have increased effectiveness against VLO targets which are optimized only against X-Band frequencies, but their longer wavelengths reduce their resolution.
The PAK-FA will feature an IRST optical/IR search and tracking system.
Sukhoi recently demonstrated cockpit mock-ups, which may relate to both Su-35 or PAK-FA, suggest two very large MFDs and a very wide HUD.
Hindustan Aeronautics Limited will reportedly provide the navigation system and the mission computer.
Engines
The PAK FA was expected to use a pair of Saturn 117S engines on its first flights. The 117S (AL-41F1A) is a major upgrade of the AL-31F based on the AL-41F intended to power the Su-35BM, producing 142 kN (32,000 lb) of thrust in afterburner and 86.3 kN (19,400 lb) dry. In fact, PAK FA already used a completely new engine in its first flight, as stated by NPO Saturn. The engine is not based on the Saturn 117S. The engine generates a larger thrust and has a complex automation system, to facilitate flight modes such as maneuverability. Exact specifications of the new engine are still secret. It is expected that each engine will be able to independently vector its thrust upwards, downward or side to side. Vectoring one engine up with the other one down can produce a twisting force. Therefore the PAK FA would be the first fifth generation fighter with full 3-D thrust vectoring along all three aircraft axes: pitch, yaw and roll. These engines will incorporate infrared and RCS reduction measures.
Operational history
Testing
The first flight video shows that PAK-FA has no conventional rudders, its vertical tails are fully movable. This special tail fin design is mechanically similar to V-tails used by the Northrop YF-23 in 1990s, but is supplemented by dedicated horizontal stabilators (as on the F-22). The T-50 has wing leading-edge devices above the jet engine intakes that have been called a challenge for signature control.
Specifications
Because the aircraft is in development, these specifications are preliminary and are taken as estimates from the available images.
Data from
General characteristics
Crew: 1
Length: 19.8 m (65.9 ft)
Wingspan: 14 m (46.6 ft)
Height: 6.05 m (19.8 ft)
Wing area: 78.8 m (848.1 ft)
Empty weight: 18,500 kg (40,785 lb)
Loaded weight: 26,000 kg (57,320 lb)
Useful load: 7,500 kg (combat load) (16,534 lb)
Max takeoff weight: 37,000 kg (81,570 lb)
Powerplant: 2x— New unnamed engine by NPO Saturn and FNPTS MMPP Salyut of 175 kN each. Prototype with AL-41F1 of 147 kN each, definitive version with new engine ;157 kN
Maximum Fuel weight: 10,300 kg (22,711 lb)

Performance
Maximum speed: 2,100 - 2,500 km/h (Mach 2) (1,300 - 1,560 mph) ; at 17,000 m (45,000 ft) altitude
Cruise speed: 1,850 - 2,100 km/h (1,150 - 1,300 mph)
Ferry range: 5,500 km (3417 miles)
Service ceiling: 20,000 m (65,616 ft)
Rate of climb: 350 m/sec (68,900 ft/min)
Wing loading: 330(normal) - 470(maximum) kg/m (67(normal) - 96(maximum) lb/ft)
Thrust/weight: 1.19
Maximum g-load: 10-11 g

Armament
Guns: None on prototype. Apparent provision for a cannon (most likely GSh-301).Possible two 30mm cannons
Hardpoints: Two internal bays estimated at 4.6-4.7 metres by 1-1.1 metres. . Other sources suggest two auxiliary internal bays for short range AAMS and 6 external hardpoints

Avionics N050(?)BRLS AFAR/AESA built by Tikhomirov NIIP and based on Tikhomirov NIIP N035 Irbis-E . It will be the second aircraft based AESA Radar to be built by Russia, the first being the Phazotron NIIR ZHUK-A Radar in the MIG-35.
Designed armament
Two Izdeliye 810 Extended beyond visual range missiles per weapons bay. Multiple Izdeliye 180 / K77M beyond visual range missiles. K74 and K30 within visual range missiles can also be carried. Two KH38M or KH58 USHK air-to-ground missiles per weapons bay. Multiple 250-500 kg precision guided bombs per weapons bay, with a maximum of ten bombs in internal bays Other possible loads include one 1500 kg bomb per weapons bay or two 400 km+ range anti-AWACS weapons on external hard-points. A maximum weapons load of 7500 kg is reported.
Related development
Sukhoi/HAL FGFA
Mikoyan Project 1.44
Sukhoi Su-35BM
Sukhoi Su-47

Comparable aircraft
F-22 Raptor
YF-23 Black Widow II
F-35 Lightning II

Butowski, Piotr. "Raptorski's Maiden Flight". Air International, March 2010, Vol 78 No 3. Stamford, UK:Key Publishing. pp. 30-37.

Living Warbirds: The best warbirds DVD series.
Source: WikiPedia