Sukhoi Su-8 Video and Picture
Sukhoi Su-8 Aircraft Information
Sukhoi Su-8
Su-8 (DDBSh)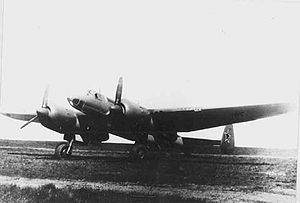 Role: Ground attack aircraft
Manufacturer: Sukhoi
Designed by: Pavel Sukhoi
First flight: 1944
Status: Prototype only
Number built: 2

Sukhoi Su-8 or DDBSh (- Twin-engine two-seat armored ground attack aircraft) was a Soviet prototype heavy attack aircraft of the German-Soviet War.
Development
While Sukhoi was perfecting the light Sukhoi Su-6 attack aircraft, the OKB also developed the massive, heavily armed and armored Su-8. Two prototypes were completed in 1943 and underwent factory testing in 1944, but did not advance to government trials or production due to the unavailability of M-71 engines. An attempt to re-engine the aircraft with Mikulin AM-42 engines did not see further development.
The Su-8 was of mixed construction. The cockpit area was armoured, with an aluminum mid-fuselage and a wooden monocoque tail. The wings were of steel and aluminum construction with plywood outer sections. The twin rudders were of all-metal construction. In addition to the cockpit, the engines, the fuel tanks and the oil coolers were fully armoured, with a total armour weight of 1,680 kg (3,705 lb), more than twice as heavy as the armour shell on an Ilyushin Il-2.
Specifications (Su-8)
Data from
General characteristics
Crew: 2
Length: 13.5 m (ft in)
Wingspan: 20.5 m (ft in)
Height: 5.11 m ()
Wing area: 60 m² (646 ft²)
Empty weight: 9,180 kg (20,240 lb)
Loaded weight: 12,425 kg (27,390 lb)
Max takeoff weight: 13,380 kg (29,500 lb)
Powerplant: 2x— Shvetsov M-71F radial engines, 1,640 kW (2,200 hp) each

Performance
Maximum speed: 550 km/h (300 kn, 340 mph) at 4,600 m (15,090 ft)
Range: 1,450 km (785 nmi, 900 mi)
Service ceiling: 9,000 m (29,530 ft)
Rate of climb: 9 min to 5,000 m (16,405 ft)

Armament
4 x— 37 mm (1.46 in) Nudelman N-37 or 4 x— 45 mm (1.78 in) Nudelman N-45 cannon under the fuselage
8 x— 7.62 mm (0.30 in) ShKAS machine guns (four in each wing)
1 x— 12.7 mm (0.50 in) UBT machine gun in upper turret
1 x— 7.62 mm ShKAS in lower turret
Total ammunition weight 232 kg (510 lb)
Up to 1400 kg (3,085 lb) of bombs

Shavrov V.B. (1994). Istoriia konstruktskii samoletov v SSSR, 1938-1950 gg. (3 izd.). Mashinostroenie. ISBN 5217004770.

Living Warbirds: The best warbirds DVD series.
Source: WikiPedia