Sukhoi T-4 Video - Overview
Sukhoi T-4 Video - Historic video
Sukhoi T-4 Aircraft Information
Sukhoi T-4
T-4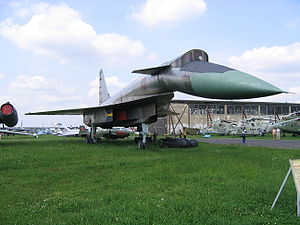 Picture - Sukhoi Т-4
Role: Bomber/Reconnaissance
Manufacturer: Sukhoi
Designed by: Pavel Sukhoi, Naum Chenyakov (chief designer)
First flight: 22 August 1972
Status: retired
Primary user: Soviet Air Force
Number built: 4

Sukhoi T-4, or "Aircraft 100", or "Project 100", or "Sotka" was a Soviet high speed reconnaissance, anti-ship and strategic bomber aircraft that did not proceed beyond the prototype stage. It is sometimes called the Su-100, a designation also used by SU-100 tank destroyer of the Second World War.
Development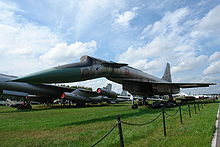 Picture -
Despite design similarities, the Sukhoi T-4 was not intended as a Soviet equivalent of the North American XB-70 Valkyrie supersonic bomber, but was rather intended to take advantage of many of the XB-70's aeronautic innovations to develop a smaller reconnaissance and anti-carrier aircraft capable of reaching Mach 3. It participated in a Soviet competition to develop a bomber as described above. It lost to the Myasishchev, and ultimately the Tupolev design which now exists as the Tupolev Tu-160 "Blackjack."
The T-4 was made largely from titanium and stainless steel, and featured a fly-by-wire control system but also employed a mechanical system as a backup. The aircraft's nose lowered to provide visibility during takeoff and landing. A periscope was used for forward viewing when the nose was retracted, and could be employed at speeds of up to 600 km/h (373 mph). Braking parachutes were used in addition to conventional wheel brakes.
Testing
The first T-4, designated "101," first flew on August 22, 1972. The test pilot was Vladimir Ilyushin, son of famed aircraft designer, Sergei Ilyushin (ironically Vladimir never served in his father's bureau), and navigator Nikolai Alfyorov. It has flown only ten times for a total 10 hours and 20 minutes. It is believed to have reached at least Mach 1.3 using four Kolesov RD36-41 engines. These engines each produced 16,000 kgf (35,300 lbf or 157 kN) thrust with afterburners. The aircraft was designed to achieve speeds of up to Mach 3.0, but the program was cancelled before the full performance of the aircraft could be reached. Sometimes it was incorrectly stated that T-4 is the "aircraft 101" that set a 2,000 km circuit speed record of Mach 1.89. In reality, "aircraft 101" is Tupolev Tu-144D.
Another reason of cancelling the project due to the VVS (Soviet Air Force) issuing the requirement of 250 T-4s. Meanwhile, some other high rank officers argued into gaining other more practical and supportive fighters instead of having such a huge flying titanium plate in the air. When Marshal Andrei Grechko was made the Minister of Defence, he was told by a staff, "You could have your enormous MiG-23 order only if the T-4 would be abandoned".
Survivors
One T-4 survives today. Aircraft "101" is on display at the Central Air Force Museum in Monino near Moscow. The serial numbers of the prototypes were "101" to "106". Only "101" and "102" were built, other additional prototypes "103" and "104" were under construction, "105" and "106" only existed on draft charts. Only the "101" completed all the test flights and flew the last test flight before the project was canceled on January 22, 1974. The rest of prototypes were scrapped.
Specifications
General characteristics
Crew: 2
Length: 44.0 m (145,2 ft)
Wingspan: 22.0 m (72 ft 2 in)
Height: 11.2 m (36 ft 9 in)
Wing area: 295.7 m² (3,183 ft²)
Empty weight: 55,600 kg (123,000 lb)
Loaded weight: 114,000 kg (258,000 lb)
Max takeoff weight: 135,000 kg (297,000 lb)
Powerplant: 4x— Kolesov RD-36-41 turbofans, 157 kN (35,000 lbf) each

Performance (estimated)
Maximum speed: Mach 3.0 (3,200 km/h; 1,987 mph)
Cruise speed: Mach 2.8 (3,000 km/h; 1,863 mph)
Ferry range: 7,000 km (4,347 mi)
Service ceiling: 20,000-24,000 m (66,000 ft)

Comparable aircraft
Avro 730
XB-70 Valkyrie

Living Warbirds: The best warbirds DVD series.
Source: WikiPedia