Supermarine Air Yacht Video -
Supermarine Air Yacht Aircraft Information
Supermarine Air Yacht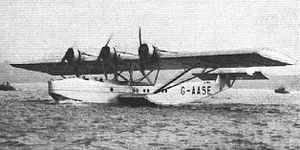 Role: Luxury flying boat
Manufacturer: Supermarine
First flight: February 1930
Introduction: 1930
Primary user: Private owners
Produced: 1930
Number built: 1

The Supermarine Air Yacht was a British luxury passenger-carrying flying boat designed and built by the Supermarine Aviation Works. A three-engined all-metal monoplane, a single example was built, being destroyed in an accident in 1933.
Development and design
The Supermarine Air Yacht was a three-engined luxury flying boat built at Woolston in 1929 for the Hon. Arthur Ernest Guinness for pleasure cruises around the Mediterranean, replacing his Supermarine Solent flying boat. It was based on a 1927 design to meet the requirements of specification R5/27 for a reconnaissance flying boat for the Royal Air Force.
The resulting design was a three-engined monoplane flying boat with hull-mounted sponsons instead of the wing-mounted floats more common on aircraft of this type. Construction was of all-metal, with the wing was held above the fuselage on struts, with the three Armstrong Siddeley Jaguar radial engines mounted on the leading edge of the wing. The single braced tailplane had three vertical fins and rudders. The crew were accommodated in open cockpits in the nose, with an enclosed cabin for the owner, with its own toilet, bath and bed, a separate cabin for the other five passengers and a galley beneath the wing.
The Air Yacht made its first flight in February 1930 at Hythe, England. It proved to be underpowered, with an excessive take-off run, and despite re-engining with three Armstrong Siddeley Panthers, was rejected by Guinness, who purchased a Saro Cloud instead.
Operational history
In October 1932 the Air Yacht was bought by a Mrs J.J. James and re-engined with three 525 hp (392 kW) Armstrong Siddeley Panther IIAs. Given the name Windward III it left Woolston on a cruise to Egypt on 11 October 1932, but on 25 January 1933 it crashed near Capri, Italy. While there were no casualties, the Air Yacht was then scrapped.
Specifications
Data from Supermarine Aircraft since 1914
General characteristics
Crew: 4
Capacity: 6 passengers
Length: 66 ft 6 in (20.3 m)
Wingspan: 92 ft (28 m)
Height: 19 ft (5.8 m)
Wing area: 1,472 ft² (136.7 m²)
Empty weight: 16,808 lb (7,624 kg)
Loaded weight: 23,348 lb (10,590 kg)
Powerplant: 3x— Armstrong Siddeley Panther IIA 14-cylinder air-cooled radial engine, 525 hp (391.5 kW) each

Performance
Maximum speed: 102 kn (117 mph, 189 km/h)
Service ceiling: 6,500 ft (1,980 m)
Rate of climb: 380 ft/min (1.9 m/s)

"An Air Yacht De Luxe". Flight, 28 February 1930. pp.250-252.
"By Air Yacht to the Mediterranean Flight, 20 October 1932. p.990.
Andrews, C.F. and Morgan, E.B. Supermarine Aircraft since 1914. London:Putnam, 1987. ISBN 0 85177 800 3.
Jackson, A.J. British Civil Aircraft 1919-1972:Volume III. London:Putnam, 1988, ISBN 0 85177 818 6.

Living Warbirds: The best warbirds DVD series.
Source: WikiPedia