Supermarine S.4 Video - Historical Video
Supermarine S.4 Aircraft Information
Supermarine S.4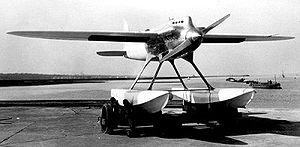 Role: Racing seaplane
Manufacturer: Supermarine
Designed by: Reginald Mitchell
First flight: 24 August 1925
Introduced: 1925
Retired: 1925
Status: Destroyed
Number built: 1

The Supermarine S.4 was a 1920s British single-engined single-seat monoplane racing seaplane built by Supermarine to compete in the 1925 Schneider Trophy. It crashed and was destroyed before the competition started.
Design and development
The Supermarine S.4 was designed by Reginald Mitchell to compete for the 1925 Schneider Trophy race. Built by Supermarine at Woolston, the S.4 was primarily an all-wooden monoplane seaplane, although a mixed wood-metal construction fuselage was mated to an unbraced cantilever wing and monocoque fuselage, powered by one 680 hp (507 kW) Napier Lion VII engine. As an exceptionally "clean" monoplane seaplane, the S.4 design was in marked contrast with the biplane Supermarine Sea Lion flying boats which Mitchell had designed for previous Schneider Trophy races, which won in 1922 and came third behind the American Curtiss CR seaplanes in 1923.
Operational history
Registered G-EBLP, the S.4 first flew on 24 August 1925. On 13 September 1925 on Southampton Water, it raised the world's seaplane speed record (and the British speed record) to 226.752 mph (365.071 km/h).
With high hopes of a British victory, the S.4, together with two Gloster III biplanes, was shipped to the United States of America for the 1925 race. During trials at Bay Shore Park, Baltimore on 23 October 1925, piloted by H. C. Biard, it was seen to sideslip into the water from 200 ft (61 m) and was wrecked. Biard, who survived with two broken ribs, stated that he lost control following violent wing vibration. The race was won two days later by Lieutenant James Doolittle, flying a Curtiss R3C at an average speed of 232.573 mph (374.443 km/h), faster than the S.4's world record of a month before.
The side-slip instability of the S.4 is understandable, as wing dihedral of the airframe was minimal. Also, fin area was equally minimal. Therefore, the snap-roll at side-slip was perhaps inevitable in the light of modern knowledge. Other sources have suggested the accident was due to flutter, of which the vibration noted by Biard was a symptom.
Popular culture
Very little film and photographic evidence of the S.4 survives, but five minutes of film are preserved within Leslie Howard's Spitfire/First of the Few starring himself and David Niven. Drawings, and construction film, as well as film of the first takeoff and flight are preserved within the feature film.
Specifications
Data from Supermarine Aircraft since 1914
General characteristics
Crew: 1
Length: 26 ft 7¾ in (8.12 m)
Wingspan: 30 ft 7½ in (9.33 m)
Height: 11 ft 8½ in (3.57 m)
Wing area: 139 ft² (12.9 m²)
Empty weight: 2,600 lb (1,179 kg)
Loaded weight: 3,191 lb (1,447 kg)
Powerplant: 1x— Napier Lion VII 12-cylinder water cooled W-block engine, 680 hp (507 kW)

Performance
Maximum speed: 239 mph (208 kn, 385 km/h)
Wing loading: 23.0 lb/ft² (112 kg/m²)
Power/mass: 0.21 hp/lb (0.35 kW/kg)

Schneider Trophy

Related development
Supermarine S.5

Bibliography
Aldgate, Anthony and Jeffrey Richards. Britain Can Take it: British Cinema in the Second World War. Edinburgh: Edinburgh University Press, 2nd Edition. 1994. ISBN 0-7486-0508-8.
Andrews, C.F. and E.B. Morgan. Supermarine Aircraft since 1914, 2nd edition. London: Putnam, 1987. ISBN 0-85177-800-3.
Green, William, ed. "Supermarine's Schneider Seaplanes." Flying Review International, Volume 10, No. 11, July 1967.
The Illustrated Encyclopedia of Aircraft (Part Work 1982-1985). London: Orbis Publishing, 1985.
Jackson, A.J. British Civil Aircraft since 1919. London: Putnam, 1988. ISBN 0-85177-818-6.
"The 1925 Schneider Trophy Race". Flight (London), 29 October 1925, p. 703.
"The 1925 Schneider Trophy Race: Flight Correspondent's Special Account". Flight (London), 12 November 1925, pp. 747-752.
"The Schneider Cup Seaplane Race: British Representatives Leave on Saturday". Flight (London), 24 September 1925, pp. 609-614.

Living Warbirds: The best warbirds DVD series.
Source: WikiPedia