Supermarine Scapa Video - Picture
Supermarine Scapa Aircraft Information
Supermarine Scapa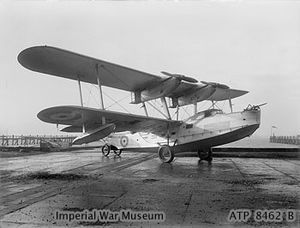 Role: Reconnaissance flying boat
Manufacturer: R.J. Mitchell
First flight: 1932
Introduced: 1935
Primary user: Royal Air Force

The Supermarine Scapa was a British general reconnaissance flying boat built by Supermarine that was used by the Royal Air Force between 1935 and 1939. It was developed from the Southampton and formed the basis of the later Stranraer flying boat.
Development
After experimenting with a three-engine design of flying boat, (the Nanuk/Solent/Southampton X), Supermarine's chief designer, R.J. Mitchell, decided that the good hydrodynamic design that had been developed in the twin-engined Southampton, would be the platform for the next aircraft.
A prototype designated the Southampton IV was built. It had a hull that performed even better in the tank tests. An Air Ministry Specification was received in November 1931. The test pilot Joseph "Mutt" Summers took the first flight on 8 July 1932. The name had then been changed to the Scapa.
15 Scapas were built before production was changed to a more powerful development, the Stranraer.
Design
The Scapa was an all-metal structure for the hull. The wing and tail surfaces had metal structure with fabric covering. The engines were mounted in nacelles underslung from the upper wing, There were two fins, each placed at the mid semi-span of the tailplane. Similar to the Southampton, there were three gun positions provided. One in the nose and two staggered in the rear fuselage.
Operators
United Kingdom
Royal Air Force
No. 202 Squadron RAF
No. 204 Squadron RAF
No. 228 Squadron RAF
No. 240 Squadron RAF

Specifications (Scapa)
Data from Supermarine Aircraft since 1914
General characteristics
Crew: Five
Length: 53 ft (16.2 m)
Wingspan: 75 ft (22.85 m)
Height: 21 ft (6.4 m)
Wing area: 1,300 ft² (121 m²)
Empty weight: 10,030 lb (4,500 kg)
Loaded weight: 16,080 lb (7,290 kg)
Powerplant: 2x— Rolls-Royce Kestrel IIIMS Water cooled V12, 525 hp (392 kW) each

Performance
Maximum speed: 123 kn (142 mph, 229 km/h)
Range: 870 nmi (1000 mi, 1610 km)
Service ceiling: 15,500 ft (4,720 m)
Rate of climb: 625 ft/min (3.25 m/s)
Wing loading: 12.3 lb/ft² (60.2kg/m²)
Power/mass: 0.065 hp/lb (0.107 kW/kg)
Climb to 9,840 ft (3000 m): 20 minutes

Armament
Guns: 3 x— 0.303 in (7.7 mm) Lewis guns, one in bow and two amidships
Bombs: 1,000 lb (454 kg) bombload under the wings

Related development
Supermarine Southampton
Supermarine Stranraer

Living Warbirds: The best warbirds DVD series.
Source: WikiPedia