Supermarine Sea Otter Video - Picture
Supermarine Sea Otter Aircraft Information
Supermarine Sea Otter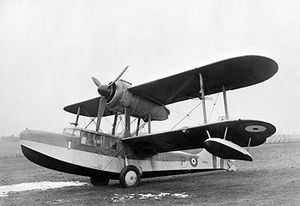 Picture - Prototype of Sea Otter
Role: Flying boat
Manufacturer: Supermarine
First flight: 23 September 1938
Primary users: Royal Air Force Royal Navy Royal Danish Air Force
Produced: 1942-1945
Number built: 292
Developed from: Supermarine Walrus

The Supermarine Sea Otter was a British flying boat designed and built by Supermarine. It was a longer-range development of the Walrus and was the last biplane flying boat to be designed by Supermarine. It was also the last biplane to enter service with the RAF.
Design and development
The main difference between the Walrus and the Sea Otter was in the mounting of the power plant. The Walrus had a rear-facing engine with a pusher propeller. The Sea Otter's engine faced forward with a tractor propeller.
There was considerable development of the power plant/propeller combination during the design of the Sea Otter, which at its concept was called the "Stingray". The original test aircraft had a Bristol Perseus XI radial engine with a two-bladed propeller. This gave insufficient thrust so a two-position three blade was tried. This was changed again to a four-bladed type with the pairs of blades set at an angle of 35°, instead of the usual 90°. The first flight took place on 23 September 1938, but it was not until January 1942 that the Air Ministry placed a production order. Due to cooling troubles found with the Perseus, the power plant was changed for production aircraft to the Bristol Mercury XXX engine driving a three-bladed airscrew. The Sea Otter was used by both the RAF and the Royal Navy for air-sea rescue (ASR) and patrol roles.
Post-war, Sea Otters were converted for civilian use. The cabin was soundproofed and fitted with heating. Seating for four passengers, a chemical toilet and a stowage for baggage were provided. As they were intended for use as Bush airplanes in remote areas, versatility was important. To allow cargo to be carried, the cabin floor was strengthened and fitted with lashing points, and the passenger seats made easily removable.
Production
Of the 592 aircraft ordered, only 292 were built due to the end of the Second World War. Eight aircraft were bought for the Royal Danish Air Force, and another eight were supplied to the Dutch Naval Air Arm. The colonial service of France purchased six Sea Otters for use in Indo-China.
Variants
Sea Otter Mk I Reconnaissance and communications flying boat. Sea Otter Mk II Air Sea Rescue flying bloat.
Operators
Australia
Royal Australian Navy
No. 723 Squadron RAN

Denmark
Royal Danish Air Force

France
French Navy - Operated by French colonial service in Indochina

Netherlands
Royal Netherlands Navy
Dutch Naval Aviation Service including ASR duty aboard the light carrier Karel Doorman (R81)

United Kingdom
Royal Air Force
No. 277 Squadron RAF
No. 278 Squadron RAF
No. 279 Squadron RAF
No. 281 Squadron RAF
No. 282 Squadron RAF
No. 292 Squadron RAF
No. 1350 Flight RAF
No. 1351 Flight RAF
No. 1352 Flight RAF
Royal Navy

Specifications (Sea Otter)
Data from Supermarine Aircraft since 1914
General characteristics
Crew: Four
Length: 39 ft 10¾ in (12.16 m)
Wingspan: 46 ft 0 in (14.02 m)
Height: 15 ft 1½ in (4.61 m)
Wing area: 610 ft² (56.7 m²)
Empty weight: 6,805 lb (3,093 kg)
Loaded weight: 10,000 lb (4,545 kg)
Powerplant: 1x— Bristol Mercury XXX radial piston engine, 965 hp (720 kW)

Performance
Maximum speed: 163 mph (142 knots, 262 km/h) at 4,500 ft (1,370 m)
Range: 690 mi (600 nmi, 1,111 km) (normal range), 920 mi (800 nmi, 1,480 km) (with overload tank)
Service ceiling: 17,000 ft (5,180 m)
Rate of climb: 870 ft/min (4.4 m/s)

Armament
Guns: 1 x— .303 in (7.7 mm) Vickers K machine gun in nose and 2 aft
Bombs: 4 x— 250 lb (110 kg) bombs

Survivors
No museum holds a complete aircraft. Australia's Museum of Flight has the nose section of JN200, a Sea Otter which served with the Royal Australian Navy.
Related development
Supermarine Walrus

Andrews, C.F. Supermarine Aircraft Since 1914. London: Putnam, 1981. ISBN 0-370-10018-2.
Andrews, C.F. Supermarine Aircraft Since 1914. London: Putnam, Second edition, 1987. ISBN 0 85177 800 3.

Living Warbirds: The best warbirds DVD series.
Source: WikiPedia