Supermarine Seamew Video - Farnborough 1953 - Part 1
Supermarine Seamew Video - Farnborough 1953 - Part 2
Supermarine Seamew Aircraft Information
Supermarine Seamew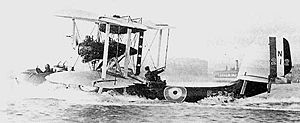 Role: Amphibian
Manufacturer: Supermarine
First flight: 9 January 1928
Primary user: RAF
Number built: 2

The Supermarine Seamew was a British twin engined amphibian, built by the Supermarine company, intended as a small, shipborne aircraft.
Design and development
The Seamew featured a wooden hull and two bay biplane wings with mainplanes utilizing a metal composite construction with fabric covering and braced tail unit with twin fins and rudders. Amphibian equipment included a retractable main undercarriage with fixed tailskid. The crew of three had a single pilot in the nose cockpit, a forward gunner behind the pilot but forward of the lower wing and rear gunner aft of the lower wing. The Seamew prototype N212 made its maiden flight on 9 January 1928.
Operational history
Only two Seamew examples were built as the later Supermarine Walrus was considered more viable. The fictional "Biggles" character in the W.E. Johns' adventure series flew a Supermarine Seamew.
Operators
United Kingdom
Royal Air Force

Specifications (Seamew)
Data from Supermarine Aircraft since 1914
General characteristics
Crew: 3 (pilot and two gunners)
Length: 36 ft 5⅜ in (11.12 m)
Wingspan: 45 ft 11½ in (14.00 m)
Height: 15 ft 1 in (4.60 m)
Wing area: 610 ft² (56.7 m²)
Airfoil: Goettingen 387
Empty weight: 4,675 lb (2,120 kg)
Loaded weight: 5,800 lb (2,631 kg)
Powerplant: 2x— Armstrong Siddeley Lynx IV 7-cylinder radial, 238 hp (178 kW) each

Performance
Maximum speed: 153 km/h (83 kn, 95 mph) at 2,000 ft
Rate of climb: 523 ft/min (2.7 m/s)
Endurance: 3½ hours

Armament
2 x— .303 in (7.7 mm) Lewis Guns

Bibliography
Andrews, C.N. and Morgan, E.B. Supermarine Aircraft since 1914, Second edition. London: Putnam, 1987. ISBN 0-85177-800-3.
London, Peter. British Flying Boats. Stroud, Gloucestershire, UK: Sutton Publishing, 2003. ISBN 0-7509-2695-3.
Thetford, Owen. British Naval Aircraft Since 1912, Fourth Edition. London: Putnam, 1978. ISBN 0-370-30021-1.

Living Warbirds: The best warbirds DVD series.
Source: WikiPedia