Supermarine Walrus Video - Historical video
Supermarine Walrus Video - Closeups - In museum
Supermarine Walrus Aircraft Information
Supermarine Walrus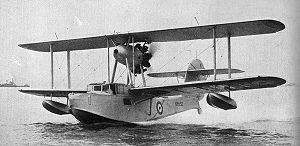 Picture - Supermarine Walrus (1935).
Role: amphibious reconnaissance aircraft
Manufacturer: Supermarine
Designed by: R. J. Mitchell
First flight: 21 June 1933
Introduced: 1935
Primary users: Fleet Air Arm Royal Air Force Royal Australian Air Force Royal Canadian Navy
Produced: 1936 - 1944
Number built: 740
Developed from: Supermarine Seagull

The Supermarine Walrus was a British single-engine amphibious biplane reconnaissance aircraft designed by R. J. Mitchell and operated by the Fleet Air Arm. It also served with the Royal Air Force, RAAF, RNZN, RCAF, and RNZAF. Perhaps surprisingly it was the first British squadron-service aircraft to incorporate a fully-retractable main undercarriage, completely enclosed crew accommodation, and having an all-metal fuselage.
Development
The Walrus was initially developed for service from cruisers in response to a request from the Royal Australian Air Force (RAAF), and was originally called the Seagull V; although there was little resemblance to the earlier Supermarine Seagull III. It was designed to be launched from ship-borne catapults, and was the first amphibious aircraft in the world to be launched by catapult with a full military load.
The lower wings of this biplane were set in the shoulder position with a stabilising float mounted under each one, with its horizontal tail-surfaces being positioned high on the tail-fin. The wings could be folded on ship, giving a stowage width of 17 feet 11 inches (5.46 m). The single Bristol Pegasus VI radial engine was housed in a nacelle slung from the centre section of the upper wing and powered a four-blade propeller in pusher configuration. The propeller consisted of two, two-bladed wooden propellers that were bolted onto the same hub, but offset by ninety degrees. The vortex of air created by the propeller created unequal forces on the rudder, making the aircraft yaw. The engine was offset by three degrees to starboard to counter this.
There were positions for two pilots. The left-hand position was the main one, with an instrument panel and a fixed seat. Although the aircraft typically flew with one pilot, there was a right-hand, co-pilot's seat . This could be folded away to allow access to the nose gun-position, via a crawl-way. One of the more unusual characteristics of the aircraft was that the control column was not a fixed fitting in the usual way, but could be unplugged from either of two sockets at floor level. It became a habit for only one column to be in use; and when control was passed from the pilot to co-pilot or vice-versa, the control column would simply be unplugged and handed over. Behind the cockpit, there was a small cabin with work stations for a navigator and a radio operator.
As the Walrus was stressed to a level suitable for catapult-launching, rather surprisingly for such an ungainly-looking machine, it could be looped and bunted.This was first done by the test pilot Joseph Summers, flying the prototype at the SBAC show at Hendon in June 1933, this feat surprised even R. J. Mitchell, who was amongst the spectators. However, in practice any water in the bilges would make its presence felt. This usually discouraged the pilot from any future aerobatics on this type.
The strength of the aircraft was demonstrated in 1935, when the prototype was attached to the battleship HMS Nelson at Gibraltar. With the naval commander-in-chief on board (Admiral Roger Backhouse) the pilot attempted a water touch-down, but with the undercarriage accidentally lowered. The Walrus was immediately flipped over but the occupants only had minor injuries; the machine was later repaired and returned to flight. Soon afterwards, the Walrus became one of the first aircraft to be fitted with an undercarriage position indicator on the instrument panel.
When flying from a warship, the Walrus would be recovered by touching-down alongside, then being lifted from the sea by a ship's crane. The aircraft's lifting-gear was kept in a compartment in the section of wing directly above the engine - one of the Walrus crew would climb onto the top wing and attach this to the crane hook. This was a straightforward procedure in calm waters, but could be very difficult if the conditions were rough.
Armament usually consisted of two .303 in (7.7 mm) Vickers K machine guns, one in each of the "open" positions in the nose and rear fuselage; with the capability of carrying 760 pounds (340 kg) of bombs or depth charges mounted beneath the lower wings. Like other flying boats, the Walrus carried marine equipment for use on the water, including an anchor, towing and mooring cables, drogues and a boat-hook.
The RAAF ordered 24 examples of what was originally Seagull V directly off the drawing boards which were delivered for service from cruisers from 1935; followed by orders from the Royal Air Force with the first production Walrus, serial number K5772, flying on 16 March, 1936. It was also hoped to capitalise on the aircraft's successful exports to Japan, Spain, etc.
A total of 740 Walrus were built in three major variants: the Seagull V and Walrus I, and the Walrus II. The Mark II's were all constructed by Saunders-Roe and the prototype first flew in May 1940. This aircraft had a wooden-hull, which was heavier but had the advantage of using less of the precious, wartime stockpiles of light metal alloys. Saunders-Roe would go on to build under license 270 metal Mark I's and 191 wooden-hulled Mark II's.
The successor to the Walrus was the Supermarine Sea Otter - a more powerful aircraft but of similar design. Sea Otters never completely replaced the Walruses, and served alongside them in the air-sea rescue role during the latter part of the war. A post-war replacement for both aircraft, the Supermarine Seagull, was canceled in 1952, with only prototypes being constructed. By that time, helicopters were taking over from small flying-boats in the air-sea rescue role.
The Walrus was affectionately known as the "Shagbat" or sometimes "Steam-pigeon"; the latter name coming from the steam produced by water striking the hot Pegasus engine.
Operational history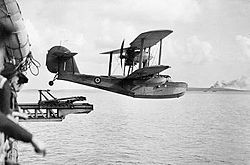 Picture - Supermarine Walrus being launched from the catapult of HMS Bermuda (1943)
The first Seagull V, A2-1, was handed over to the Royal Australian Air Force in 1935, with the last, A2-24 delivered in 1937. The type served aboard HMA Ships Australia, Canberra, Sydney, Perth and Hobart.
Walrus deliveries started in 1936 when the first example to be deployed was with the New Zealand division of the Royal Navy, on HMS Achilles - one of the Leander class light cruisers, that carried one Walrus each. The Royal Navy Town class cruisers carried two Walruses during the early part of the war and Walruses also equipped the York class and County class heavy cruisers. Some battleships, such as HMS Warspite and HMS Rodney carried Walruses, as did the monitor HMS Terror and the seaplane tender HMS Albatros.
By the start of World War II the Walrus was in widespread use. Although its principal intended use was gunnery spotting in naval actions, this only occurred twice - Walruses from HMS Renown and HMS Manchester were launched in the Battle of Cape Spartivento and a Walrus from HMS Gloucester was used in the Battle of Cape Matapan. The main task of ship-based aircraft was patrolling for Axis submarines and surface-raiders, and by March 1941, Walruses were being deployed with Air to Surface Vessel (ASV) radars to assist in this. During the Norwegian Campaign and the East African Campaign, they also saw very limited use in bombing and strafing shore targets.
By 1943, catapult-launched aircraft on cruisers and battleships were being phased out, their role at sea was taken over by much improved radar. Also, a hanger and catapult occupied a considerable amount of valuable space on a warship. Walruses continued to fly from Royal Navy carriers for air-sea rescue and general communications tasks, their low landing speed meant they could make a carrier landing despite having no flaps or tailhook.
The RAF used Walruses mainly in the Air-sea rescue role. The specialist, air-sea rescue squadrons flew a variety of aircraft, using Spitfires and Boulton Paul Defiants to patrol for downed aircrew, Avro Ansons to drop supplies and dinghies, and Walruses to pick-up aircrew from the water. RAF, air-sea rescue squadrons were deployed to cover the waters around the United Kingdom, the Mediterranean Sea and the Bay of Bengal.
Three Walruses, delivered in March 1939, were used by Irish Air Corps as a maritime patrol aircraft during the Irish Emergency of World War II.
After the war, some Walruses continued to see limited military use with the RAF and foreign navies. Eight were operated by Argentina, two flew from the cruiser ARA La Argentina as late as 1958. Other aircraft were used for training by the French Navy's Aviation navale. Walruses also found civil and commercial use. They were briefly used by the a Whaling company, United Whalers. Operating in the Antarctic, they were launched from the Factory ship FF Balaena, that had been equipped with an ex-navy, aircraft catapult. A Dutch whaling company embarked Walruses, but never flew them. Other Walruses found use carrying passengers.
Variants
Seagull V Original Metal-hull version. Walrus I Metal-hull version. Walrus II Wooden-hull version.
Operators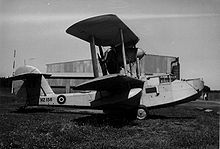 Picture - Supermarine Walrus, seaplane training flight of RNZAF, (circa 1944/1945)
Military operators
Argentina
Argentine Navy

Australia
Royal Australian Air Force
No. 5 Squadron RAAF
No. 9 Squadron RAAF
No. 101 Flight RAAF

Canada
Royal Canadian Air Force

Egypt France
French Navy

Ireland
Irish Air Corps

New Zealand
Royal New Zealand Air Force
No. 5 Squadron RNZAF
Seaplane Training Flight

Soviet Union
Soviet Naval Aviation

Turkey United Kingdom
Fleet Air Arm
700 Naval Air Squadron
701 Naval Air Squadron
702 Naval Air Squadron
710 Naval Air Squadron
711 Naval Air Squadron
712 Naval Air Squadron
714 Naval Air Squadron
715 Naval Air Squadron
718 Naval Air Squadron
720 Naval Air Squadron
737 Naval Air Squadron
743 Naval Air Squadron
749 Naval Air Squadron
754 Naval Air Squadron
764 Naval Air Squadron
765 Naval Air Squadron
773 Naval Air Squadron
777 Naval Air Squadron
779 Naval Air Squadron
789 Naval Air Squadron
810 Naval Air Squadron
820 Naval Air Squadron
1700 Naval Air Squadron
1701 Naval Air Squadron
Royal Air Force
No. 89 Squadron RAF
No. 269 Squadron RAF
No. 275 Squadron RAF
No. 276 Squadron RAF
No. 277 Squadron RAF
No. 278 Squadron RAF
No. 281 Squadron RAF
No. 282 Squadron RAF
No. 283 Squadron RAF
No. 284 Squadron RAF
No. 292 Squadron RAF
No. 293 Squadron RAF
No. 294 Squadron RAF
No. 624 Squadron RAF

Civilian operators
Australia
Amphibious Airways

Canada
Kenting Aviation

Netherlands
Two aircraft were embarked on board of whaling ship Willem Barentsz

Norway
Vestlandske Luftfartsskelskap

United Kingdom
United Whalers

Surviving Aircraft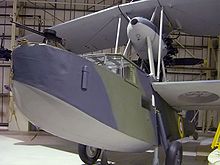 Picture - The RAF Museum's Seagull V (2007)
Four examples survive.
Seagull V A2-4

This is one of the original Australian aircraft and is in the RAF Museum. Built in 1934, it arrived in Australia in early 1936 where it was initially allocated to No. 101 Flight RAAF. Before the war, it had various duties, but mainly flew from the cruiser HMAS Sydney. It served for most of the war with No. 9 Squadron RAAF in Australia. Post-war, it was flown by several Australian private owners before being badly damaged in an take-off accident in 1970 at Taree, New South Wales. The vandalized, derelict wreck was subsequently acquired from its owner by the RAF Museum, in exchange for a Spitfire and a cash payment. In 1973, it was transported back to the UK and restoration immediately began at RAF museum.
Walrus HD874

This was in use with the RAAF's Antarctic flight when it was badly damaged by a storm on Heard Island in 1947. It was recovered in 1980, and restored between 1993 and 2002; it is held by the Royal Australian Air Force Museum.
Walrus L2301

The Walrus displayed at the Fleet Air Arm Museum at RNAS Yeovilton is a composite aircraft, constructed using the fuselage of Walrus L2301. This was one of the aircraft flown by the Irish Air Corps. In 1943, it was stolen by four Irish nationals who intended to fly to France to join the Luftwaffe. However, it was intercepted by RAF Spitfires and escorted to RAF St Eval; the aircraft and its occupants were returned to Ireland. After the war, it was bought from Aer Lingus and flown by No. 615 Squadron RAF until 1949. It was presented to the Fleet Air Arm Museum in 1964, after being discovered on a dump.
Walrus W2718 (G/RNLI)

This Aircraft is part of the collection of Solent Sky, an air museum in Southampton. The museum is endeavouring to restore the aircraft to flying condition.
Specifications (Supermarine Walrus)
Picture - A Seagull V embarked on an Australian light cruiser (1939).
Data from Supermarine Walrus I & Seagull V Variants
General characteristics
Crew: 3-4
Length: 33 ft 7 in (10.2 m)
Wingspan: 45 ft 10 in (14.0 m)
Height: 15 ft 3 in (4.6 m)
Wing area: 610 ft² (56.7 m²)
Empty weight: 4,900 lb (2,220 kg)
Loaded weight: 7,200 lb (3,265 kg)
Max takeoff weight: 8,050 lb (3,650 kg)
Powerplant: 1x— Bristol Pegasus VI radial engine, 680 hp (510 kW)

Performance
Maximum speed: 135 mph (215 km/h) at 4,750 ft (1,450 m)
Range: 600 mi (965 km)
Service ceiling: 18,500 ft (5,650 m)
Rate of climb: 1,050 ft/min (5.3 m/s)
Wing loading: 11.8 lb/ft² (57.6 kg/m²)
Power/mass: 0.094 hp/lb (0.16 kW/kg)

Armament
Guns: 2 or 3 x— .303 in (7.7 mm) Vickers K machine guns
Bombs: 760 lb (345 kg) of bombs and depth charges

Media related to Supermarine Walrus at Wikimedia Commons

Related development
Supermarine Seagull (1921)
Supermarine Sea Otter
Supermarine Seagull (1948)

Comparable aircraft
Aichi E10A
Keystone-Loening Air Yacht
Sikorsky S-39

Bibliography
Andrews, C.F. and Morgan, E.B. Supermarine Aircraft Since 1914. London: Putnam Books Ltd.,2nd revised edition 2003. ISBN 0-851-77800-3.
Brown, David. "Supermarine Walrus I & Seagull V Variants". Aircraft in Profile, Volume 11. Windsor, Berkshire, UK: Profile Publications Ltd., 1972.
Green, William. War Planes of the Second World War, Volume Five: Flying Boats. London: Macdonald & Co.(Publishers) Ltd., 1962 (5th Impression 1972). ISBN 0-356-01449-5.
Hall, Alan W. "Aircraft in Detail-The Supermarine Walrus". Scale Aircraft Modelling Magazine, Vol.8 No.7, April 1986.
Kightly, James and Wallsgrove, Roger. Supermarine Walrus & Stranraer. Sandomierz, Poland/Redbourn, UK: Mushroom Model Publications, 2004. ISBN 83-917178-9-5.
London, Peter. British Flying Boats. Sutton Publishers Ltd., 2003. ISBN 0-7509-2695-3
Mitchell, Gordon. R. J. Mitchell - Schooldays to Spitfire. The History Press Ltd., 2006. ISBN 0-752-43727-5
Nicholl, Lt/Cdr George William Robert. The Supermarine Walrus: The Story of a Unique Aircraft. London, G.T. Foulis & Company, 1966.

Living Warbirds: The best warbirds DVD series.
Source: WikiPedia