KAI Surion Video - Picture
KAI Surion Aircraft Information
KAI Surion
Surion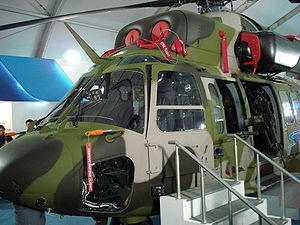 Picture - The Surion shown at the 2009 Seoul ADEX show
Role: Medium transport helicopter
Manufacturer: Korea Aerospace Industries (KAI)
First flight: March 10, 2010
Status: Under development
Primary users: Republic of Korea Army Republic of Korea Air Force

The KAI Surion is a twin-engine, transport utility helicopter developed primarily by Korea Aerospace Industries (KAI), Agency for Defense Development (ADD) and Korea Aerospace Research Institute (KARI) jointly with Eurocopter. The Korea Helicopter Project - Korea Utility Helicopter program is to cost about 1.3 trillion won ($1.05 billion, 0.75 billion euros), and was launched in 2006 under the Agency for Defense Development. Full-scale production will begin in 2012 with KAI being the principal builder. Around 245 Surions are on order to replace the aging fleet of UH-1H attack helicopters and 500MD light helicopters, which have been in service for decades. South Korea will also build civilian variants of the helicopter, marketing around 300 Surions.
The Surion has an external similarity to Eurocopter's Puma.
Development
In June 2006, KAI and Eurocopter won the KHP/KUH 1.3 trillion-won research and development contract (0,75 billion-euros) from the South Korean Defense Ministry to start the project. It remains Seoul's biggest arms deal ever with a non-US company. A production contract worth about 4.4 trillion won (2.5 billion-euros) is expected to be signed around 2011 before the start of mass production. Eurocopter has a stake of 30 percent in the 2006-2012 development phase and 20 percent in the following 10-year production phase,and KAI and South Korea government having the rest. As the prime sub-contractor, Eurocopter has provided technical assistance in parts of developing the power transmission, main gear box, boom and tail gearboxes, automatic flight control system and rotor mast. Eurocopter experts were dispatched in KAI premises (Sacheon, South Korea) to provide support and teach KAI engineers the state of the art in helicopter design. Power is provided by a pair of 1,600 shp General Electric T700 turboshafts. Elbit Systems of Israel produces the Helmet mounted display (HMD), an advanced system which allow the pilot/copilot full day and night missions. A large IR suppressor exhausts of the Surion are adapted from those of the Eurocopter EC 725. The first prototype was unveiled by President Lee Myung-bak at an unveiling ceremony in Sacheon.
In 2009, there was a slight delay in the program due to budget trimming of some ministries.
Variants
Variants were planned by KAI aside from the manufacture of the Surion.
Korean Attack Helicopter (KAH)
Planned attack helicopter variant. One of the variants is for the "Full Development for Attack Configuration", sharing 60% part commonality with the Surion. Another is the "KUH Tandem Cockpit", having a 70% part commonality. This is a reconstructed attack helicopter modification that combines the Surion with the weapon systems of an attack helicopter.
KUH-Medevac
A medical evacuation chopper, it will have a 91% part commonality with the Surion.
KUH-Amphibious
A planned land and sea-based amphibious chopper for the Republic of Korea Marine Corps, it will have a 96% part commonality with the Surion.
Operators
Republic of Korea
Republic of Korea Air Force
Republic of Korea Army: Will adopt the Surion by 2012.

Specifications
General characteristics
Crew: 2 pilots + 2 Gunner + 9 troops , or 2 pilots + 16 troops
Capacity: 18
Length: 19.0 m ( with main Rotor ), 15.09m ( without Rotor ) (62.3 feet)
Rotor diameter: 15.8m ( tail 3.15m ) ()
Height: 4.38 m (14.4 feet)
Empty weight: 4817kg ()
Loaded weight: 16200 lbs ( mission weight ), 3753kg / 8275 lbs ( with sling ) ()
Max takeoff weight: 8,709 kg (19,180 pound)
Powerplant: 2x— Samsung Techwin T700-ST-701K ( T700-GE-701C variant ) turboshaft, Maximum rated power(10min) 1383kW/1855shp or Intermediat Rated Power(30min) 1325kW/1777shp or Thrust ratings(MAX) 1915shp , per engine made by samsung teckwin () each

Performance
Maximum speed: unknown
Cruise speed: 259 km/h
Range: 260 km (NM, 162 mi)
Service ceiling: 3000 m (9,843 ft)
Rate of climb: 2.53m/s (Vertical rate of Climb 1700ft/min ( 500 ft/min is korea army' ROC ))

Armament
Missiles: (planned in development) 6 x BGM-71 TOW, or up to 4 rocket pod

Avionics GPS, INS, digital MAP, FLIR, HUMS, IRSS, MWS CMDS IRCM EWC RWR LWR, OBIGGS, tactical C4I, ECS, HOCAS, AFCS
Comparable aircraft
Bell 427
MD Helicopters MD Explorer
Eurocopter Super Puma

KAI Surion Pictures and KAI Surion for Sale.
Living Warbirds: The best warbirds DVD series.
Source: WikiPedia