Tachikawa Ki-54 Video - Picture
Tachikawa Ki-54 Aircraft Information
Tachikawa Ki-54
Ki-54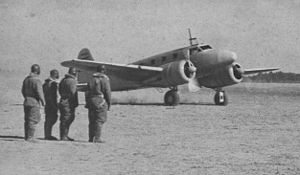 Picture - Tachikawa Ki-54
Role: Twin-engine advanced crew trainer
Manufacturer: Tachikawa Aircraft Company Ltd
Designed by: Ryokichi Endo
First flight: Summer 1940
Introduced: 1941
Retired: 1945 (Japan) 1952 (China)
Primary user: Imperial Japanese Army Air Force
Produced: 1941-1945
Number built: 1,368

The Tachikawa Ki-54 was a Japanese twin-engine advanced trainer of World War II.
History
The Ki-54 was developed in response to an Imperial Japanese Army requirement for a twin-engine advanced trainer, principally for crew training. The prototype first flew in summer 1940 and, on completing trials, entered production in 1941 as Army Type 1 Advanced Trainer Model A (Ki-54a). The Ki-54a was soon followed by the Ki-54b as Army Type 1 Operations Trainer Model B and Ki-54c as Army Type 1 Transport Model C. Named Hickory by the Allies, the Ki-54b and -c enjoyed successful careers until the end of the war.
Operators
Japan
Imperial Japanese Army Air Force

Manchukuo
Manchukuo Air Force Three provided by Japan as VIP transports

China
Republic of China Air Force Nationalist Chinese (captured)

China
People's Liberation Army Air Force Communist Chinese (captured): 4 Ki-54 were used until their retirement in 1952, and in 1951, they were used to train the first class of female pilots of China.

French Indochina
Armée de l'Air At least 7 Ki-54 were recovered by the French in French Indochina between 1945 and 1947, after the Japanese surrender.

Survivor
A Ki-54 was found in bottom of Lake Towada on 13 August 2010.
Variants
Ki-54a - unarmed pilot trainer
Ki-54b - armed crew trainer
Ki-54c - eight-passenger light transport, communications aircraft. Civil designation Y-59.
Ki-54d - maritime reconnaissance/ASW, carried 8x 60-kg (132-lb) depth charges
Ki-110 - one prototype Ki-54c of all-wood construction, destroyed in US bombing attack
Ki-111 - projected fuel tanker (none built)
Ki-114 - projected fuel tanker of all-wood construction (none built)

Specifications (Ki-54)
Data from The Concise Guide to Axis Aircraft of World War II; Japanese Aircraft of the Pacific War
General characteristics
Crew: 2
Capacity: 8
Length: 11.94 m (39 ft 2 in)
Wingspan: 17.90 m (58 ft 8.75 in)
Height: 3.58 m (11 ft 9 in)
Wing area: 40 m² (430.57 ft²)
Empty weight: 2,954 kg (6,512 lb)
Loaded weight: 3,897 kg (8,591 lb)
Useful load: 943 kg (2079 lb)
Powerplant: 2x— Hitachi Ha-13a 9-cylinder radial engine, 380 kW (510 hp) each

Performance
Maximum speed: 375 km/h (233 mph)
Cruise speed: 240 km/h (149 mph)
Range: 960 km (597 mi)
Service ceiling: 7,180 m (23,555 ft)
Wing loading: 97.4 kg/m² (20 lb/ft²)
Power/mass: 0.195 kW/kg (0.119 hp/lb)

Armament
4x 7.7-mm (0.303-in) machine guns, practice bombs
Comparable aircraft
Airspeed Oxford
Avro Anson
Siebel Si 204
Beech Model 18

Bibliography
Francillon, Ph.D., René J. Japanese Aircraft of the Pacific War. London: Putnam Aeronautical, 1979. ISBN 0-370-30251-6. (new edition 1987. ISBN 0-85177-801-1.)
Mondey, David. The Concise Guide to Axis Aircraft of World War II. New York: Bounty Books, 1996. ISBN 1-85152-966-7.

Tachikawa Ki-54 Pictures
Living Warbirds: The best warbirds DVD series.
Source: WikiPedia