Thomas-Morse MB-3 Videos - Picture
Thomas-Morse MB-3 Aircraft Information
Thomas-Morse MB-3
MB-3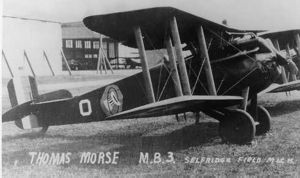 Picture - MB-3 of 94th Pursuit Squadron, 1st Pursuit Group, Selfridge Field, Michigan
Role: Fighter
Manufacturer: Thomas-Morse Aircraft & Boeing
Designed by: B. Douglas Thomas
First flight: 21 February 1919
Introduced: March 1919
Retired: 1925
Primary users: United States Army Air Service United States Marine Corps
Number built: 260
Unit cost: $7,240 USD
Variants: Thomas-Morse MB-6 Thomas-Morse MB-7

The Thomas-Morse MB-3 was an open-cockpit biplane fighter primarily manufactured by the Boeing Company for the U.S. Army Air Service in 1922. The MB-3A was the mainstay fighter for the Air Service between 1922 and 1925.
Development
Ordered by the U.S. Army on the basis of a promised 150 mph (241 km/h) top speed and a 1,500 ft.min (7.62 m/s) initial climb, the MB-3 designed by B. Douglas Thomas was a single-seat unstaggered single-bay biplane of wooden construction and fabric covering.
Developed in 1919 by the Thomas-Morse Aircraft Corporation of Ithaca, New York, the MB-3 fighter was based on the French Spad-7, with rights on the design held by the Air Service. Thomas-Morse produced fifty MB-3's for the Air Service and ten for the U.S. Marine Corps but were underbid by Boeing for contracts to deliver 200 additional planes, which Boeing designated the MB-3A. Boeing's mass production methods allowed it to profit while still charging a lower price (in the case of the MB-3A, $7,240 per copy), but was the beginning of the decline of Thomas-Morse. Boeing credits this contract with rescuing the company from financial difficulties following the cancellation of orders after World War I, and with being the impetus for its rise as a premier manufacturer of military aircraft.
Army pilot Frank B. Tyndall pulled the wings off an MB-3A flown from a short runway near the Boeing factory and parachuted to safety after a spectacular low-level bail-out. Boeing made minor structural refinements and created completely new tail surfaces for the last 50 aircraft delivered.
The MB-3A was delivered to the Air Service beginning in 1922 and was its primary pursuit aircraft. By 1925 the MB-3A was considered obsolete, and with the re-organization of the Air Service into the U.S. Army Air Corps in 1926, it was replaced by the Curtiss PW-8 and Boeing PW-9 fighters.
Variants
MB-3 54 built by Thomas-Morse MB-3A 200 built by Boeing with a revised cooling system MB-3M MB-3As relegated to advanced training duties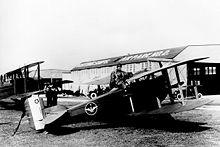 Picture - Thomas-Morse MB-3 assigned to Billy Mitchell, at Selfridge Field, Michigan
MB-6 3 built by Thomas-Morse, one became the R-2 racer, 19 foot wing-span, 400 hp (300 kW) Wright H3 engine. MB-7 1 built by Thomas-Morse, to the Marine Corps, 24 foot wing-span R-5 Two racers ordered for the 1922 Pulitzer race, all-metal TM-22 parasol monoplanes developed from a combined primary trainer and pursuit model that Benjamin Douglas Thomas, chief designer for Thomas-Morse, was trying to sell to the Army. MB-9 Pursuit version with a wrap-around corrugated metal fuselage and a Curtiss D-12 engine, one built MB-10 MB-9 modified to two-seat trainer, the same airframe with a new section spliced into the fuselage and a Le Rhx´ne rotary engine fitted further forward to correct for balance
Operators
United States
United States Army Air Service
United States Marine Corps

Specifications (MB-3A)
Data from "United States Military Aircraft Since 1909" by F. G. Swanborough & Peter M. Bowers (Putnam New York, ISBN 085177816X) 1964, 596 pp.
General characteristics
Crew: One
Length: 20 ft 0 in (6.10 m)
Wingspan: 26 ft 0 in (7.92 m)
Height: 8 ft 7 in (2.59 m)
Wing area: 229 ft² (21.28 m²)
Empty weight: 1,716 lb (778 kg)
Loaded weight: 2,539 lb (1,151 kg)
Powerplant: 1x— Wright H Vee, 300 hp (217 kW)

Performance
Maximum speed: 141 mph (228 km/h)
Cruise speed: 125 mph (201 km/h)
Range: 280 mi (455 km)
Service ceiling: 19,500 ft (5,943.6 m)
Rate of climb: 1,235 ft/mn (374 m/mn)

Armament
2 x— fixed forward firing 0.30 inch (7.62 mm) machine guns or
1 x— 0.30 inch (7.62 mm) and 1 x— 0.50 inch (12.7 mm) machine guns or
2 x— fixed forward firing 0.50 inch (12.7 mm) machine guns

Thomas-Morse MB-3 Pictures and Thomas-Morse MB-3 for Sale.
Living Warbirds: The best warbirds DVD series.
Source: WikiPedia