Tupolev ANT-14 Video - Picture
Tupolev ANT-14 Aircraft Information
Tupolev ANT-14
Ant-14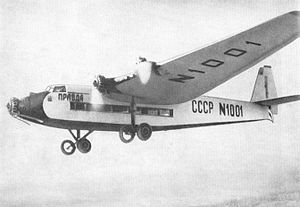 Picture - ANT-14
Role: propaganda aircraft
Manufacturer: Tupolev
Designed by: A.N.Tupolev
First flight: 14 August 1931
Introduced: 1931
Retired: 1941
Status: Retired
Primary user: Transportation / propaganda
Number built: 1
Developed from: ANT-9

The Tupolev ANT-14 Pravda was a Soviet aircraft, which served as the flagship of the Soviet propaganda squadron.
The ANT-14 was an enlargement of the ANT-9, with a wingspan of 40.40 m compared to the 23.80 m of the ANT-9. Powered by five 358 kW (480 hp) Gnome-Rhx´ne Jupiter 9AKX radial engines, it was capable of carrying a crew of three, as well as 36 passengers, at a maximum speed of 236 km/h (147 mph). However cruise speed was only 195 km/h (121 mph). Empty weight was 10,650 kg ( lb) and maximum take-off weight was 17,146 kg ( lb). The ANT-14 had a range of 900 km (559 mi), and an operational ceiling of 4,220 m (13,845 ft).
Operational history
The ANT-14 was tested by Aeroflot in 1932. While these tests revealed no problems with the aircraft, it was far larger than any other aircraft in its fleet, and it had no requirement for an aircraft with a 36 passenger capacity, so no production followed.
On 17 March 1933, the Soviet Union set up an aerial propaganda squadron, named after Maxim Gorky, and the ANT-14 was assigned to it as its flagship, being named Pravda (Truth) after the Soviet newspaper. It was mainly used for sightseeing flights over Moscow, but did carry out occasional tourist flights to Kharkov and Leningrad, while it visited Bucharest in 1935 to help celebrate a festival being held there at the time. The ANT-14 carried over 40,000 passengers before being grounded in 1941.
Operators
Soviet Union
Specifications
Data from Illustrated Encyclopedia of Propeller Airliners
General characteristics
Crew: 3
Capacity: 36 passengers
Length: 26.49 m (86 ft 11 in)
Wingspan: 40.4 m (132 ft 6 1/2 in)
Height: 5.4 m (17 ft 8 1/2 in)
Wing area: 240 m² (2,583 ft²)
Empty weight: 10,828 kg (23,871 lb)
Max takeoff weight: 17,530 kg (38,646 lb)
Powerplant: 5x— Gnome-Rhx´ne Jupiter 9AKX radial engine, 358 kW (480 hp) each
Propellers: two-bladed wooden propeller, 1 per engine

Performance
Cruise speed: 195 km/h (121 mph)
Range: 900 km (559 mi)
Service ceiling: 4,220 m (13,845 ft)

Related development
Tupolev ANT-9

Duffy, Paul; Andrei Kandalov (1996). Tuplolev:The Man and His Aircraft. Shrewsbury, UK: Airlife Publishing. ISBN 1 85310 728 X.
Gunston, Bill (1995). The Osprey Encyclopedia of Russian Aircraft from 1875 - 1995. London: Osprey Aerospace. ISBN 1-85532-405-9.

Living Warbirds: The best warbirds DVD series.
Source: WikiPedia