Tupolev ANT-7 Video - Picture
Tupolev ANT-7 Aircraft Information
Tupolev ANT-7
R-6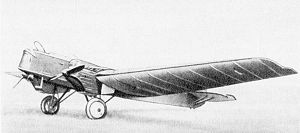 Picture - Tupolev R-6/ANT-7 multi-role aircraft
Role: Experimental aircraft
Manufacturer: Tupolev
Designed by: TsAGI
First flight: 20 October 1923
Introduced: 1930s
Retired: 1941
Status: Retired
Primary users: Soviet Air Force Aeroflot Avia Arktika
Produced: 1931-1934
Number built: 411

The Tupolev R-6 (Development name ANT-7) was a Soviet reconnaissance aircraft and escort fighter. It traces its roots back to early 1928 when the Soviet Air Force needed a mutli-role aircraft. The requirements were that it could be used for transporting materials over a long-range, defensive patrolling, reconnaissance (thus its military designation was R-6. R stood for Razvedchik, or Reconnaissance), light bombing and for torpedo attacks.
Development of the TB-1/ANT-4. Two 533 kW M-17F. More than 400 built starting in 1929.
Design and development
Under Ivan Pogosski and guided by Tupolev, TsAGI designed the ANT-7 off the ANT-7, scaling it down by about one third and retaining the open cockpit. However, a "passenger limo" with a closed cockpit was built. It had a cabin that could seat seven and had glass windows , and also had a luggage compartment. However, a year later, it crashed due to a technician overlooking something. Power for the ANT-7 was to come from two 388-455 kW (520-610 hp) Hispano Suiza engines or two 313 kW (420 hp) Bristol Jupiter engines, but actually, the plane was powered by two 373-529 kW (500-710 hp) BMW VI's.
The ANT-7's first flight was on September 11, 1929, piloted by Mikhail Gromov. Flight tests started in March 1930 after TsAGi decided to postpone them until after the winter. That summer, the NII-VVS conducted state tests, realizing that the tailplane was pounded. To make up for this, the elevators were enlarged. The next flight encountered the problems radiator damage and an engine failure. In spite of this, the tests continued on and the ANT-7 passed.
Operational history
The ANT-7 was designated the R-6 by the Soviet Air Force. The first production one was rolled off the N22 assembly line in November 1931. This was one year after production started. Another 410 aircraft was made during the following three years: 385 at N22 in Moscow (one of these was a "passenger limo"), five were made at N31 in Taganrog (the ones at N31 were floatplanes and designated KR-6P), and 20 more at N12 in Komsonolsk-na-Amure.
The standard aircraft was called the "R-6" and was a reconnaissance aircraft, which had a pilot, gunner, and observer. It was able to carry 250 pounds (110 kg) of bombs for up to 600 miles (970 km). Some were built with floats, too. The ones with floats were designated KR-6P, which was a patrol plane, or the MR-2P, which was a torpedo carrier. Another variant was the KR-6 (the K stood for "Kreiser", meaning "Cruiser"), which had two PV-2 machine guns and the second crew member was a gunner. Later on, these planes would become trainers.
By 1935, the R-6 was becoming outdated, so the Soviet Air Force started to pull them out of service. Yet several were handed to Aeroflot and Avia Arktika, who used them to carry passengers and cargo. Aeroflot used it much in Siberia before the German-Soviet War. The aircraft were designated the PS-7-2M17 (the "2M17" showed that the aircraft were powered by two Mikulin M-17s), or as MP-6-2M17 if floats were attached.
Variants
R-6 - reconnaissance/escort fighter version, first flight 1929, trials 1930
KR-6 - escort fighter version 1934
MP-6 - civil floatplane version
MR-6 - "Morskoj"(maritime) R-6, torpedo bomber version, 1932
PS-7 - civil transport version PS-7 2M-17, cargo and passenger transport, first versions open cockpit, one version enclosed
P-6 - civil cargo and passenger transport version
R-6L - nine passenger civil transport version

Operators
Military Operators Soviet Union
Soviet Air Force

Civil Operators Soviet Union
Aeroflot
Avia Arktika

Specifications (R-6)
General characteristics
Crew: 4
Length: 15.06 m (49 ft 5 in)
Wingspan: 23.20 m (76 ft 1 in)
Height: ()
Wing area: 80.0 m² (861 ft²)
Empty weight: 3,856 kg (8,501 lb)
Loaded weight: 6,472 kg (14,270 lb)
Powerplant: 2x— M-17F V12 engines, 540 kW (720 hp) each

Performance
Maximum speed: 230 km/h (120 kn, 140 mph)
Range: 800 km (430 nmi, 500 mi)
Service ceiling: 5,620 m (18,400 ft)
Rate of climb: 2.7 m/s (541 ft/min)
Wing loading: 81 kg/m² (16 lb/ft²)
Power/mass: 170 W/kg (0.10 hp/lb)

Armament
Guns: 5 or 6 x— 7.62 mm PV-1 machine guns
Bombs: up to 500 kg (1,102 lb)

Related development
Tupolev TB-1
Tupolev ANT-8
Tupolev ANT-9
Tupolev ANT-17
Tupolev ANT-18
Tupolev ANT-19

Duffy, Paul and Andrei Kandalov. (1996) Tupolev The Man and His aircraft. Warrendale, PA: Society of Automotive Engineers.
The initial version of this article was based on material from aviation.ru. It has been released under the GFDL by the copyright holder.

Living Warbirds: The best warbirds DVD series.
Source: WikiPedia