Tupolev I-8 Video - Picture
Tupolev I-8 Aircraft Information
Tupolev I-8
I-8 (ANT-13)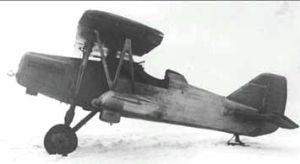 Role: Fighter
National origin: Soviet Union
Manufacturer: Tupolev
Designed by: V. M. Rodionov
First flight: 1930
Status: Retired
Number built: One

Tupolev I-8 (also known as ANT-13) was an experimental interceptor built in the Soviet Union in the early 1930s. It was the first Soviet aircraft to exceed 300 km/h (162 knots, 186 mph) in level flight. The aircraft was an exercise in developing the Polikarpov I-5 design by a group of engineers led by V. M. Rodionov each of whom volunteered 70 hours of personal time to the project.
The I-8 first flew on 28 October 1930 with M. M. Gromov at the controls. Despite promising performance, the aircraft did not advance beyond prototype phase because there were no plans to acquire the Curtiss V-1570 engine and no domestic equivalent was available.
Specifications (I-8)
Data from Shavrov 1985
General characteristics
Crew: One
Length: 6.70 m (21 ft 11¾ in)
Wingspan: 9 m (29 ft 6 in)
Height: ()
Wing area: 20 m² (215.3 ft²)
Empty weight: 1,000 kg (2,205 lb)
Loaded weight: 1,424 kg (3,139 lb)
Powerplant: 1x— Curtiss V-1570 V-12 piston engine, 466 kW (625 hp)

Performance
Maximum speed: 310 km/h (167 kn, 193 mph) at 3,000 m (9,845 m)
Range: 440 km (238 nmi, 273 mi)
Service ceiling: 8,500 m (27,887 ft)
Wing loading: 71 kg/m² (15 lb/ft²)
Power/mass: 327 W/kg (0.2 hp/lb)
Time to altitude: 6 min to 5,000 m (16,405 ft)

Armament
2 x— 7.62 mm (0.3 in) PV-1 machine guns

MI-3
Living Warbirds: The best warbirds DVD series.
Source: WikiPedia