Tupolev MTB-2 Video - Picture
Tupolev MTB-2 Aircraft Information
Tupolev MTB-2
MTB-2 (ANT-44)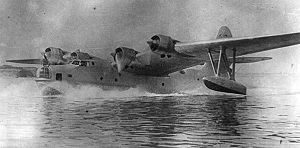 Role: Flying boat/Amphibian
National origin: Soviet Union
Manufacturer: Tupolev
First flight: 19 April 1937
Status: Retired
Primary user: Soviet Union
Number built: Two

Tupolev MTB-2 (Heavy Naval Bomber), also known as ANT-44, was a four-engine flying boat designed in the Soviet Union in 1935.
Design and development
The ANT-44 was designed as a long range maritime reconnaissance/bomber flying boat. Employing an all-metal construction, with a shoulder-mounted semi-gull wing that incorporated four 604 kW (810 hp) Gnome-Rhx´ne Mistral Major 14Kdrs M-85 radial engines as well as underslung stabilizing floats, construction of the first flying boat prototype began in 1934.
The first of two prototypes flew on 19 April 1937 with T. V. Ryabenko and D. N. Ilyunskiy at the controls. With factory trials commenced in November 1937, a decision in the following month to have uprated Tumansky M-87 627 kW (840 hp) engines installed. In 1938, the prototype was modified into an amphibian version and the engines were again replaced with 709 kW (950 hp) M-87A engines.
The second prototype, designated ANT-44bis or ANT-44D was an amphibious aircraft powered by four M-87A engines. With I. M. Sukhomlin at the controls, the aircraft was used to set a number of world records in its class:
17 June 1940: altitude of 7,595 m (24,918 ft) without payload
17 June 1940: altitude of 7,134 m (23,406 ft) with 1,000 kg (2,205 lb) payload
19 June 1940: altitude of 6,284 m (20,617 ft) with 2,000 kg (4,409 lb) payload
19 June 1940: altitude of 5,219 m (17,123 ft) with 5,000 kg (11,023 lb) payload
28 September 1940: maximum speed of 277.4 km/h (150 kn, 172 mph) over 1,000 km (540 nmi, 621 mi) with 1,000 kg (2,205 lb) payload
7 October 1940: maximum speed of 241.9 km/h (131 kn, 150 mph) over 1,000 km (540 nmi, 621 mi) with 2,000 kg (4,409 lb) payload

Operational history
Only the two MTB-2 prototypes were built as war interrupted any further development and both aircraft were pressed into service in the Black Sea region. The ANT-44D piloted by I. M. Sukhomlin saw limited operational use in 1941-1943 both as a bomber and transport.Other special tasks such as emergency supply flights were also undertaken in the Black Sea area.
Operators
Soviet Union
Specifications (ANT-44D)
Data from
General characteristics
Length: 22.42 m (73 ft 7 in)
Wingspan: 36.45 m (119 ft 7 in)
Height: ()
Wing area: 144.7 m² (1557.5 ft²)
Empty weight: 13,000 kg (28,660 lb)
Loaded weight: 19,000 kg (41,888 lb)
Powerplant: 4x— Tumansky M-87A radial engines, 709 kW (950 hp) each

Performance
Maximum speed: 355 km/h (192 kn, 221 mph)
Ferry range: 4,500 km (2,430 nmi, 2,796 mi)
Service ceiling: 23,294 ft (7,100 m)
Wing loading: 131 kg/m² (27 lb/ft²)
Power/mass: 149 W/kg (0.09 hp/lb)

Comparable aircraft
Short Sunderland
Boeing 314

Bibliography
Shavrov V.B. Istoriia konstruktskii samoletov v SSSR, 1938-1950 gg. (3 izd.) (in Russian). Moscow: Mashinostroenie, 1994. ISBN 5-217-00477-0.
Green, William. "Facts by Request." Flying Review International, Volume 24, no. 3, November 1968, p. 71.

Living Warbirds: The best warbirds DVD series.
Source: WikiPedia