Tupolev Tu-142 Video - Overview
Tupolev Tu-142 Video - Model
Tupolev Tu-142 Aircraft Information
Tupolev Tu-142
Tu-142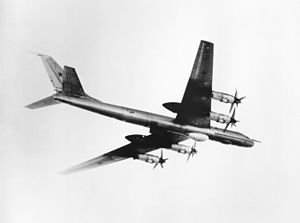 Picture - A Tu-142 Bear F
Role: Maritime patrol aircraft
Manufacturer: Tupolev
Status: Active service
Primary users: Soviet Navy Russian Navy Indian Navy
Developed from: Tupolev Tu-95

The Tupolev Tu-142 (Туполев Ту-142) (NATO reporting name: Bear F / J) is a Russian maritime reconnaissance/anti-submarine warfare (ASW) turboprop aircraft. It is based on the Tupolev Tu-95 strategic bomber.
Design and development
Originally designed as a maritime surveillance aircraft to supplement the Bear D and the Ilyushin Il-38, the Bear F evolved to become the premier anti-submarine warfare (ASW) aircraft of the Soviet Navy during the Cold War. The ASW variants were designated as Tu-142M2 (Bear F Mod 2), Tu-142M3 (Bear F Mod 3), and Tu-142M4 (Bear F Mod 4).
The Tu-142MR (Bear J) was a variant of the Bear F modified for use in submarine communications as well as other command, control and communications (C3) duties.
With eight-bladed contra-rotating propellers the engine that emerged was the Kuznetsov NK-12 with a nominal 8,948 kW (12,000 eshp) power rating. Although the engine was advanced, the fuselage design was conventional: it is a low-wing cantilever monoplane with 35 degrees of sweep. The angle ensured that the main wing spar passed though the fuselage in front of the bomb bay. It had a retractable tricycle landing gear, with the main gear retracting rearwards. The aircraft first flew in 1953.
Operational history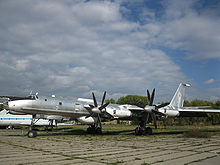 Picture - Tu-142 Bear F at the Kiev State Aviation Museum, Ukraine.
The Indian Navy uses 8 Tu-142s as maritime reconnaissance and anti-submarine warfare aircraft. The aircraft was involved in a week-long joint Indo-US naval exercise in the Arabian Sea in September 2002.
Variants
Tu-142/Tu-142M (Bear F) Anti-submarine variant with extended forward fuselage and other changes from Tu-95. Tu-142MR (Bear J) Morskoy Razvedchik
Operators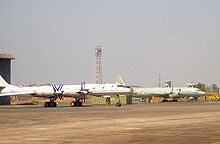 Picture - Tu-142 of the Indian Navy at Arakkonam Naval Air Station.
India
Indian Navy - received eight Tu-142 aircraft for maritime patrol.

Russia
Russian Naval Aviation - 15 Tu-142 aircraft in 2009;

Former Soviet Union
Soviet Naval Aviation - Passed on to Russia.

Ukraine
Ukrainian Air Force

Accident
On November 7, 2009, 11 crew were killed when their Tu-142 crashed over the Tartar Strait during a training flight. All flights of Russia's Pacific Fleet were suspended pending an investigation into the crash. There was no indication that the crew made use of emergency equipment, as a lifeboat on board the plane was fitted with a device that gives out a signal in the event of an accident. Nikolay Makarov, Chief of the General Staff, believed engine failure could have caused the crash. Wreckage belonging to the aircraft was discovered in early December. A memorial service was held for the crew on 16 December 2009.
Specifications (Tu-142M3)
Data from The Encyclopedia of World Military Aircraft
General characteristics
Length: 49.50 m (162 ft 5 in)
Wingspan: 51.10 m (167 ft 8 in)
Height: 12.12 m (39 ft 9 in)
Wing area: 311.10 m² (3,348.76 ft²)
Empty weight: 90,000 kg (198,000 lb)
Max takeoff weight: 185,000 kg (407,848 lb)
Powerplant: 4x— Kuznetsov NK-12MV turboprops, 11,033 kW (14,795 shp) each

Performance
Maximum speed: 925 km/h (500 kt, 575 mph)
Cruise speed: 711 km/h (384 kt, 442 mph)
Combat radius: 6,500 km (3,454 nmi, 3,977 mi) (operational)
Service ceiling: 12,000 m (39,000 ft)

Related development
Tupolev Tu-95
Tupolev Tu-114
Tupolev Tu-119
Tupolev Tu-126

Living Warbirds: The best warbirds DVD series.
Source: WikiPedia