Tupolev Tu-2 Video - Picture
Tupolev Tu-2 Aircraft Information
Tupolev Tu-2
Tu-2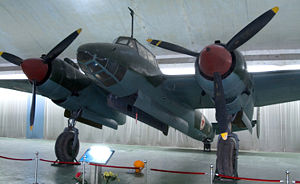 Picture - A Tu-2 bomber at the China Aviation Museum.
Role: medium bomber
Manufacturer: Tupolev
Designed by: Andrei N. Tupolev
First flight: 29 January 1941
Introduced: 1942
Primary users: VVS, Soviet Naval Aviation People's Liberation Army Air Force Polish Air Forces
Produced: 1941-1948
Number built: 2,257
Variants: Tupolev Tu-1 Tupolev Tu-8

The Tupolev Tu-2 (Development names ANT-58 and 103, NATO reporting name: Bat) was a twin-engine Soviet (high) speed daylight bomber (SDB)/front line bomber (FB) aircraft of World War II vintage. The Tu-2 was tailored to meet a requirement for a high speed bomber or dive-bomber, with a large internal bombload, and speed similar to that of a single seat fighter. Designed to challenge the German Junkers Ju 88, the Tu-2 proved comparable, and was produced in torpedo, interceptor and reconnaissance versions.
Design and development
In 1937 Andrei N. Tupolev, along with many Soviet designers at the time, was arrested on charges of activities against the state. Despite the actions of the Soviet government, he was considered important to the war effort and following his imprisonment, he was placed in charge of a team that was to design military aircraft. Designed as Samolyet (Russian: "aircraft") 103, the Tu-2 was based on earlier ANT-58, ANT-59 and ANT-60 light bomber prototypes. Essentially an upscaled and more powerful ANT-60 powered by AM-37 engines, the first prototype was completed at factory N156, and made its first test flight on 29 January 1941, piloted by Mikhail Nukhtinov.
The AM-37 engine was abandoned to concentrate efforts on the AM-38F for the Il-2, which required Tupolev to redesign the aircraft for an available engine. Modifications of this bomber took ANT-58 through ANT-69 variants. A total of 2,257 Tu-2s were built.
Operational service
Built from 1941 to 1948. The Tu-2 was the USSR's second most important twin-engined bomber (the first being the Pe-2), the design brought Andrei Tupolev back into favour after a period of detention. It was highly effective, being faster, and more nimble, as well as having a greater bomb load and range than virtually all medium bombers in service during the war with any army.
The Tu-2 remained in service until 1950. Some Chinese Tu-2s were encountered by British and American airman during the Korean War. In the 1958-1962 counter-riot actions in Qinghai-Tibet Plateau covering Qinghai, Tibet, south of Gansu, west of Sichuan, Chinese PLAAF Tu-2s took on the roles of ground-attack, reconnaissance and liaison. The Chinese Tu-2s retired at the end of 1970s.
Variants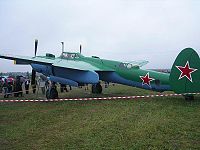 Picture -
"Aircraft 103", ANT-58
The initial 3-seat version. Top speed 635 km/h (395 mph) at 8,000 m (26,247 ft). Two 1,044 kW (1,400 hp) Mikulin AM-37 (water cooling), 1941.
"Aircraft 103U", ANT-59
Redesigned for 4-seat crew (influenced by Junkers Ju-88). Top speed dropped to 610 km/h (379 mph). The same powerplant as for ANT-58- 2*Mikulin AM-37 engines.
ANT-67
Five-seat long-range bomber.
Tu-1 (ANT-63P)
Three-seat long-range escort fighter.
Tu-2
Two 1,081 kW (1,450 hp) Shvetsov ASh-82 (air cooling) with bigger drag, 1942.
Tu-2S (ANT-61)
Powered by two 1,380 kW (1,850 hp) Shvetsov ASh-82FN radial piston engines, 1943.
Tu-2D (ANT-62)
Long-range version, powered by two 1,380 kW (1,850 hp) Shvetsov ASh-82FN?, 1943?
Tu-2DB (ANT-65)
Long-range bomber version.
Tu-2F (ANT-64)
Photo-reconnaissance version.
Tu-2G
High-speed cargo transport version.
Tu-2K
Only two aircraft were built for testing ejection seats.
Tu-2M (ANT-61M)
Powered by two 1,417 kW (1,900 hp) ASh-83 radial piston engines.
Tu-2N
Engine test-bed, built to test the Rolls-Royce Nene turbojet engine.
Tu-2 Paravan
Two aircraft built to test barrage balloon cable cutters and deflectors.
Tu-2R
Reconnaissance version.
Tu-2RShR
Prototype, armed with 57 mm cannon in the forward fuselage.
Tu-2Sh
Ground-attack version.
Tu-2/104
All-weather interceptor prototype.
Tu-2T (ANT-62T)
Torpedo-bomber.
Tu-6
Reconnaissance aircraft.
Tu-8 (ANT-69)
Long-range bomber.
Tu-10 (ANT-68)
General-purpose bomber prototype.
UTB
bomber trainer with Shvetsov ASh-21 engines of 515 kW (690 hp) created by the Sukhoi OKB in 1946
Operators
World War Two operators Soviet Union
Soviet Air Force

Post-War operators Bulgaria
Bulgarian Air Force

China
People's Liberation Army Air Force

Hungary
Hungarian Air Force

Indonesia
Indonesian Air Force

North Korea
North Korean Air Force

Poland
Polish Air Force (8 aircraft in 1949-early 1960s)

Romania
Romanian Air Force

Soviet Union
Soviet Air Force

Yugoslavia
SFR Yugoslav Air Force

Specifications (Tu-2)
Data from
General characteristics
Crew: 4
Length: 13.80 m (45 ft 3 in)
Wingspan: 18.86 m (61 ft 10 in)
Height: 4.13 m (13 ft 7 in)
Wing area: 48.5 m² (522 ft²)
Empty weight: 7,601 kg (16,757 lb)
Loaded weight: 10,538 kg (23,232 lb)
Max takeoff weight: 11,768 kg (25,944 lb)
Powerplant: 2x— Shvetsov ASh-82 radial engine, 1,380 kW (1,850 hp) each

Performance
Maximum speed: 521 km/h (281 kn, 325 mph)
Range: 2,020 km (1,090 nmi, 1,260 mi)
Service ceiling: 9,000 m (29,528 ft)
Rate of climb: 8.2 m/s (1,610 ft/min)
Wing loading: 217 kg/m² (45 lb/ft²)
Power/mass: 260 W/kg (0.16 hp/lb)

Armament
Guns:
2 x— 20 mm (0.79 in) fixed forward-firing ShVAK cannons in the wings
3 x— 7.62 mm (0.30 in) rear-firing ShKAS machine guns (later replaced by 12.7 mm (0.50 in) Berezin UB machine guns) in the canopy, dorsal and ventral hatches.
Bombs: 1,500 kg (3,300 lb) internally and 2,270 kg (5,000 lb) externally

Related development
Tupolev Tu-1
Tupolev Tu-6
Tupolev Tu-8
Tupolev Tu-10
Tupolev Tu-12

Comparable aircraft
Petlyakov Pe-2
Dornier Do 217
Junkers Ju-88

Bibliography
Bishop, Chris. The Encyclopedia of Weapons of WWII: The Comprehensive Guide to Over 1,500 Weapons Systems, Including Tanks, Small Arms, Warplanes, Artillery, Ships, and Submarines. New York: Sterling, 2002. ISBN ISBN 1-58663-762-2.
Munson, Kenneth. Aircraft of World War II. New York: Doubleday and Company, 1972. ISBN 0-385-07122-1.

Living Warbirds: The best warbirds DVD series.
Source: WikiPedia