Turbomeca Artouste Videos - SA 315B
Turbomeca Artouste Aircraft Information
Turbomeca Artouste
Artouste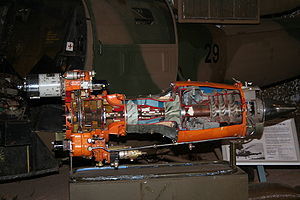 Picture - Turbomeca Artouste IIIB
Type: Turboshaft
National origin: France
Manufacturer: Turbomeca
First run: 1947
Major applications: Aérospatiale Alouette II Aérospatiale Alouette III
Developed into: Continental T51

The Turbomeca Artouste was an early French turboshaft engine, first run in 1947. Originally conceived as an auxiliary power unit (APU), it was soon adapted to aircraft propulsion, and found a niche as a powerplant for turboshaft-driven helicopters in the 1950s. Artoustes were licence-built by Bristol Siddeley (formerly Blackburn) in the UK, Hindustan Aeronautics Limited in India, and developed by Continental CAE in the USA as the T51. Power is typically in the 300 kW (400 hp) range.
Applications
Aérospatiale Alouette II
Aérospatiale Alouette III
Aerospatiale Lama
Aerotécnica AC-14
Atlas XH-1 Alpha
Handley Page Victor - as APU
Hawker Siddeley Trident - as APU
Vickers VC10 - as APU
SNCASO Farfadet

Engines on display
A Turbomeca Artouste is on public display at:
The Helicopter Museum (Weston)

Specifications (Artouste IIIB)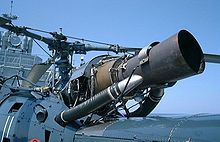 Picture - Turbomeca Artouste on an Alouette III
Data from FAA TCDS
General characteristics
Type: Turboshaft
Length: 71.4 in
Diameter: 26.25 in
Dry weight: 393 lb

Components
Compressor: Single stage centrifugal plus single stage axial
Combustors: Annular combustion chamber
Turbine: Three stage turbine

Performance
Maximum power output: 858 shp at 33,500 rpm
Turbine inlet temperature: 550 C
Power-to-weight ratio:

Related development
Continental T51

Related lists
List of aircraft engines

Gunston, Bill (1986). World Encyclopedia of Aero Engines. Wellingborough: Patrick Stephens. pp. 163.
Turbomeca website

Turbomeca Artouste Pictures and Turbomeca Artouste for Sale.
Living Warbirds: The best warbirds DVD series.
Source: WikiPedia