Turbomeca Palas Videos - Picture
Turbomeca Palas Aircraft Information
Turbomeca Palas
Turbomeca Palas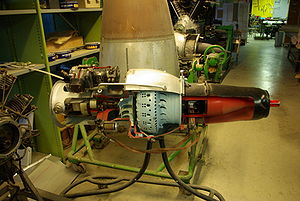 Picture - Sectioned Turbomeca Palas
Type: Turbojet
National origin: France
Manufacturer: Turbomeca
Major applications: Miles Sparrowjet Short Sherpa

The Turbomeca Palas is a diminutive centrifugal flow turbojet engine used to power light aircraft. It was designed in 1950 by the French manufacturer Société Turbomeca, and was also produced under licence by Blackburn and General Aircraft in the United Kingdom and Teledyne Continental Motors in the United States.
Applications
Caproni Trento F.5
Douglas DC-3 (as a booster engine)
Fouga CM.130
Ikarus 451
Miles Sparrowjet
Payen Pa 49
Short Sherpa
SIPA S-200 Minijet
Sud-Ouest Bretagne

Specifications
General characteristics
Type: turbojet
Length: 1.2 m (47.25 in)
Diameter: 405 mm (16 in)
Dry weight: 72 kg (159 lb)

Components
Compressor: single-stage centrifugal
Combustors: annular with rotary fuel injection
Turbine: single-stage with 24 or 25 blades
Fuel type: Jet A1

Performance
Maximum thrust: 1.6 kN (353 lbf)
Overall pressure ratio: 3.95:1
Turbine inlet temperature: 700°C
Fuel consumption: 0.117 kg N h (1.15 lb lbf h )
Thrust-to-weight ratio: 22.2 N kg (2.26 lbf lb)

Turbomeca Palas Pictures and Turbomeca Palas for Sale.
Living Warbirds: The best warbirds DVD series.
Source: WikiPedia