Utva 66 Aircraft Information
Utva 66
Utva 66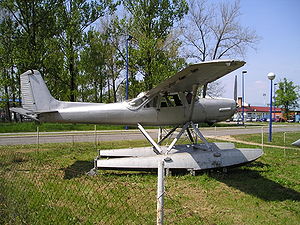 Picture - Utva 66 Hydro
Role: Military Training Aircraft/General Aviation Aircraft
Manufacturer: UTVA
Designed by: UTVA
First flight: 1966
Status: Retired
Number built: 130

The UTVA-66 is an STOL aircraft, which was produced in the former Yugoslavia. It was developed from the UTVA-60 and first flew 1966.
Description
Plane was built for landing on unprepared fields and its STOL characteristics include leading edge fixed slats, flaps and drooping ailerons. The cockpit is equipped with two flight controls. The right front and rear seats in the older version of the plane were able to accommodate two stretchers. The aircraft had floats to land on water, but they could have been exchanged for snow skis. 130 UTVA-66 aircraft were manufactured. The last aircraft were withdrawn from military service in 1999.
Variants
66-AM (air ambulance)
66H
66V
66 Super STOL

Operators
Yugoslavia
SFR Yugoslav Air Force

Specifications (Utva 66)
General characteristics
Crew: 1-2
Capacity:
3 passengers
2 stretchers
Length: 8.38 m (27 ft 6 in)
Wingspan: 11.40 m (37 ft 4 in)
Height: 3.2 m (10 ft 4 in)
Wing area: 2.06 m² ()
Airfoil: NACA 4412
Empty weight: 1251 kg (2758 lb)
Loaded weight: 1820 kg (4012 lb)
Useful load: 569 kg (1254 lb)
Max takeoff weight: 1820 kg (4012 lb)
Powerplant: 1x— Lycoming GSO-480-B1J6 6 cylinder flat engine, 340 hp limited to 5 minutes. 320 hp continuous (253 kw take-off / 238 kw continuous)

Performance
Maximum speed: 230 km/h (124 kts)
Range: 746 km (403 nm)

Utva 66 Pictures
More aircraft.
Source: WikiPedia