UTVA Aero 3 Video - Picture
UTVA Aero 3 Aircraft Information
UTVA Aero 3
Aero 3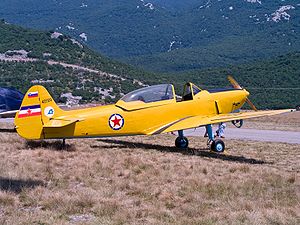 Picture - Aero 3
Role: Military trainer
National origin: Yugoslavia
Manufacturer: UTVA
First flight: August 1956
Introduced: 1958
Primary user: Yugoslavia
Number built: 110

The UTVA Aero 3 was a piston-engined military trainer aircraft built in Yugoslavia to replace the Ikarus Aero 2 then in service. 110 were built, in Yugoslav Air Force service from 1958 to mid-1970s. It was superseded by the UTVA 75.
Design and development
First flown in 1956 the Aero 3 was designed to meet a Yugoslav Air Force requirement for a primary trainer that could also be used in the army co-operation role.
The Aero 3 was a low wing cantilever monoplane that seated the student and instructor in tandem under a bubble canopy. Of all wood construction it had a fixed, tailwheel landing gear and powered by a nose-mounted 190hp (142kW) Lycoming O-435-A piston engine.
Operators
Yugoslavia
SFR Yugoslav Air Force

Specifications
Data from
General characteristics
Crew: 1
Capacity: 1
Length: 8.58 m (28 ft 1 in)
Wingspan: 10.5 m (34 ft 5 in)
Height: 2.7 m (8 ft 10 in)
Wing area: 18.9 m² (203 ft²)
Gross weight: 2646 kg (1198 lb)
Powerplant: 1 x— Lycoming O-435-A pistson engine, 142 kW (190 hp)

Performance
Maximum speed: 230 km/h (143 mph)
Cruising speed: 180 km/h (112 mph)
Range: 680 km (422 miles)
Service ceiling: 4300 m (14,100 ft)

Comparable aircraft
de Havilland Chipmunk
Zlin Z-226
PZL M-2

Bibliography
The Illustrated Encyclopedia of Aircraft (Part Work 1982-1985). Orbis Publishing.

UTVA Aero 3 Pictures
More aircraft.
Source: WikiPedia