Valmet PIK-23 Towmaster Video - Picture
Valmet PIK-23 Towmaster Aircraft Information
Valmet PIK-23 Towmaster
PIK-23 Towmaster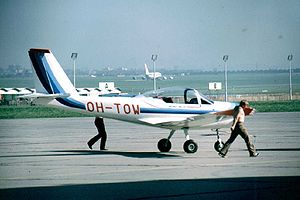 Role: Glider tower/primary trainer
Manufacturer: Valmet
First flight: March 22, 1982
Introduced: 1982
Produced: 1982-83
Number built: 2
Developed from: PIK-19 Muhinu

Valmet PIK-23 Towmaster or Suhinu is a Finnish twin-seated glider towing/primary trainer aircraft built entirely out of composite materials in the early 1980s.
The Finnish technology students aviation club suggested in the 1970s, that a new aircraft should be developed for glider towing. The work focused on the improvement of a previous design, the PIK-19 Muhinu. Later on, the Helsinki University of Technology and Valmet Oy joined the project and the design process started from scratch. The goal was to develop a target/glider tower, which also could be used for basic training. It was given the name "PIK-23 Towmaster".
Only two aircraft were manufactured, one at Valmet and one at the Helsinki University of Technology. The first aircraft, OH-TOW, made its maiden flight on March 22, 1982, flown by Mikko Jx¤rvi. The second aircraft, OH-TUG, flew the following year.
Valmet marketed the aircraft intensively, but no orders followed. It was also investigated if the aircraft could be sold in parts, for self-assembly, in order to lower the price. In its intended role as a glider tower, the PIK-23 has been quite successful.
Specifications (PIK-23)
Data from Jane's All The World's Aircraft 1982-83
General characteristics
Crew: 2
Length: 7.19 m (23 ft 7 in)
Wingspan: 10.00 m (32 ft 9¾ in)
Height: 2.90 m (9 ft 6¼ in)
Wing area: 14.00 m² (150.7 ft²)
Airfoil: NACA 632415 (modified)
Empty weight: 590 kg (1,300 lb)
Max takeoff weight: 870 kg (1,918 lb)
Powerplant: 1x— Avco Lycoming O-360-A4M air-cooled flat-four piston engine, 134 kW (180 hp)

Performance
Never exceed speed: 281 km/h (151 knots, 174 mph)
Maximum speed: 250 km/h (135 knots, 155 mph) at sea level
Cruise speed: 220 km/h (119 knots, 137 mph) at 3,660 m (12,000 ft), 65% power
Stall speed: 78 km/h (42.5 knots, 48.5 mph) (flaps down)
Range: 1,250 km (675 nmi, 777 mi)
Endurance: 6 hr 30 min (55% power)
Service ceiling: 3,650 m (11,972 ft)
Rate of climb: 5.8 m/s (1,142 ft/min)

Taylor, John W.R. Jane's All The World's Aircraft 1982-83. London:Jane's Yearbooks, 1982. ISBN 0-7106-0748-2.

Valmet PIK-23 Towmaster Pictures
More aircraft.
Source: WikiPedia