Vickers Valetta Video - Aircraft of the Grahame White Factory
Vickers Valetta Video - In museum
Vickers Valetta Aircraft Information
Vickers Valetta
Valetta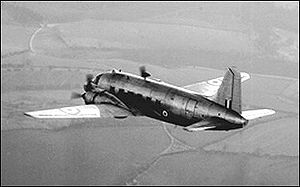 Role: Twin-engined military transport
Manufacturer: Vickers-Armstrongs Ltd
First flight: 30 June 1947
Number built: 263
Developed from: Vickers VC.1 Viking
Variants: Vickers Varsity

The Vickers Valetta was a British twin-engine military transport aircraft of the late 1940s. It was an all-metal mid-wing monoplane with a tailwheel undercarriage.
Design and development
The Valetta was a military transport development of the Viking civil airliner. The 158th Viking became the prototype Valetta, which first flew on 30 June 1947. The Valetta differed from the Viking fundamentally in being fitted with more powerful engines, a strengthened floor and large loading doors .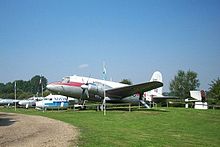 Picture - A Veletta C.2 at the Flixton Air Museum
The Viking and Valetta provided the basis of the Varsity. The Varsity although similar was slightly larger and had a tricycle landing gear and under fuselage pannier.
Operational history
The Valetta C.1 entered service with the RAF in 1948, replacing the Douglas Dakota with RAF Transport Command and with transport squadrons in the Middle and Far East . The Valetta was used used to carry out parachute drops in the 1956 Suez Crisis, and was used to provide transport support for a number of other British Military operations in the 1950s and 1960s, such as during the Malayan Emergency and operations in Aden .
The Valetta T.3 was built to provide a navigational trainer for service with the RAF College at RAF Cranwell and with No.1 and No.2 Air Navigation Schools. 40 were delivered from August 1951. 18 aircraft were later converted to T.4 standard with a longer nose to accommodate a radar scanner in order to train crews in the AI (Airborne Interception) role.
Variants
Valetta C.1 - transport, 211 built
Valetta C.2 - VIP transport, 11 built
Valetta T.3 - aircrew trainer, 40 built
Valetta T.4 - converted from T.3 with radar fitted in nose .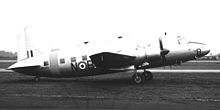 Picture - Vickers Valetta T.3 of the RAF College at Blackbushe airport in September 1956. Note the cabin-top astrodomes and aerials for navigational training
Operators
United Kingdom
Royal Air Force
No. 30 Squadron RAF
No. 48 Squadron RAF
No. 52 Squadron RAF
No. 70 Squadron RAF
No. 78 Squadron RAF
No. 84 Squadron RAF
No. 110 Squadron RAF


No. 114 Squadron RAF
No. 115 Squadron RAF
No. 167 Squadron RAF
No. 173 Squadron RAF
No. 187 Squadron RAF
No. 204 Squadron RAF
No. 215 Squadron RAF
No. 216 Squadron RAF


No. 233 Squadron RAF
No. 622 Squadron RAF
No. 683 Squadron RAF
RAF College
No. 1 Air Navigation School
No. 2 Air Navigation School

Accidents and incidents
On 18 February 1951, an RAF Valetta made a forced belly landing near Stockholm-Bromma_Airport following the failure of one engine and radio problems. Airframe icing compounded the situation. Of the 22 passengers and crew, one person was killed. The aircraft was totally destroyed.
On 15 January 1953, VX562 a Valetta C1 collided in mid-air over the Mediterranean Sea with a RAF Lancaster, all 19 on the Valetta and seven Lancaster crew were killed.
On 6 January 1954, WJ474 a Valetta T3 crashed near Aldbury, Hertfordshire on take off in bad weather from RAF Bovingdon. The aircraft was carrying a rugby team and 17 onboard were killed with one survivor.
On 21 February 1954, WJ494 a Valetta C1 1954 Changi, Singapore, while on single engine approach at 2.4 km 1.5 miles from Singapore - Changi RAF base. It was alleged that the pilot feathered the wrong faulty engine in approaching the runway. The aircraft lost height and hit trees bursting into flames, of the 12 occupants, three lost their lives.
On 17 April 1957, an RAF Valetta crashed shortly after taking off from King Hussein International Airport. All 26 people on board were killed.

Specifications (Vickers Valetta C.1)
Data from Vickers Aircraft since 1908
General characteristics
Crew: 4
Capacity: 34 troops or 20 paratroops
Length: 62 ft 11 in (19.18 m)
Wingspan: 89 ft 3 in (27.21 m)
Height: 19 ft 7 in (5.97 m)
Wing area: 882 ft² (82.0 m²)
Empty weight: 24,980 lb (11,355 kg)
Loaded weight: 36,500 lb (16,591 kg)
Powerplant: 2x— Bristol Hercules 230 9-cylinder radial piston engine, 1,975 hp (1,473 kW) each
Propellers: de Havilland (or Rotol) four-bladed constant-speed

Performance
Maximum speed: 224 kn (258 mph, 415 km/h) at 10,000 ft
Cruise speed: 150 kn (172 mph, 277 km/h)
Range: 1,270 nmi (1,460 mi, 2,350 km)
Service ceiling: 21,500 ft (6,550 m)
Rate of climb: 1,275 ft/min (6.48 m/s)
Wing loading: 41.4 lb/ft² (202 kg/m²)
Power/mass: 0.108 hp/lb (0.178 kW/kg)

Related development
Vickers Varsity
Vickers VC.1 Viking

Bibliography
Andrews, C.F. and E.B. Morgan. Vickers Aircraft since 1908. London: Putnam, 1988. ISBN 0-85177-815-1.
Martin, Bernard. The Viking, Valetta and Varsity. Air-Britain (Historians) Ltd. 1975. ISBN 0-85130-038-3.
Thetford, Owen. Aircraft of the Royal Aircraft 1918-57. London: Putnam, 1st edition, 1957.

Vickers Valetta Pictures
Living Warbirds: The best warbirds DVD series.
Source: WikiPedia