Vickers Valparaiso Video - Picture
Vickers Valparaiso Aircraft Information
Vickers Valparaiso
Valparaiso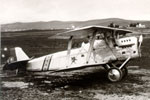 Picture - Vickers Valparaiso I in Portuguese service.
Role: Light Bomber
Manufacturer: Vickers
First flight: 1923
Retired: 1936
Primary users: Portugal Chile
Number built: 28
Developed from: Vickers Vixen

The Vickers Valparaiso was a British light bomber biplane of the 1920s. It was designed by Vickers as a development of its Vixen for export, being sold to Portugal and Chile.
Development and design
The Vickers Valparaiso was a derivative of the Vixen I for export purposes. It was renamed Valparaiso to distinguish it from the Vixen, which as it used classified government equipment, was unavailable for export. Two versions were available, one powered by the same Napier Lion as the Vixen, known as the Type 93 Valparaiso I, while the Type 92 Valparaiso II was powered by the Rolls-Royce Eagle engine Other than their engines, the Valparaisos were very similar to the Vixen I, both being single-bay biplanes with wooden wings and steel tube fuselages. Both versions were purchased by Portugal, who ordered 10 Valparaiso Is and four Valparaiso IIs, with the Lion-powered aircraft to serve as reconnaissance bombers and the lower powered Valpariso IIs to serve as advanced trainers. In 1928, Portugal decided to license produce a modified Valparaiso powered by a Gnome et Rhx´ne Jupiter radial engine, and a single Valparaiso was modified by Vickers to use the Jupiter, followed by the production of 13 aircraft, designated Type 168 Valparaiso III by OGMA (Oficinas Gerais de Material Aeronx¡utico).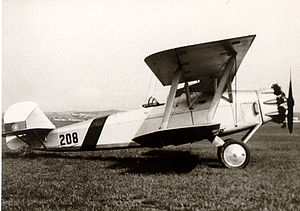 Picture - Vickers Valparaiso III in Portuguese service.
Operational history
The Portuguese aircraft proved to be successful in service, with two carrying out a long distance tour from Portugal to its African colonies of Angola and Mozambique and back in 1928, with the success of the aircraft resulting in the decision to license produce the Valparaiso III. The radial-powered Valparaisos also proved successful in Portuguese service, remaining operational until 1943, finally being replaced by Westland Lysanders.
A single Valparaiso I (actually the prototype), was sold by Vickers to Chile in 1924. It was successful in Chilean service, resulting in an order for a further 18 modified aircraft, which reverted to the original name of Vixen, as the Vixen V.
Variants
Type 93 Valparaiso I
Napier Lion-powered export version of Vickers Vixen. 11 built.
Type 92 Valparaiso II
Rolls-Royce Eagle-powered version. Four built.
Type 168 Valparaiso III
Version powered by Jupiter radial for Portugal. 13 licensed built by OGMA.
Operators
Chile
Chilean Navy

Portugal
Aeronx¡utica Militar (Portuguese Army Aviation)

Specifications (Valparaiso I)
Data from Vickers Aircraft Since 1908
General characteristics
Crew: Two
Length: 29 ft 0 in (8.84 m)
Wingspan: 40 ft 0 in (12.20 m)
Height: 11 ft 8 in (3.56 m)
Wing area: 526 ft² (48.9 m²)
Empty weight: 3,128 lb (1,422 kg)
Loaded weight: 4,720 lb (2,145 kg)
Powerplant: 1x— Napier Lion IA 12 cylinder water cooled W-block, 468 hp (349 kW)

Performance
Maximum speed: 118 kn (136 mph, 219 km/h) at 10,000 ft (3,050 m)
Cruise speed: 96 kn (110 mph, 177 km/h)
Range: 478 nmi (550 mi, 886 km)
Service ceiling: 19,500 ft (5,950 m)
Rate of climb: 951 ft/min (4.8 m/s)
Wing loading: 8.97 lb/ft² (43.9 kg/m²)
Power/mass: 0.099 hp/lb (0.16 kW/kg)
Climb to 10,000 ft (3,050 m): 10 min 15 sec

Armament
2 x— forward-firing .303 in (7.7 mm) Vickers machine gun
1 x— .303 in (7.7 mm) Lewis Gun in observers cockpit

Related development
Vickers Vixen
Vickers Venture

Andrews, E.N.; Morgan, E.B. (1988). Vickers Aircraft Since 1908 (Second ed.). London: Putnam. ISBN 0 85177 815 1.
Donald, David (Editor) (1997). The Encyclopedia of World Aircraft. Aerospace Publishing. ISBN 1-85605-375-X.
Lopes, Eng. Mario Canongia (1985). "Vixen, Venture , Valpariso: A Forgotten Family of Vickers Biplanes". Air Enthusiast (Bromley, Kent, UK: Pilot Press) (Issue 27 (March June 1985)): pp. 43-51. ISSN 0143-5450.

Vickers Valparaiso Pictures
Living Warbirds: The best warbirds DVD series.
Source: WikiPedia